In this month's selection of recently acquired crime and mystery titles we have The Twyford code by Janice Hallett, a book with a very intriguing premise where it appears that a book's marginalia holds the clues to solving a mystery. The novel has already proved hugely popular with critics and readers alike with some comparing her writing to that of Agatha Christie.
We would never encourage creating your own marginalia in library books, it is however a subject with a rich, long, and deep history. Marginalia are marks made in the margins of a book or other document. They vary widely; from full commentaries on works, to medieval illuminations, scribbles and secret codes. Marginalia began before the printing press was invented, when scholars often short of writing materials would write notes for future readers in the margins of works. Medieval monks would create vivid works of art in the margins, often with blasphemous or scandalous content, such as the Pope playing cards with animals.
In Shakespeare's time it wasn't unusual for people to write magical spells into the margins of books, sometimes love spells and sometimes curses. The poet Keats' heavily personalised version of Paradise Lost has given scholars of this work a fascinating insight into the poets mind. One of the most famous of all marginalia came from the mathematician Fermat, a seventeenth century French lawyer and amateur mathematician who used the margins in his books to write extensive notes. In one of these books he wrote about the theorem on how to split a given square number into two other squares, stating "I have discovered a truly marvellous proof of this, which this margin is too narrow to contain." His proof was never found in his papers, leading to the mystery of Fermat's Last Theorem which was only solved in 1995.
The late 1800's saw a huge shift in attitude to marginalia, which came about with a religious drive to make books pure and unsullied. Libraries would guillotine margins off books and even bleach old books to remove extra markings of any kind.

The Twyford code / Hallett, Janice
"Steven Smith has just been released from prison, and he is finally free to investigate a mystery that has haunted him since childhood. Forty years ago, he found a copy of a famous children's book, full of strange markings and annotations. He took it to his remedial English teacher, Miss Isles, who became convinced that it was the key to solving a puzzle. That a message in secret code ran through all Edith Twyford's novels. Then Miss Isles disappeared, and Steven's memory won't allow him to remember what happened. Did she sense her own imminent death? Was she right about the code? And is it still in use today? " (Adapted from Catalogue) Also available as an eBook.
Fifty-four pigs / Schott, Philipp
"A swine barn explodes near a lakeside Manitoba town, putting veterinarian Dr. Peter Bannerman on a collision course with murder and a startling conspiracy. Peter is an odd duck, obsessed with logic and measurable facts, an obsession he puts to good use in his veterinary practice. When a murder is connected to the swine barn explosion and his friend Tom becomes the prime suspect, Peter feels compelled to put his reasoning skills, and his dog Pippin's remarkable nose, to use to help clear him…" (Adapted from Catalogue)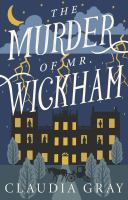 The murder of Mr. Wickham / Gray, Claudia
"After many years of happy marriage, Emma Knightley and her husband are throwing a house party, bringing together distant relatives and new acquaintances-not all of whom are well known to the Knightleys but are certainly beloved by every Jane Austen fan: Elizabeth and Fitzwilliam Darcy, Marianne and Colonel Brandon, Anne and Captain Wentworth, and Fanny and Edmund Bertram.  Yet the Knightleys and their guests are all shocked when Wickham turns up murdered-except, of course, for the killer hidden in their midst. With everyone a suspect, it falls to the house party's two youngest guests to solve the mystery ." (Adapted from Catalogue) Also available as an eBook.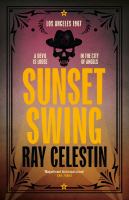 Sunset swing / Celestin, Ray
"Los Angeles. Christmas, 1967. A young nurse, Kerry Gaudet, travels to the City of Angels desperate to find her missing brother, fearing that something terrible has happened to him: a serial killer is terrorising the city, picking victims at random, and Kerry has precious few leads. Ida Young, recently retired private investigator, is dragged into helping the police when a young woman is discovered murdered in her motel room. Ida has never met the victim but her name has been found at the crime scene and the LAPD wants to know why… " (Adapted from Catalogue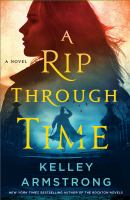 A rip through time / Armstrong, Kelley
"May 20, 2019: Homicide detective Mallory is in Edinburgh to be with her dying grandmother. While out on a jog one evening, Mallory hears a woman in distress. She's drawn to an alley, where she is attacked and loses consciousness. May 20, 1869: Housemaid Catriona Thomson had been enjoying a half-day off, only to be discovered that night in a lane, where she'd been strangled and left for dead . . . exactly one-hundred-and-fifty years before Mallory was strangled in the same spot. When Mallory wakes up in Catriona's body in 1869, she must put aside her shock and adjust quickly to the reality: life as a housemaid to an undertaker in Victorian Scotland. " (Adapted from Catalogue)
Two nights in Lisbon / Pavone, Chris
"Ariel Price wakes up in Lisbon, alone. Her husband is gone–no warning, no note, not answering his phone. Something is wrong. She starts with hotel security, then the police, then the American embassy, at each confronting questions she can't fully answer: What exactly is John doing in Lisbon? Why would he drag her along on his business trip? Who would want to harm him? And why does Ariel know so little about her new–much younger–husband? The clock is ticking. Ariel is increasingly frustrated and desperate, running out of time, and the one person in the world who can help is the one person she least wants to ask." (Adapted from Catalogue)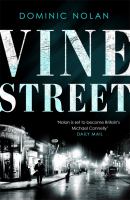 Vine street / Nolan, Dominic
"Soho, 1935. This was his London. 'Savage beautiful, mesmeric. It's impossible not to marvel at the detail, at the sheer richness of each and every scene. Sergeant Leon Geat's patch. A snarling, skull-cracking misanthrope, Geats marshals the grimy rabble according to his own elastic moral code. The narrow alleys are brimming with jazz bars, bookies, blackshirts, ponces and tarts so when a body is found above the Windmill Club, detectives are content to dismiss the case as just another young woman who topped herself early. But Geats – a good man prepared to be a bad one if it keeps the worst of them at bay – knows the dark seams of the city…" (Catalogue)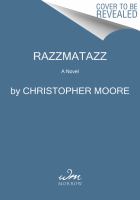 Razzmatazz : a novel / Moore, Christopher
"San Francisco, 1947. Bartender Sammy 'Two Toes' Tiffin and the rest of the Cookie's Coffee Irregulars, a ragtag bunch of working mugs last seen in Noir, are on the hustle: they're trying to open a driving school for Chinatown residents; shanghai an abusive Swedish stevedore; get Mable, the local madam, and her girls to a Christmas party at the State Hospital without alerting the overzealous head of the S.F.P.D. vice squad; all while Sammy's girlfriend, Stilton (a.k.a. the Cheese), and her 'Wendy the Welder' gal palsmight be attracting the attention of some government Men in Black. And, oh yeah, someone is murdering the city's drag kings and club owner Jimmy Vasco is sure she's next on the list …" (Adapted from Catalogue)