The star of this month's new non-fiction is the essay! Short, specific, and wonderfully creative, essay collections allow you to dip in and out of a book without having to commit to hundreds of pages on one topic (let's be honest, this is often one of the most intimidating things about a hefty non-fiction tome). Of course, for the collections we've highlighted here, we're certain that by the time you start reading you won't want to skip a single chapter.
First we have How to Be a Bad Muslim, a rich and illuminating book that draws on author Mohamed Hassan's own experience as a Muslim man in Aotearoa and elsewhere, written with a poet's deft skill. There's a bit of a queue for this one, but it's worth the wait – you can place a reserve by following the link below. As to the other essay collections, we also have Elena Ferrante's new book In the Margins, where she explores what it means to break through the margins in both literature and in life, and Serious Face by Jon Mooallem, where you'll find the titular Pigeon King amongst other eccentric tales.
If essays aren't your thing, some other items of interest for this month include the story of a state-sponsored book club in The Stasi Poetry Circle, the captivating and wide-ranging history of textile art in Fabric, and The Secret of Emu Field which explores the deadly and often-overlooked British nuclear tests in Australia. You can read more about each of these below.
How to be a bad Muslim : and other essays / Hassan, Mohamed
"This is the breakout non-fiction book from award-winning New Zealand writer Mohamed Hassan. From Cairo to Takapuna, Athens to Istanbul, How To Be A Bad Muslim maps the personal and public experience of being Muslim through essays on identity, Islamophobia, surveillance, migration and language. Traversing storytelling, memoir, journalism and humour, Hassan speaks authentically and piercingly on mental health, grief and loss, while weaving memories of an Egyptian immigrant fighting childhood bullies, listening to life-saving '90s grunge and auditioning for vaguely-ethnic roles in a certain pirate movie franchise. At once funny and chilling, elegiac and eye-opening, this is a must-read book from a powerfully talented writer." (Adapted from Catalogue)
The Stasi poetry circle : the creative writing class that tried to win the Cold War / Oltermann, Philip
"Morale is at rock bottom in East Germany, thrown into chaos by the new Berlin Wall. The Ministry for State Security is hunting for a new weapon in the war against capitalism, but rather than guns, tanks, or bombs, the Stasi resolve to fight the enemy through rhyme and verse – and the result is the most bizarre book club in history. The 'Working Group of Writing Chekists' met monthly from 1962 until the Wall fell. The regime hoped that poetry would sharpen the Stasi's 'party sword', but as the agents became steeped in poetry, revelling in its imaginative ambiguity, the result was the opposite. Rather than entrenching state ideology, they began to radically question it. Both a gripping true story and a parable about creativity in a surveillance state, this is history writing at its finest." (Adapted from Catalogue)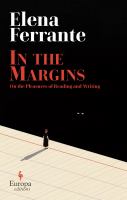 In the margins : on the pleasures of reading and writing / Ferrante, Elena
"From the internationally acclaimed author of My Brilliant Friend and The Lying Life of Adults, come four revelatory pieces offering rare insight into the author's formation as a writer and life as a reader. Ferrante warns us of the perils of "bad language" and advocates for a collective fusion of female talent as she brilliantly discourses on the work of her most beloved authors." (Adapted from Amazon UK)
Fabric : the hidden history of the material world / Finlay, Victoria
"From our earliest ancestors to babies born today, fabric is a necessary part of our everyday lives, but it's also an opportunity for creativity, symbolism, culture and connection. Travelling across the world and bringing history to life, bestselling author Victoria Finlay investigates how and why people have made and used cloth. A century ago in Wales, women would sew their own funeral clothes over tea with friends. In Papua New Guinea, bark is stripped from trees and beaten into cloth. Harris Tweed has a particular smell, while Guatemalan weavers use dazzling colours. Uncovering the stories of the fabrics people wear and use from sacking to silk, Fabric combines science, history, tradition and art in a captivating exploration of how we live, work, craft and care." (Catalogue)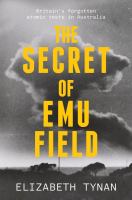 The secret of Emu Field : Britain's forgotten atomic tests in Australia / Tynan, Elizabeth
"Emu Field is overshadowed by Maralinga, the larger and much more prominent British atomic test site about 193 kilometres to the south. But Emu Field has its own secrets. Only at Emu Field did a terrifying black mist speed across the land after an atomic bomb detonation, bringing death and sickness to Aboriginal populations in its path. The area was difficult and inaccessible – so why did the British go there at all, when they knew that they wouldn't stay? What happened to the air force crew who flew through the atomic clouds? And why was Emu Field abandoned quickly after the expense and effort of setting it up? Tynan reveals the story of a cataclysmic collision between an ancient Aboriginal land and post-war Britain." (Adapted from Catalogue)
Serious face : essays / Mooallem, Jon
"Beneath the self-assured and serious faces we wear, every human life is full of longing, guesswork, and confusion – a scramble to do the best we can and make everything up as we go along. In these wide-ranging essays, Jon Mooallem chronicles the beauty of our blundering and the inescapability of our imperfections. He investigates the collapse of a multimillion-dollar bird-breeding scam run by an aging farmer known as the Pigeon King, intimately narrates a harrowing escape from California's deadliest wildfire, visits an eccentric Frenchman building a town at what he claims is the centre of the world, shadows a man through his first day of freedom after twenty-one years in prison, and more – all with a deep conviction that it's our vulnerability, not our victories, that connect us." (Adapted from Catalogue)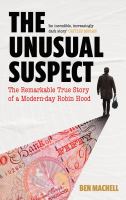 The unusual suspect : the remarkable true story of a modern-day Robin Hood / Machell, Ben
"It is 2007, a time of recession and impending climate crisis, and one young man decides to change the world. Meet Stephen Jackley, a British geography student with Asperger's Syndrome. Aged just twenty-one, obsessed with the idea of Robin Hood, and with no prior experience, he resolved to become a bank robber. Jackley used disguise, elaborate escape routes and replica pistols to successfully hold up a string of banks, making away with thousands of pounds. Bank notes marked with 'RH' – 'Robin Hood' – began finding their way into the hands of the homeless. The police, despite their concerted efforts, had no idea what was going on or who was responsible – until Jackley's ambition got the better of him." (Adapted from Catalogue)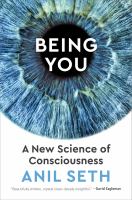 Being you : a new science of consciousness / Seth, Anil
"Being You is not as simple as it sounds. Somehow, within each of our brains, billions of neurons work to create our conscious experience. How does this happen? Why do we experience life in the first person? After over twenty years researching the brain, world-renowned neuroscientist Anil Seth puts forward a radical new theory of consciousness and self. His unique theory of what it means to 'be you' challenges our understanding of perception and reality and turns what you thought you knew about yourself on its head." (Adapted from Amazon UK)