It's an exciting time to be reading poetry, but don't just take our word for it; people are saying it's "the year of poetry". It seems like a great time to remind everyone that we have a decent poetry collection, featuring many bestselling titles from both Aotearoa and overseas.
Below, you'll find a selection of new additions to our collection, a lot of which are already in hot demand! Some highlights include; essa may ranapiri's Echidna (which we are huge fans of, we shared an interview with ranapiri recently), Ocean Vuong's Time is a mother (from the author who brought us the heart breaking/building novel On Earth We're Briefly Gorgeous) and Night School by Michael Steven (Winner of the Kathleen Grattan Poetry Award 2021). You can reserve all of these items via our online catalogue. 
This is also a great time to mention our new YouTube playlist – Poet Interviews. Check out our most recent interview with writer Khadro Mohamed below. If you are a local poet with a book coming out soon, let us know! We'd love to chat with you! 
Anomalia / Chung, Cadence
"Populated with strange specimens, cicada husks and glittering gems, these poems explore the love and cruelty of human nature. Chung is in conversation with her literary ancestors, from Sappho to Byron, bringing their work into the world of sparkly eyeshadow and McDonald's bathrooms"–Gatefold cover." (Catalogue)
Night school / Steven, Michael
"Winner of the Kathleen Grattan Poetry Award 2021, poet Michael Steven's Night School explores the gap between fathers and sons, the effects of toxic masculinity, how power corrupts and corrodes, and whether weed, art and aroha can save us in a godless world." (Catalogue)
We're all made of lightning / Mohamed, Khadro
"Khadro Mohamed expertly navigates the experience of being a Muslim women in Aotearoa, bringing us along on her journey of selfhood. Shifting between Aotearoa, Egypt and Somalia, we get a glimpse into her worlds, which are rich and full of life. Mohamed has a sense of wonder for the world around her, exploring nature, food, family and identity. This book is a love letter to her homeland, her whakapapa, and herself." (Catalogue)
Echidna, or The many adventures of Hinenākahirua as she tries to find her place in a colonised world : including throught is the story of Māui-Pōtiki & Prometheus / Ranapiri, Essa May
"Echidna is a dangerous animal; she pokes holes in men just to remind them what kind of monster she is wakes up every single morning and chooses violence cos what choice does she really have? essa may ranapiri's second poetry collection follows the story of Echidna, their own interpretation of the Greek Mother of Monsters, as she tries to figure out life and identity living in a colonised world. "–Publisher's information." (Adapted from Catalogue)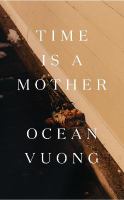 Time is a mother / Vuong, Ocean
"Ocean Vuong's second collection of poetry looks inward, on the aftershocks of his mother's death, and the struggle – and rewards – of staying present in the world. Time Is a Mother moves outward and onward, in concert with the themes of On Earth We're Briefly Gorgeous, as Vuong continues, through his work, his profound exploration of personal trauma, of what it means to be the product of an American war in America, and how to circle these fragmented tragedies to find not a restoration, but the epicenter of the break"– Provided by publisher." (Catalogue)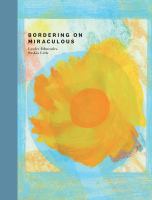 Bordering on miraculous / Edmeades, Lynley
"A frame of clouds a slice of sky a window full of doubt-soaked borders. Here we are listening to the hypernated sound of clouds and it is miraculous"–Back cover." (Catalogue)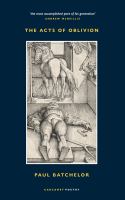 The acts of oblivion / Batchelor, Paul
"The 'Acts of Oblivion' were a series of seventeenth-century laws enacted by both Parliamentarian and Royalist factions. Whatever their ends — pardoning revolutionary deeds, or expunging revolutionary speech from the record — they forced the people to forget. Against such injunctions, Paul Batchelor's poems rebel. This long-awaited second collection, The Acts of Oblivion, listens in on some of England's lost futures, such as those offered by radical but sidelined figures in the English Civil War, or by the deliberately destroyed mining communities of North East England, remembered here with bitter, illuminating force. The book also collects the acclaimed individual poems 'Brother Coal' and 'A Form of Words', alongside visions of the underworld as imagined by Homer, Lucian, Lucan, Ovid, and Dante." (Catalogue)
The difference is spreading : fifty contemporary poets on fifty poems
"Since its inception in 2012, the online introduction to modern poetry known as ModPo has engaged tens of thousands of readers, listeners, teachers, and poets with its focus on a modern and contemporary American tradition that runs from Walt Whitman and Emily Dickinson up to some of today's freshest and most experimental written and spoken verse."– Provided by publisher." (Adapted from Catalogue)
It's fine, it's fine, it's fine (it's not) : poems / Alam, Taz
"A raw, honest and heartfelt poetry collection from Taz Alam – for the tough times, the great times, and everything in between." (Catalogue)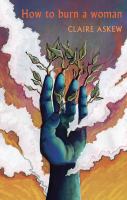 How to burn a woman / Askew, Claire
"Claire Askew's electrifying second collection is an investigation of power: the power of oppressive systems and their hold over those within them; the power of resilience; the power of the human heart. It licks flame across the imagination, and rewrites narratives of human desire." (Catalogue)