Up until very recently Jessica Hansell (more commonly known under her rap nickname Coco Solid) has best been better known as a rapper, artist, actor and video director. Coco's hugely popular style of  disco, rap, hip pop music has meant that Coco's albums have been in the New Zealand top ten albums lists for almost every year one has been released. Coco also created the fabulous Māori cult adult animated comedy series Aroha Bridge, and is currently developing a forthcoming science-fiction series called Jupiter Park.  In 2019 Coco was made  a national Arts Laureate by The Arts Foundation NZ, and now the multimedia artist and musician has added best selling fiction author to her growing list of achievements.
How to Loiter in a Turf War is Coco's debut fiction work and is loosely based on Coco's own past in Auckland, and has been described as a hybrid novel with poetic rap elements amongst others woven into the narrative. The plot revolves around three friends who with wit and razor-sharp humour navigate the urban world they live in. The book  is also about a community experiencing dramatic change caused by gentrification. Coco's voice throughout the novel is strong and clear and underpinned by this polymath's fierce intellect.
It isn't surprising that Pip Adam described the book thus " This is one of the most exciting books I've ever read".
No matter what medium Coco is working in she strives to prioritise Oceaniac narratives, wāhine, and LGBTQIA+ expression. You can borrow How to Loiter in a Turf War, along with a very small selection of our recently acquired fiction titles, below.
How to loiter in a turf war / Coco Solid
"It's a day in the life of three friends beefing with their own city, Tamaki Makaurau. With gentrification closing in and racial tensions sweltering, the girls must cling to their friendship like a life raft, determined not to let their neighbourhood drift out to sea. Fast, ferociously brilliant, crack-up funny and unforgettably true. 'This book paints a picture of the Auckland I grew up in – when waiting for the 025 to town was a gamble, and the answer to the question 'where are you from?' was an essay, not a sentence." (Adapted from Catalogue)
Also available as an Audiobook.
Love marriage / Ali, Monica
"Yasmin Ghorami has a lot to be grateful for: a loving family, a fledgling career in medicine, and a charming, handsome fiancée, fellow doctor Joe Sangster. But as the wedding day draws closer and Yasmin's parents get to know Joe's firebrand feminist mother, both families must confront the unravelling of long-held secrets, lies and betrayals. As Yasmin dismantles her own assumptions about the people she holds most dear, she's also forced to ask herself what she really wants in a relationship and what a 'love marriage' actually means. " (Adapted from Catalogue)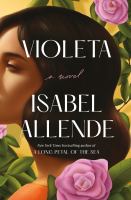 Violeta : a novel / Allende, Isabel
"Violeta comes into the world on a stormy day in 1920, the first girl in a family of five boisterous sons. The ripples of the Great War are still being felt, even as the Spanish flu arrives on the shores of her South American homeland almost at the moment of her birth. As the Great Depression transforms the genteel city life she has known, Violeta's family loses all and is forced to retreat to a wild and beautiful but remote part of the country. She tells her story in the form of a letter to someone she loves above all others, recounting devastating heartbreak and passionate affairs, times of both poverty and wealth, terrible loss and immense joy. " (Adapted from Catalogue) Also available as an eBook.
Pensioned off : baby boomers out to pasture / Dawson, Sue
"Retirement – is it a wasteland or a wonderland? Ruth, Trudy and some other baby boomers they meet along the way are about to find out. Drawn together by a love of music, they form a ukulele band which takes them on a journey far beyond their original intention of giving free concerts in nursing homes." (Adapted from Catalogue)
Slow down, you're here / Gnanalingam, Brannavan
"Kavita is stuck in a dead-end marriage, and is juggling parenting two small kids while also being the family's main breadwinner. When an old flame offers a week away in Waiheke, she agonises but decides to accept. When she steps onto the ferry she knows she has left her family behind – but she's not sure for how long." (Adapted from Catalogue)
Puripāha : Te Pane Kaewa / Ihimaera, Witi
"A te reo Maori translation of Witi Ihimaera's award-winning novel about two rival Maori families on the East Coast, Bulibasha." (Catalogue) Also available as an eBook.
The island of missing trees / Shafak, Elif
"Two teenagers, a Greek Cypriot and a Turkish Cypriot, meet at a taverna on the island they both call home. In the taverna, hidden beneath garlands of garlic, chili peppers and creeping honeysuckle, Kostas and Defne grow in their forbidden love for each other. A fig tree stretches through a cavity in the roof, and this tree bears witness to their hushed, happy meetings and eventually, to their silent, surreptitious departures. The tree is there when war breaks out, when the capital is reduced to ashes and rubble, and when the teenagers vanish. Decades later, Kostas returns. He is a botanist looking for native species, but really, he's searching for lost love…" (Adapted from Catalogue) Also available as an eBook.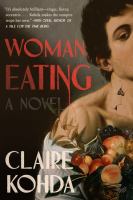 Woman, eating : a novel / Kohda, Claire
"Lydia is hungry. She's always wanted to try Japanese food. Sashimi, ramen, onigiri with sour plum stuffed inside – the food her Japanese father liked to eat. And then there is bubble tea and iced-coffee, ice cream and cake, and foraged herbs and plants, and the vegetables grown by the other young artists at the London studio space she is secretly squatting in. But, Lydia can't eat any of these things. Her body doesn't work like those of other people. The only thing she can digest is blood, and it turns out that sourcing fresh pigs' blood in London – where she is living away from her vampire mother for the first time – is much more difficult than she'd anticipated…" (Adapted from Catalogue)