Statler: Well, it was good.
Waldorf: Ah, it was very bad.
Statler: Well, it was average.
Waldorf: Ah, it was in the middle there.
Statler: Ah, it wasn't that great.
Waldorf: I kind of liked it."
-'The Muppet Show'.
I'm Mark, the Music & Film Specialist at Wellington City Libraries (I also run the Libraries' Wellington Music Facebook page). Every month my colleague Neil and I cast our eye over the new material we have been buying for the Music collection at our CBD Te Awe library. We pick out some interesting titles across a range of music genres, and try to limit our reviews to a few lines only. Can we encapsulate an entire album in just a couple of lines? [Ed. This is probably unlikely at this point]. Do we actually know anything about new music? Or, are we just too old to understand what most of this is banging on about? Read on to find out…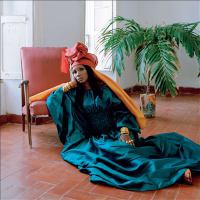 Bamanan / Koné, Rokia
Mark: The debut solo album from Malian singer Rokia Koné, a member of West African supergroup Les Amazones d'Afrique. She teams up with mainstream American producer Jacknife Lee, who has produced albums from Taylor Swift to REM. Melding traditional world instruments with Electronica is almost a subgenre in itself now, but this avoids the pitfalls of appropriation and generic-ness that sometimes occurs in such projects, and is really one of the best examples of this endeavour. The drones, beats, swirls of technology are present and anchor the music, simmering with an urgency.
Neil: Rokia Koné is probably best known for her work with supergroup Les Amazones d'Afrique. 'Bamanan' her debut solo outing displays her distinctive vocal gymnastics, and gloriously celebrates the vibrant richness of ancestral African music. However, the bonus extra ingredient is the inclusion of modern electronics. Added with seemingly effortless fluidity, this mix of the ultra-modern and ancient are woven into a stunning new and cohesive whole.
The Slam! years (1983-1988). / Shaeri, Hamid El
Mark: One of the biggest stars of the Arabic pop scene, Libyan-born singer-songwriter/producer Hamid El Shaeri found success with string of albums on the Cairo-based SLAM!, Egypt's most successful record label in the 1980s. This compilation collects the highlights of those albums. Relentlessly-catchy tracks, almost impossibly funky, with fantastic old synths, merge into shimmery mellow bossa nova vibes. Reminded me a bit of the debut album from Japan's Cornelius with its subversion of Western styles. Really great all the way through.
Neil: We have previously reviewed a couple of the Habibi Funk Records and as regular readers know we are big fans . This is another wild and wonderful dive into the Arab World of hidden ( till now) from the wider global music world. This release showcases the early work of the Arab pop superstar Hamid Al-Shaeri . It's the Eighties, so synth pop is the order of the day, but coming from this part of the world and from this artist it has its own highly distinctive and unique voice. And from these recordings it's easy to see why he is to this day such a huge star. The album is simultaneous strangely familiar, and yet exotically different .
Electricity. / Ibibio Sound Machine
Mark: 4th album from the London-based collective. Fronted by English-Nigerian vocalist Eno Williams, with a crew of international musicians, Ibibio Sound Machine meld West African funk and disco grooves from the 70s & 80s onto modern electronica. This differs in approach to the Rokia Koné album above, as they fully embrace the club bangers aesthetic, with vibrant Afrobeat & synthy funk. Pulsing grooves to blow your blues away.
Neil: 'Electricity' by Ibibio Sound Machine makes for such an exciting listen right from the get-go. There are elements of Electronica, future funk, Afrobeat and post-punk to name but a few, but all are wrapped up in a solid modern disco vibe. It's almost impossible to listen to without wanting to get up and cut some shapes on a dance floor. Infectiously groovy.
Gyvas : live at St. Catherine Church, Vilnius, 6 November 2013 / Zalvarinis
Mark: The United Nations placed Lithuania's unique polyphonic folk songs called sutartines on a UNESCO heritage list, and Žalvarinis are the best known Lithuanian band that combine traditional folk with rock – having been around for 20 years and released 10 studio albums. Originally a Folk-metal band, they moved towards progressive rock influences, and then more folk oriented works. This acoustic album was recorded live at the Church of St. Catherine, Vilnius, with 21 famous Lithuanian musicians of all genres, as well as a full choir. The unique instruments and playing combine with the dual female vocals to create something that is alternately pulsing with energy and also quietly haunting.
Neil: Recorded live in Vilnius this is a beautifully produced, performed, and recorded release. Showcases Žalvarinis a Lithuanian folk-rock band famous throughout their home country who have ten studio albums to their name. The intertwining and interweaving female vocals from the two lead singers, and the use or primarily (though not exclusively) acoustic instruments, gives the album a mellow, haunting, unplugged, delicate, slightly prog rock-sound.
The Radio Tisdas sessions. / Tinariwen
Mark: Reissue of the first Tinariwen album to be released outside of Northern Africa, and the world's introduction to their Saharan desert style. Driving, sinuous guitars and call-and-response vocals. Recorded by people who has recently been literal warriors, the calmness of the music hides a edge that lies under the serene surface. The beginning of a journey that would see them become influential both within their own country, but also across the map of World Music.
Neil: 'The Radio Tisdas Sessions' were recorded at the desert outpost of Kidal, the Tamashek-language radio only broadcasting between 7pm and midnight because it was powered by solar panels. The album captures the bands mysterious, hypnotic desert blues style early on, before the band became world famous, and there is even a live track from the legendary Mali Festival of the desert. It is amazing stuff, and they are already at the peak of their considerable musical powers. This recording showcases their more mellow side, before later work demonstrated their hard-edged rock out. However, both are outstanding .
Midnight rocker. / Andy, Horace
Mark: Hard to think that Horace Andy is 71, as in a lot of ways this feels like a young man's album, full of energy and vision. Produced by UK dub pioneer Adrian Sherwood the crisp production is full of quality On-U Sound musicianship, as Sherwood reimagines several Horace Andy classics, as well as some powerful new material. The themes of the older material still resonate heavily with what is happening in the world today, and this album as a whole is no doubt a future classic.
Neil: Horace Andy the legendary Dub Reggae musician now in his seventy first year releases his first album in three years. 'Midnight Rocker' is released on the British Dub label On-U Sound Records, famous for decades for its Dub output, and the album is produced by its maestro Adrian Sherwood. The resultant album is a late period Dub masterclass on how to create a fabulous work. Horace's voice in recent years has become grittier and deeper than his earlier releases, but this change in his voices' quality is used to stunning effect. Bottom line is if you are a Dub fan this is a must.
The more things change : film, TV & studio work, 1968-1972. / Barry, John
Mark: Ace Records compilation that focuses on the peak creative period of the composer most well known from his work on the James Bond films. Reissues most of the contents of his classic cult 70's album 'Ready When You Are, J.B.', and features a mix of studio & soundtrack work from Bond films, TV shows & movies. Full of recognisable themes and motifs, that are by turns atmospheric & brooding or lovely and delicate. Compiled by Musicologist & Saint Etienne member Bob Stanley, who also provides the liner notes, so you knows it's class all the way.
Neil: Well, what can you say about this it is a compilation other than it features some of the most famous film and television music ever, by a peerless composer whose works are still instantly recognizable globally. Some of the pieces are haunting and atmospheric, some are unforgettable with their catchiness. Just to give you a flavour, it ranges from his James Bond work, to the theme for Midnight Cowboy, from his timeless Persuaders theme, to the evocative and melancholic opening track from Nicholas Roeg's Walkabout. A great introduction or reminder of John Barry's work.
Lost Angeles / Smith, Brix
Mark: Ex-Fall member and currently helming Brix & the Extricated, Brix Smith digs into her past to excavate a previously unreleased album recorded in 1997, with guitarist and singer songwriter Marty Willson-Piper (from Australian rock band The Church). Written at a time of severe loss in the wake of her breakup with Mark E Smith and leaving The Fall in 1989, and again in the early 90s, it was recorded in 1997, but shelved due to her inability to get record deal and her ambivalent feelings towards the raw lyrics underling the album. Fantastic shiny Pop, hiding a swath of dark edged lyrics and themes. Reminiscent of late period Lush.
Neil: The continued re-emergence and rise of the former Fall 80's stalwart continues after the release of three highly acclaimed albums with The Extricated. 'Lost Angeles' was originally recorded in 1997. and never saw the light of day till now. Brix explained that she felt too raw emotionally at the time to release it. It showcases her vocals and song-writing skills, with The Church's guitarist and singer songwriter Marty Willson-Piper doing a sterling job at providing the musical accompaniment. An album strong with melody and Indie pop hooks, delivered with some really clear and precise vocals.
Versions of modern performance. / Horsegirl
Mark: Chicago female indie-rock trio Horsegirl are the next hyped band of the moment. A Lo-fi, somewhat muddy production aesthetic, coalesces around an set of catchy songs that dabble in indie, grunge, shoegaze, jangle-pop & noise. Production is from John Agnello who produced albums from Breeders and Dinosaur Jr back in the day, so it all has a sheen of direct familiarity. The influences cited reference Sonic Youth, Flying Nun, My Bloody Valentine & Pavement, but to me they sound more like English bands from the late 80s/early 90s. It's interesting enough that you want to listen to the album again after it finishes, but I'm not so sure it all adds up to something more than a homage to 30 years of indie rock sounds. Still pretty impressive, given that 2 of the band are college freshmen, while the other is a high school senior.
Neil: The debut indie rock outing from Chicago's Horsegirl helped along the way in its creation by several members of Sonic Youth. The resultant album sounds in all its glory like an album steeped in the drowsy, afterglow of the 80's and 90's alt rock, grunge, and shoegaze scenes. The album is an object lesson in recreating the sound of bands like Dinosaur Jnr and the Breeders, and if you are a fan of bands of these genres and these times then it's a good bet you will enjoy this.