Check out these new biographies in our collection.  From entertainers like Alan Cumming, Viola Davis and Hannah Gadsby to a Jubilee biography of Queen Elizabeth II, to an examination of the Silicon Valley powerful like Peter Thiel and the bookish tales of Ruth Shaw and Elizabeth Boyle, there's something for everyone.
Baggage : tales from a fully packed life / Cumming, Alan
"In a series of episodes that are bookended by two marriages, the ending of his first to his wife, and the start of his second to his husband, Baggage charts Alan's unique and wonderful career onstage and onscreen and all the times that Hollywood has, since his nervous breakdown at the age of twenty-eight, swooped into his life to whisk him away from all sorts of calamity or moments of personal destruction." (Adapted from Catalogue)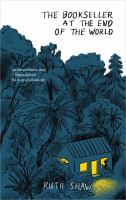 The bookseller at the end of the world / Shaw, Ruth
"Ruth Shaw weaves together stories of the characters who visit her bookshops, musings about her favourite books, and bittersweet stories from her full and varied life before bookshops. She sailed through the Pacific for years, was held up by pirates, worked at Sydney's King's Cross with drug addicts and prostitutes, campaigned on numerous environmental issues, and worked the yacht Breaksea Girl as an expedition/tourist boat with her husband, Lance." ( Adapted from Catalogue)
The contrarian : Peter Thiel and Silicon Valley's pursuit of power / Chakin, Max
"A biography of venture capitalist and entrepreneur Peter Thiel, the enigmatic, controversial and hugely influential power broker who sits at the dynamic intersection of tech, business and politics. Since the days of the dot-com bubble in the late 1990s, no industry has made a greater global impact than Silicon Valley." (Catalogue)
Fierce appetites : loving, losing and living to excess in my present and in the writings of the past / Boyle, Elizabeth
"Fierce Appetites is the exhilarating and deeply humane result. Not only does Elizabeth Boyle write dazzling accounts of ancient stories, familiar and obscure, from Ireland and further afield, but she uses her historical learning to grapple with the raw and urgent questions she faces, questions that have bedevilled people in every age. She writes on grief, addiction, family breakdown, the complexities of motherhood, love and sex, memory, class, education, travel (and staying put) with unflinching honesty, deep compassion and occasional dark humour.  (Adapted from Catalogue)
Finding me / Davis, Viola
"This is Viola Davis' story, in her own words, and spans her incredible, inspiring life, from her coming-of-age in Rhode Island to her present day. Hers is a story of overcoming, a true hero's journey." (Catalogue)
No. 91/92 : a diary of a year on the bus / Elkin, Lauren
"A love letter to Paris and a meditation on how it has changed in two decades, evolving from the twentieth century into the twenty-first, from analog to digital"– Provided by distributor." (Catalogue)
A queen for all seasons : a celebration of Queen Elizabeth II on her Platinum Jubilee / Lumley, Joanna
"A sparkling celebration of our much-loved Queen Elizabeth II for her Platinum Jubilee including special writings and illuminating insights around key moments in her 70-year reign, introduced and edited by her biggest fan Joanna Lumley. In 2022 Queen Elizabeth II celebrates seventy years as Queen and Head of the Commonwealth. She is Britain's longest reigning monarch and the very first to celebrate a Platinum Jubilee. A Queen For All Seasons, edited and introduced by Joanna Lumley, is a perceptive, touching and engaging tribute to this unique woman." (Adapted from Catalogue)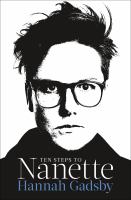 Ten steps to Nanette : a memoir situation / Gadsby, Hannah
"In her first book, the queer Australian comedian, writer, and actress takes us through the key moments in her life that ultimately led to the creation of Nanette and her startling declaration that she was quitting comedy. She traces her growth as a gay woman from Tasmania–where homosexuality was illegal until 1997–to her ever-evolving relationship with comedy, to her struggle with late-in-life diagnoses of autism and ADHD, and finally to the backbone of Nanette–the renouncement of self-deprecation, the rejection of misogyny, and the moral power of telling the truth" (Adapted from Catalogue)
Truly, madly : Vivien Leigh, Laurence Olivier and the romance of the century / Galloway, Stephen
"In 1934, a friend brought fledgling actress Vivien Leigh to see Theatre Royal, where she would first lay eyes on Laurence Olivier in his brilliant performance as Anthony Cavendish. That night, she confided, he was the man she was going to marry. There was just one problem: she was already married-and so was he. TRULY, MADLY is the biography of a marriage, a love affair that still captivates millions, even decades after both actors' deaths." (Adapted from Catalogue)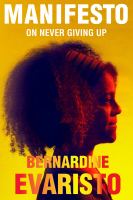 Manifesto : on never giving up / Evaristo, Bernardine
"Evaristo's astonishing nonfiction debut, Manifesto, is a vibrant and inspirational account of Evaristo's life and career as she rebelled against the mainstream and fought over several decades to bring her creative work into the world. With her characteristic humor, Evaristo describes her childhood as one of eight siblings, with a Nigerian father and white Catholic mother, tells the story of how she helped set up Britain's first Black women's theatre company, remembers the queer relationships of her twenties, and recounts her determination to write books that were absent in the literary world around her. She provides a hugely powerful perspective to contemporary conversations around race, class, feminism, sexuality, and aging." (Adapted from Catalogue)
For more biographies, go to our dedicated page on the library catalogue.