All images are used with permission and are copyrighted.
Lisa Reihana CNZM (Ngati Hine, Ngai Tūteauru, Ngāi Tūpoto, Ngā Puhi) was born in 1964 and grew up in Blockhouse Bay, Auckland, New Zealand.
Lisa is one of Aotearoa's leading artists: a multi-disciplinary visionary whose practice spans a multitude of mediums including photography, film, costume, sculpture, body adornment, and text. Her work has significantly influenced the development of contemporary art and contemporary Māori art in Aotearoa New Zealand and continues to do so to this day.
Lisa's practice amongst many things "explores the desire to re-examine colonial history and represent
countless counter histories and memories. And draw out inspiration from life worlds of communities in the present. And often contain a strong story telling content."
Her work and practice has gathered a host of awards and accolades, including being made a Companion of the New Zealand Order of Merit (she was already a Member of the New Zealand Order of Merit for services to art) in this year's  Queen's Birthday and Platinum Jubilee Honours list,  being an Arts Laureate, and a recipient of the Te Tohu Toi Ke Te Waka Toi Maori Arts Innovation Award from Creative New Zealand.
Lisa has a prodigious output and has exhibited in just about every major gallery in Aotearoa New Zealand, not to mention numerous worldwide. In 2017 she represented Aotearoa New Zealand at the 2017 Venice Biennale with the sublime In Pursuit of Venus [infected] (2015-17).
We were thrilled when we were asked to interview Lisa about her latest exhibition Nomads of the Sea, which is on at Porirua's PATAKA Art + Museum until Sunday 3 July 2022, as well as many other aspects  of her remarkable career.
In Nomads of the Sea Lisa uses large-scale, immersive installations and weaves together numerous threads – from museums, archives, and historical accounts to Māori narratives and Māori belief systems. It features four significant works selected from her vast body of work from the last 15 years.
Find more information about Nomads of the Sea at PATAKA Art + Museum here.
This interview was done in conjunction with Caffeine and Aspirin, the arts and entertainment review show on Radioactive FM. You can hear the interview, as well as find a selection of books that feature Lisa Reihana and her work that is available to borrow, below.
We would like to mihi to Lisa for giving us her time and such a fabulous interview.
In pursuit of Venus / Reihana, Lisa
"To accompany the exhibition of the new multi-media work by artist Lisa Reihana in Pursuit of Venus (infected) at Auckland Art Gallery Toi o Tamaki"-." (Adapted from Catalogue)
Lisa Reihana: emissaries / Reihana, Lisa
"Catalogue to accompany the exhibition 'Emissaries' by artist Lisa Reihana, New Zealand's official entry in the 57th Venice Biennale in 2017." (Adapted from Catalogue)
Digital marae / Reihana, Lisa
"This richly illustrated, modestly sized casebound book is devoted to Digital Marae; a major ongoing photographic and video project by one of New Zealand's foremost artists Lisa Reihana. Edited by Govett-Brewster Director and curator Rhana Devenport, contributors are leading Maori architectural historian Deidre Brown; Melbourne-based curator and writer Victoria Lynn and cultural theorist and sociologist Nikos Papastergiadis; and Te Papa curator Megan Tamati-Quennell. Additionally, an extended interview with Reihana by Devenport reveals the complex layers of influence that inform this ambitious and significant work." (Adapted from Catalogue)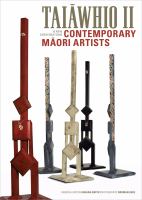 Taiāwhio II : contemporary Mäori artists : 18 new conversations
"Taiäwhio: Conversations with Contemporary Mäori artists, profiles a fresh range of contemporary Mäori artists. Each profile contains pages of information and quotes from the artists so readers can learn, in the artists' own words, about their influences and inspirations, work methods and practice, while numerous full-colour photographs accompany each chapter, depicting the artists at work and showing the range of their work and the environment in which they create it. Short biographies are given for each artist profiled and a general introduction by Huhana Smith provides context for the interviews and background information about contemporary Mäori art. " (Adapted from Catalogue)
Pasifika styles : artists inside the museum
"In May 2006 some fifteen artists from New Zealand took over the Museum of Archaeology and Anthropology in Cambridge (UK) as part of Pasifika Styles, a groundbreaking experiment in the display of Pacific Art. Installing their works in cases next to taonga or treasures collected on the voyages of Cook and Vancouver, the artists flung open the stores of the museum to bring more of the museum's unparalleled Oceanic collections to light.. This book describes Pasifika Styles, from the perspectives of artists, museum professionals and scholars involved in this pioneering project." (Adapted from Catalogue)
Artists on art : how they see, think and create / Black, Holly
"Through a carefully curated selection of quotations, images and interviews, Artists on Art reveals what matters most to the masters. You'll discover how the giants of the different artistic genres developed their distinctive visual styles, the core ideas that underpin their practice and, most importantly, what art means to you." (Adapted from Catalogue)
Womankind : New Zealand women making a difference / Thomson, Margie
"Profiles and portraits celebrating the successes and diversity of New Zealand women across many spheres – politics, arts, science, community development, business innovation and health. These leaders share their views on what it's like to be a woman in New Zealand today- the contributions they are most proud of, challenges they have faced and still face, dreams they have and goals for the role of New Zealand women. The range of women covers diverse fields, ages and ethnic backgrounds ." (Adapted from Catalogue)
Find our full range of resources featuring Lisa's work here.