Photo copyright Ehsen Hazaveh.
Acclaimed novelist  Murdoch Stephens has just released his latest novel, Down from Upland.
Down from Upland is a Wellington-based domestic novel about two millennials, Jacqui and Scott, and their teenage son. As the plot progresses, they  deal with some of  the issues that might occupy some Wellingtonian middle-class minds, like how to raise a teenager and how to operate in an open marriage, as well as how to navigate the perceived complexities of being a public servant or, indeed,  what is deemed acceptable behaviour in modern day Wellington. Down from Upland is a wonderful satirical tale of modern life set in a modern-day Wellington; the book is biting  in places, often wryly funny with many layers of meaning woven in.
Murdoch Stephens has written many books many such as On the conditions and possibilities of Helen Clark taking me as her Young Lover under the pseudonym of  Richard Meros.
As well as writing, Murdoch also wears many other hats. He is one of the founding editors behind Lawrence and Gibson publishing house, and in 2013 he launched the Doing Our Bit advocacy campaign, which eventually led to the New Zealand's  government doubling its refugee quota to 1500 places. When not writing fabulous books about our lives and times he is a Senior Research Fellow at the Centre for Asia Pacific Refugee Studies at the University of Auckland, having previously lectured at Massey University in Wellington, New Zealand.
We are thrilled that Murdoch  took time out from his very busy schedule to talk to us about Down from Upland, and we wish to extend our heartfelt thanks to him. For more information visit www.lawrenceandgibson.co.nz
This interview was done in conjunction with Caffeine and Aspirin, the arts and entertainment review
show on Radioactive FM. You can hear the interview below. You will also be able to place a reserve for Down from Upland, which is due into the library soon.
Please note that issues of a sexual nature are discussed in this interview.
Doing our bit : the campaign to double the refugee quota / Stephens, Murdoch
"In 2013, Murdoch Stephens began a campaign to double New Zealand's refugee quota. Inspired by his time living in Aleppo, Syria, over the next five years he built the campaign into a mainstream national movement – one that contributed to the first growth in New Zealand's refugee quota in thirty years. Doing Our Bit is an insider's account of political campaigning in New Zealand." ( Adapted from Catalogue)
Rat king landlord / Stephens, Murdoch
"Colossal rats invade from the town belt. Your rent is going up but everyone is calling it a summer of love. Cryptic posters appear around Wellington inciting people to join an evening of mayhem. Until now the rats have contented themselves with scraps. But as summer heats up and the cost of living skyrockets, we can no longer ignore that our friends are seeking their own rung on the property ladder."–Publisher's website." (Adapted from Catalogue)
$30 meat pack : the complete written correspondence between Richard Meros and Creative New Zealand. volume two. / Meros
"$30 Meat Pack is the second volume of correspondence between Richard Meros and Creative New Zealand, following on from Beggars and Choosers which Scoop Review of Books called a 'devilishly clever work of satire'. Volume two sees a right wing government champion art for the sake of the nation, restructuring Creative New Zealand and reorienting artists away from glum navel gazing and towards a bright future of belt-tightening. Featuring applications such as Baby Boomer Funeral, Hugo's there! Mr Chavez what are we to do about our right wing government? and Dating Westerners: tips for the new rich from the developing world." (Catalogue)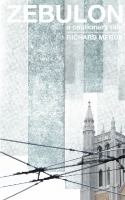 Zebulon : a cautionary tale / Meros
"Youth, it has to be said, are wholly incautious in action and in thought. They spit polemic in the same manner as their quieter elders hock chewing tobacco and betel nut loogies. But when adolescent beliefs fade, how do the no-longer younger deal with the stains of their pubescence? Through this keening recollection of his sunflower youth, Richard Meros provides his own answer to this perennial question." (Adapted from Catalogue)
Beggars & choosers volume 1. / Meros
"The trials and tribulations of the professional arts applicant make up Moers' latest novella. With the usual comic aplomb, Meros and a range of Creative New Zealand characters exchange application forms, supporting documents and budgets aplenty." (Adapted from Catalogue)
On the conditions and possibilities of Helen Clark taking me as her young lover / Meros
" A wicked and sharply humorous political satire about the New Zealand government and the prime minister of the time Helen Clark. First published in 2005 with a new edition released in 2008, by the pseudonymous author Richard Meros, and an adapted play of the same name was later written by Arthur Meek and Geoff Pinfield " ( Adapted from Catalogue)