Statler: Well, it was good.
Waldorf: Ah, it was very bad.
Statler: Well, it was average.
Waldorf: Ah, it was in the middle there.
Statler: Ah, it wasn't that great.
Waldorf: I kind of liked it."
-'The Muppet Show'.
I'm Mark, the Music & Film Specialist at Wellington City Libraries (I also run the Libraries' Wellington Music Facebook page). Every month my colleague Neil and I cast our eye over the new material we have been buying for the Music collection at our CBD Te Awe library. We pick out some interesting titles across a range of music genres, and try to limit our reviews to a few lines only. Can we encapsulate an entire album in just a couple of lines? [Ed. This is probably unlikely at this point]. Do we actually know anything about new music? Or, are we just too old to understand what most of this is banging on about? Read on to find out…
You belong there. / Rossen, Daniel
Mark: Solo full-length debut from the Grizzly Bear co-frontman/multi instrumentalist. Hewes closely to that GB/Radiohead nexus, but imbued with a greater degree of freedom of experimentation that the solitude of lockdown afforded. A deeply meditative song cycle full of intricately arranged tracks full of creeping anxiety.
Neil: Sweeping intricate guitars leads the free form jazz harmonies that are at the root this solo effort from the Grizzly Bear co-founder. There is so much music referenced in this work; from Nick Drake to Brazilian Folk, not to mention blues and classical. The result is dense and complicated in sound and emotion, an album that is both vulnerable and open to a huge extent, it's willingness to embrace so much makes the sonic journey worth taking.
In my own time. / Dalton, Karen
Mark: 50th Anniversary edition of the 2nd album from this influential folk artist, and subject of a 2021 documentary. Dalton's music focused on authentic honesty of a song's interpretation above technical perfection, and her intense voice & interpretations found fans in contemporaries like Bob Dylan. Kind of a folk 'Billie Holliday', her small body of work attracted a much deserved cult following, much like Nick Drake or Eva Cassidy, that only increases with time.
Neil: Karen Dalton's much overdue rediscovery continues with the re-release of the folk rock legend's 1971 sophomore album. The singer is idolized by the likes of Bob Dylan and Nick Cave. The tracks are covers, but Dalton totally inhabits each song and makes each one off them her own, thanks in part to the plaintive emotional nuances put on the lyrics by her amazing and unique voice. This was very sadly to be her last release, she famously recorded almost nothing and fell into a spiralling pit of drink, drugs, and depression from which she never escaped. Her tragic life was the subject of a highly recommended documentary recently called KAREN DALTON: IN MY OWN TIME. The album makes you wish there was more of her work out there.
Fear of the dawn. / White, Jack
Mark: The 2nd album that Jack White wrote and recorded during lockdown (the first 'Entering Heaven Alive' is due for release in July). Classic rock tropes, guitar freak-outs, Far-Eastern influences, weird samples and soulful jams all form a sonic barrage tied together by a loose overarching concept of eosophobia – a Greek term for a morbid fear of daylight. The cut-up production style (à la William S. Burroughs – who is sampled on one track) has divided opinion, with critics hailing it as either his strongest solo album, or a mystifying 'mad-scientist' melange of sounds.
Neil: 'Fear of the Dawn' is Jack White's weirdest most adventurous and imaginative outing yet. That said, experimentation and melodic elements are finely balanced and his trademark blues-rock style is definitely present. There are samples of William Burroughs dialogue and copious usage of overdubs that ensure that any comparisons with the White Stripes are fleeting. There are even prog-rock elements incorporated into the work. A new and strange direction for the White Stripes guitarist.
Chloë and the next 20th century. / Misty, Father John
Mark: More eccentric musing from the former Fleet Foxes drummer and internet provocateur Father John Misty (real name Josh Tillman). Witty and acerbic character sketches form the backbone of his Lou Reed/Harry Nilsson/Jackson Browne nexus of uneasy listening. His music exists in a strange amalgam of sincerity and irony, and this album is more of the same, just more grandiose in its scope and arrangements as he delves deep into a spooky layered nostalgia with these seedy, showtun-ish, vignettes.
Neil: The romance of the American dream as in a faded mirror has often been a staple of Hollywood, and a strong influence on the work of Father John Misty. The silver screen haunts some of his previous albums, but in a very modern way. Father John Misty's latest outing takes a very different look at this influence. Imagine, if you will, a fabulous richly created evocation of the Hollywood environs, specifically the 1940's and 50's, both in terms of the music and lifestyles of the times. That would be very close to what this album sounds like.
Life on Earth. / Hurray for the Riff Raff
Mark: 'Hurray for the Riff Raff' is the project of singer/songwriter Alynda Segarra who is of Puerto Rican descent. This, their 8th album, got of lot of great reviews and it's not hard to see why. A mix of Americana Roots and modern rock sounds surround a set of catchy, melodic songs. Lyrically, this work focuses on our ongoing war on the planet and the shifting turmoil of 2020s politics on marginalised groups. They call the sound of this album 'nature punk' and despite the weighty subjects, the focus is on hope and survival.
Neil: The eight album from Alynda Segarras is an intimate work; part nature punk, part indie rock with anthemic choruses in places and even a little bit of hip-hop thrown in. The songs on the album display a raw, honest and self-possessed openness. If you need a reference point, it reminded me in places of a folk punk P.J Harvey. Which is, of course, no bad thing.
Another side. / Nocentelli, Leo
Mark: 'Another Side' is the previously unissued 1971 debut solo album from Meters' guitarist Leo Nocentelli. Recorded in a New Orleans Jazz City Studio studio (with Allen Toussaint on Piano) while the Meters were on a hiatus, the tapes of fully produced demos were shelved and forgotten at Toussaint's Sea-Saint studio when the Meters signed with Warner Bros. Thought drowned during Hurricane Katrina when Toussaint's studio was destroyed, incredibly the album was amongst 16 boxes of tapes from from Jazz City and Sea-Saint studios that surfaced at at a swap meet in Torrance, California, saved from the storm and left in an L.A. storage unit. Distinctly different from the Meters, this is a singer-songwriter album in the the mould of 70's Laurel Canyon/Bill Withers, full of great bluesy acoustic laments.
Neil: These previously unknown 1971 recordings by Leo Nocentelli " The Meters legendary guitarist" are a revelation . His trademark nylon string unique guitar sound is unmistakable, though this solo outing is distinctly different from his Meters work. The tapes the album was created from were found at a tape swap and meet event in 2018, and it turns out they were rescued from the vault of the studio they were recorded at after it was hit by Hurricane Katrina. The resultant music is a gorgeous roots-rock outing in places, slightly reminiscent of Dr John or Beck during his Sea Change album phase, and are a very welcome if unlikely sonic rescue.
Tales of common folk, salt & sweet kisses. / Parry, Nigel
Mark: Originally from the UK, Nigel Parry is now a well established voice in the Wellington folk music scene. His new album is mostly original NZ focused material, with a couple of traditional European covers, forming a reflective journey through our history; from whaling in the Marlborough Sounds, to tales of love, the unspoken trauma of war returnees and the changes the modern world has wrought on small rural towns. His delicate picking and mellow voice helm the strong set of traditional folk.
Neil: New Zealander Nigel Parry's album is firmly rooted in the heart of traditional English Folk music. It's a perfectly executed genre piece with subtle, delicate and poised songs, many of which were written by Parry himself. His voice is pitch-perfect for the tracks too. As is fitting for an album referencing English Folk music, the songs are stories in themselves. If you are a fan of English Folk music at all, it comes with our top recommendation and well worth a listen if you're not.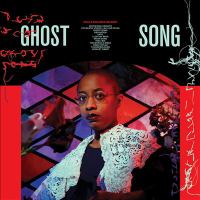 Ghost song. / Salvant, Cécile McLorin
Mark: Cécile McLorin Salvant is an American Jazz vocalist who has won the Grammy Award for Best Jazz Vocal Album three times. Her 6th album (and first for the Nonesuch label) is inspired by Kate Bush & ghosts and is full of her angular take on Jazz; a blend of traditional smokey Jazz ballads, experimental moments and musical theatre/cabaret type numbers. It's easy to see why she is so acclaimed, but her idiosyncratic approach to singing may not be to everyone's taste.
Neil: 'Ghost Song' is an idiosyncratic and musically playful album that displays an incredibly wide range of sonic pallets in its creation. It is mainly a Jazz singer songwriter piece, though many other influences come into play. The album is a mixture of covers and original compositions, and it includes a radical and beautiful reinterpretation of Kate Bush's Wuthering Heights.
How is it that I should look at the stars / Weather Station
Mark: Written at the same time as 2021's critically acclaimed Ignorance, this is a somewhat different album. Mostly piano based songs that are hushed and intimate, there are no big hooks in these somber melancholic soundscapes but the songs are melodic and full of interesting layers that reveal themselves on repeated listens. Very much in the mould of 90s Sarah McLachlan.
Neil: 'How is it that I should look at the stars' is a deeply vulnerable, sparse and beautiful album. An object lesson in delicate song writing. The songs are sensitive, cool, fluid, melancholic, but within the darkness is the occasional flicker of light. The album is breathtakingly beautiful in its own way, a quiet contemplative late night album.
Painless. / Yanya, Nilüfer
Mark: 2nd album from this London singer-songwriter, following 2019's Miss Universe. Her debut album was chock full of all the eclectic musical styles that artists from her generation have been able to absorb and reflect as they figure out their own musical identity. Thus, her sophomore album is the logical progression to a more solidified sound; a smooth, melodic, refined indie-pop. Her voice glides over the tracks, all of which have a tense insular feel. The skittering beats tackling inner turmoil, identity, emotional & physical self-harming, this is the sound of someone about to become a big star.
Neil: Painless by Nilüfer Yanya is a smooth, poised and elegant pop album. A subtle listen in a hooky pop-world type of way. It's catchy in a sneaky way, with melty and flirtations lyrics and in places reminded me of New Order.
Black acid soul. / Lady Blackbird
Mark: CD release of this album, which was released digitally & on limited Vinyl editions in 2021. Lady Blackbird is the moniker of L.A singer Marley Munroe. The title might suggest this is a funk/Afro-futurist outing, but this is seriously deep Jazz with touches of soul. Minimal guitar, piano & bass frame her amazing voice (somewhere between Nina Simone, Billie Holliday & Cassandra Wilson) as she re-interprets a series of modern songs from Allen Toussaint, Tim Hardin, Nina Simone, The James Gang & the like. She also adds lyrics of her own to "Fix It", which is based on the Bill Evans classic instrumental "Peace Piece". Moody, spiritual, intense and haunting. She is definitely on her way to next big thing status.
Neil: The hugely anticipated 'Black acid soul' lives up to all the pre-release hype. Sad jazz/soul songs that give you goose bumps, rip your heart apart and then start to sooth it. Think smoky late-night Nina Simone or Mahalia Jackson. The music is stripped back to the essentials, minimalist in approach, but is done with such skill and quality that the work shines. Marley Munroe's singing is flawless, searching and finding the emotional heart of each track. One of those releases that is bound to be on many people's best of 2022 lists.
Visitor. / Empath
Mark: 2nd album for this Philly-based quartet, centred around singer/guitarist Catherine Elicson. Following on from 2019's Active listening: night on Earth, this is a more polished take on their ramshackle pop-punk aesthetic. Brief catchy tunes with manic vocals move from overtly noisy to poppy. Very reminiscent of strains of 90s alt-pop. A lot of the tunes reminded me of a more aggressive version of cult band The Sundays.
Neil: Philadelphia pop-noise merchants Empath release their second album. In many ways 'Visitor' sticks in part to their punk roots. That said, they've also introduced a more languid dreamy and sedate aspect to this work, making their sound in many of the songs slower, clearer, and more chilled. These new elements give their latest outing a new sound and direction, and perhaps points the way to how future albums might sound. All in all, it sounds like a band who is both in transition and pushing forward.
Gifted. / Koffee
Mark: Koffee is the moniker of Mikayla Simpson, a young female Jamaican singer & rapper who has taken the Reggae world by storm. She became the first female artist ever to win the Grammy for best reggae album, for 2019's EP 'Rapture', and has now delivered her full length debut album, 'Gifted'. Mellow dancehall vibes meet modern pop stylings and propulsive Hip-Hop wordplay. While not particularly edgy or political, there is a charming earnestness to the album that floats along on a tide of easy going summery vibes. A great album for future beach parties.
Neil: In 2019, Koffee was the youngest ever winner ever of the Grammy for the Best Reggae Album for her EP 'Rapture'. This, her debut full length album, is a breezy and bouncy good vibe outing which moves seamlessly between R&B, dancehall and especially Reggae. It is an uplifting, positivity laden, shot of summer good times wrapped in Jamaican glow. It will give even more fuel to the many people who have already heralded her as the new superstar of Reggae.