"Holy paranormal activity, Nightingale – to the Jag mobile."
― Ben Aaronovitch, Whispers Under Ground
If you are one of  the legions of Rivers of London fans out there, and we know there are lots of you, then this month's newly-acquired fantasy and science fiction titles has a real treat in store; the much-anticipated ninth instalment of the worldwide bestselling series is here! It's called Amongst Our Weapons and is, of course, written by the fabulous Ben Aaronovitch. If you haven't read the series yet, then we have all the previous books available to borrow. Click here for more details.
The Rivers of London is an urban fantasy series set in London and has apprentice wizard and detective Peter Grant as its eponymous hero. The books in the series are funny, entertaining and original. It is no surprise that they have become such a beloved series. The latest instalment, Amongst Our Weapons, revolves around a murder in the supposedly impenetrable London Silver Vaults – a murder so mysterious that magical involvement is strongly suspected.
We were thrilled that, a little while ago, Ben Aaronovitch agreed to a question-and-answer session with us about the series as well as his other work, such as being a scriptwriter for Doctor Who. Click here to see our very extensive range of Doctor Who items. And if you missed it first time round, we've put that Q and A session up below.
There's also a plethora of other fantastic tiles in this month newly acquired fantasy and science fiction titles, which you can read more about by scrolling down.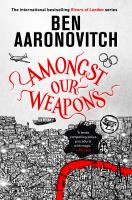 Amongst our weapons / Aaronovitch, Ben
"The London Silver Vaults–for well over a century, the largest collection of silver for sale in the world. It has more locks than the Bank of England and more cameras than a paparazzi convention. Not somewhere you can murder someone and vanish without a trace–only that's what happened. The disappearing act, the reports of a blinding flash of light, and memory loss amongst the witnesses all make this a case for Detective Constable Peter Grant and the Special Assessment Unit. Alongside their boss DCI Thomas Nightingale, the SAU find themselves embroiled in a mystery that encompasses London's tangled history, foreign lands and, most terrifying of all, the North!  …" (Adapted from Catalogue) Also available as an eBook.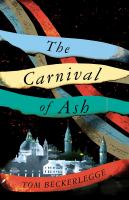 The carnival of ash / Beckerlegge, Tom
"Cadenza is the City of Words, a city run by poets, its skyline dominated by the steepled towers of its libraries … Carlo Mazzoni, a young wordsmith, arrives at the city gates intent on making his name as the bells ring out with the news of the death of the city's poet-leader. Instead, he finds himself embroiled with the intrigues of a city in turmoil … A war that threatens not only to destroy Cadenza but remove it from history altogether." (Adapted from Catalogue)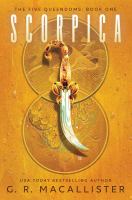 Scorpica / Macallister, G.R.
"Five hundred years of peace between queendoms shatters when girls inexplicably stop being born. As the Drought of Girls stretches across a generation, it sets off a cascade of political and personal consequences across all five queendoms of the known world, throwing long-standing alliances into disarray as each queendom begins to turn on each other, and new threats to each nation rise from within. Uniting the stories of women from across the queendoms, this propulsive, gripping epic fantasy follows a warrior queen who must rise from childbirth bed to fight for her life and her throne." (Adapted from Catalogue)
All the horses of Iceland / Tolmie, Sarah
"Filled with the magic and darkened whispers of a people on the cusp of major cultural change, this tale follows a Norse trader on his travels through Central Asia, where he barters for horses and returns with much, much more." (Adapted from Catalogue)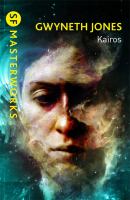 Kairos / Jones, Gwyneth A.
"London. Early 21st Century. A Conservative government is in power in the UK, bringing increased wealth disparity, an ever-more militant police state, and rising civil discontent as the wealthy govern for themselves rather than the people. But BREAKTHRU – a pharmaceutical company turned religious cult – have the answer. They call it Kairos. Kairos allows the user to not just see a different world, but shape the world to their very will. Perfect for a cult of like-minded individuals. Disastrous when it is exposed to the general public. As disparate groups of people try to shape the world into their own image, reality itself is placed under threat. With society so divided, is there any way to pull the world back together? Written in 1988, this remarkably prescient book received great critical acclaim.." (Adapted from Catalogue)
The circus infinite / Wong, Khan
"A mixed-species fugitive, Jes tries to blend in on a pleasure moon, but instead catches the attention of a crime boss who owns the resort-casino where he lands a circus job and is forced to bend to the mobster's will until he decides to take the big boss down." (Adapted from Catalogue) Also available as an eBook.
Wild and wicked things / May, Francesca
"On Crow Island, people whispered, real magic lurked just below the surface, but Annie Mason never expected her enigmatic new neighbor to be a witch. When she witnesses a confrontation between her best friend Bea and the infamous Emmeline Delacroix at one of Emmeline's extravagantly illicit parties, she is drawn into a glittering, haunted world. A world where magic can buy what money can not; a world where the consequence of a forbidden blood bargain might be death." (Adapted from Catalogue)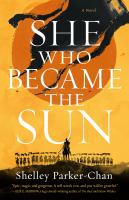 She who became the sun / Parker-Chan, Shelley
"To possess the Mandate of Heaven, the female monk Zhu will do anything. "I refuse to be nothing…" In a famine-stricken village on a dusty yellow plain, two children are given two fates. A boy, greatness. A girl, nothingness… In 1345, China lies under harsh Mongol rule. For the starving peasants of the Central Plains, greatness is something found only in stories. When the Zhu family's eighth-born son, Zhu Chongba, is given a fate of greatness, everyone is mystified as to how it will come to pass. The fate of nothingness received by the family's clever and capable second daughter, on the other hand, is only as expected….." (Catalogue) Also available as an eBook.