May has snuck up on us! We're mourning the daylight and breaking out the coats and scarves, but the dwindling autumn months come with some benefits too. Just picture it: rain lashing the windows and steam curling from your favourite mug; you've got nowhere to be except here, curled up in a cosy spot, a captivating book resting on your knee.
While we're definitely advocates for comfort when it comes to our favourite reading nooks, we also love what Azar Nafisi has to say in her latest book Read Dangerously. Written as a series of letters to her late father, she uses the lens of literature to make sense of recent world events. Nafisi invites us to challenge ourselves through the books we read, to face our preconceptions head on and to seek out texts that foster connection rather than division. It's a mix of literary analysis and memoir, in conversation with the work of James Baldwin, Margaret Atwood, Salman Rushdie and Ta-Nehesi Coates to name just a few. It's well worth checking out! 
On the theme of literary analysis, local poet Anna Jackson's has a new book out. It's called Actions and Travels, and in it she looks at 100 different poems with the goal of showing us how poetry works. It's perfect for people who are new to poetry but unsure where to begin, while the poetically-confident will enjoy Jackson's expert analysis.
Other picks for this month include the timely Last Call at the Hotel Imperial, which looks at a group of American reporters whose work in the lead up to WWII has had a huge impact on war journalism, shaping the industry to this day. In The Man Who Tasted Words, neurologist Guy Leschziner explores a selection of unusual sensory experiences through case studies of his patients, introducing us to people who feel no pain, who smell phantom smells, and who are no longer able to hold a picture in their mind's eye. Then in Sounds Wild and Broken, David Haskell celebrates the sounds of our world – from cicada symphonies to human song – exploring the origins of this sonic diversity and showing us why it must be protected.
Read dangerously : the subversive power of literature in troubled times / Nafisi, Azar
"What is the role of literature in an era when one political party wages continual war on writers and the press? What is the connection between political strife in our daily lives, and the way we meet our enemies on the page in fiction? How can literature, through its free exchange, affect politics? Drawing on her experiences as a woman and voracious reader living in the Islamic Republic of Iran, her life as an immigrant in the United States, and her role as literature professor in both countries, Nafisi crafts an argument for why, in a genuine democracy, we must engage with the enemy, and how literature can be a vehicle for doing so." (Adapted from Catalogue)
Last call at the Hotel Imperial : the reporters who took on a world at war / Cohen, Deborah
"They were an astonishing group: glamourous, gutsy, and irreverent to the bone. Last Call at the Hotel Imperial is the extraordinary story of John Gunther, H.R. Knickerbocker, Vincent Sheean, and Dorothy Thompson: a close-knit band of wildly famous American reporters who, in the run-up to World War II, took on dictators and rewrote the rules of modern journalism. They committed themselves to the cause of freedom: fiercely and with all its hazards. The fault lines that ran through a crumbling world, they would find, ran through their own marriages and friendships too. Told with the immediacy of a conversation overheard, this revelatory book captures how the global upheavals of the twentieth century felt to live through up close." (Adapted from Amazon UK)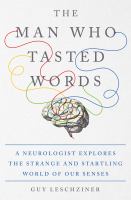 The man who tasted words : a neurologist explores the strange and startling world of our senses / Leschziner, Guy
"Vision, hearing, taste, smell, and touch are what we rely on to perceive the reality of our world. But are they really that reliable? Leschziner explores how our nervous systems define our worlds and how we can, in fact, be victims of falsehoods perpetrated by our own brains. In his moving and lyrical chronicles of lives turned upside down by a disruption in one or more of their five senses, he introduces readers to extraordinary individuals he's worked with in his practice, like one man who actually "tasted" words, and shows us how sensory disruptions like that have played havoc, not only with their view of the world, but with their relationships as well." (Adapted from Catalogue)
Actions & travels : how poetry works / Jackson, Anna
"A brilliant introduction to how poetry works through one hundred poems. Through illuminating readings of one hundred poems – from Catullus to Alice Oswald, Shakespeare to Hera Lindsay Bird – Actions & Travels is an engaging introduction to how poetry works. Ten chapters look at simplicity and resonance, imagery and form, letters and odes, and much more. In Actions & Travels Anna Jackson explains how we can all read (and even write) poetry." (Adapted from Catalogue)
Legacy of violence : a history of the British empire / Elkins, Caroline
"Sprawling across a quarter of the world's land mass and claiming nearly seven hundred million people, Britain's twentieth-century empire was the largest empire in human history. For many Britons, it epitomized their nation's cultural superiority, but what legacy did the island nation deliver to the world? Covering more than two hundred years of history, Caroline Elkins reveals an evolutionary and racialized doctrine that espoused an unrelenting deployment of violence to secure and preserve the nation's imperial interests. Drawing on more than a decade of research on four continents, Legacy of Violence implicates all sides of Britain's political divide in the creation, execution, and cover-up of imperial violence, upending long-held myths and shedding new light on empire's role in shaping the world today." (Adapted from Catalogue)
The status game : on social position and how we use it / Storr, Will
"For centuries, philosophers and scholars have described human behaviour in terms of sex, power and money. Bestselling author Will Storr radically turns this thinking on its head by arguing that it is our irrepressible craving for status that ultimately defines who we are. It's an unconscious obsession that drives the best and worst of us: our innovation, arts and civilisation as well as our murders, wars and genocides. But why is status such an all-consuming prize? What happens if it's taken away from us? The Status Game offers a sweeping rethink of human psychology that will change how you see others – and how you see yourself." (Adapted from Catalogue)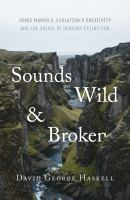 Sounds wild and broken : sonic marvels, evolution's creativity and the crisis of sensory extinction / Haskell, David George
"The Earth's sounds are wonderfully diverse, complex and beautiful — but they are under threat. Starting with the origins of animal song and traversing the whole arc of Earth history, Haskell illuminates and celebrates the emergence of the varied sounds of our world. We learn that human music and language belong within this story of ecology and evolution. Yet we are also destroyers, now silencing or smothering many of the sounds of the living Earth. Haskell shows that sonic crises are not mere losses of sensory ornament. Sound is a generative force, and so the erasure of sonic diversity makes the world less creative, just and beautiful. Sounds Wild and Broken is an invitation to listen, wonder, belong and act." (Adapted from Catalogue)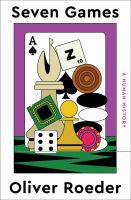 Seven games : a human history / Roeder, Oliver
"A group biography of seven enduring and beloved games, and the story of why – and how – we play them. Checkers, Backgammon, Chess, and Go. Poker, Scrabble, and Bridge. These seven games, ancient and modern, fascinate millions of people worldwide. Roeder charts their origins and historical importance, the delightful arcana of their rules, and the behavioural design that make them pleasurable. He delves into the history and lore of each game, and explores why games, seemingly trivial pastimes, speak so deeply to the human soul. Funny, fascinating and profound, Seven Games is a story of obsession, psychology, history, and how play makes us human." (Adapted from Catalogue)