Knitting, weaving, quilting, and pattern making have been called by different names in history, and still we find ourselves in awe at the sublime intricacies of these crafts. These artforms are forever capturing the zeitgeist of the modern world.
The book Te Puna Waiora : the distinguished weavers of Te Kāhui Whiritoi is a stunning depiction of the great mana of Aotearoa's senior Māori weavers who not only honour the tradition, but also ensure the survival of the masterful practice today.
Pamela Vanderlinde's book, Patternmaking for Dress Design: 9 iconic styles from empire to cheongsam, is packed with vivid illustrations and depicts the historical backdrops behind nine iconic dress designs. It showcases a comprehensive, project-based approach to classic cuts for modern-day, fashion pieces that even the present generation would love to wear.
Like weaving and pattern making, the art of crocheting traces its inception to China's Shang dynasty, but has evolved into numerous cross-cultural forms. Learn by starting off with basic stitches in Crocheted bags : 25 quick and easy projects to make.
Crocheting has found its way, too, into the modern world. With a bale of yarn and hook, crocheting gave birth to amigurumi. Although amigurumi has been a trend for the last ten years, the Japanese form of knitting small stuffed creatures has swept the world's imagination. Considered as one of the offshoots of the kawaii craze that started in the 1970's Japan, amigurumi is a cuteness overload for the modern day world. Two new books in our collection: Crochet at work : 20 career dolls to make and customize and Anyone can crochet amigurumi animals : 15 adorable crochet patterns provide whimsical, crocheting journeys for everyone.
Finally, our new book on quilting, Quilt as you go : a practical guide to 14 inspiring techniques & projects, makes a great resource for those who simply don't have much space or time, or are wanting to start a new fabric project in small manageable sections.
Te Puna Waiora : the distinguished weavers of Te Kāhui Whiritoi
"The weavers of Te Kahui Whiritoi are the senior Māori weavers of Aotearoa New Zealand. Here, their works and stories reveal the complexity and beauty of raranga, placing te whare pora, the house of weaving, at the centre of Māori life, where it connects the weaver to their whakapapa and whenua, their whānau, iwi and tūpuna"–Back cover." (Catalogue)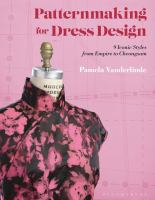 Patternmaking for dress design : 9 iconic styles from Empire to cheongsam / Vanderlinde, Pamela
"Detailed patterns and step-by-step instructions guide fashion designers through creating 9 iconic dresses. With background on each garment's historical significance and examples of how they've reinvented in contemporary collections"– Provided by publisher." (Catalogue)
Crocheted bags : 25 quick and easy projects to make / Osmond, Emma
"Crochet your way from clutch to tote, making a variety of beautiful bags in between, with the latest title in the Weekend Makes series.  Grab your crochet hook and yarn and join the trend by creating a carrier for every outing. Whether you're a newcomer to this craft or have been hooked for a while, you'll find a project to kickstart your creativity and learn the skills required to make it. With detailed techniques, tools and materials sections, this book provides everything you need to know to get started."–Amazon.com." (Adapted from Catalogue)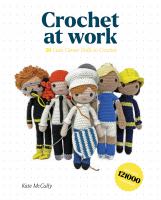 Crochet at work : 20 career dolls to make and customize / McCully, Kate
"Discover 20 adorable amigurumi dolls to crochet, each dressed for a different career. Customize the dolls by choosing the body shape, skin and hair colour, hairstyle, outfit and accessories. There are over 100,000 possible combinations!" (Catalogue)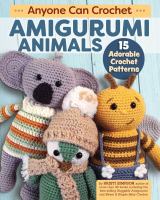 Anyone can crochet amigurumi animals : 15 adorable crochet patterns / Simpson, Kristi
"Whether you've been crocheting for years or have never picked up a crochet hook before, this accessible, exciting project guide will show any crafter of any skill level everything you need to know to successfully make adorable amigurumi animals! This crochet project book opens with expert guidance on basic tools and techniques and insightful introductory sections on the basics.  Each project that follows features clear, easy-to-follow instructions, how-to crochet illustrations, photo step-outs for detail work, and additional insider tips and tricks to make the most of your crochet projects. Also included are stitch guides, a comprehensive glossary, a handy abbreviations sheet, and more." — Amazon.com." (Adapted from Catalogue)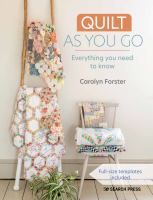 Quilt as you go : a practical guide to 14 inspiring techniques & projects / Forster, Carolyn
"Choose from a variety of hand- and machine-sewn styles including stitch-and-flip, envelope-style, lined circles, Suffolk puffs and cathedral windows. Each technique is photographed step by step, and then each completed, discrete block can be transformed into a stunning quilt project, which comes complete with full instructions. If you like taking your creative work with you when you travel, love the convenience of working in small, manageable blocks, or simply want to try out some different techniques before committing to a full-size quilt, this book will help you achieve remarkable results. All the templates required are included at full size." (Catalogue)