COVID-19 has had a significant impact on how we juggle working or studying from home, meeting with friends, and many other aspects of our lives, adding stress and anxiety. If you're looking for fresh ideas to rebalance, the library has a wealth of resources to support your well-being.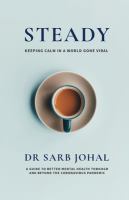 Steady : a guide to better mental health through and beyond the coronavirus pandemic / Johal, S. S.
"How do you deal with uncertainty and anxiety when your world is upended by the coronavirus pandemic? Dr Sarb Johal, an expert in emergency management and disaster psychology wrote this book for anyone wanting to strengthen their capacity to ride the possible coming waves of Covid-19 as well as life's general stress – with more calm, ease and a sense of groundedness. " (Adapted from the Catalogue)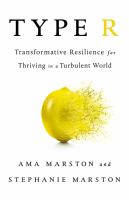 Type R : transformative resilience for thriving in a turbulent world / Marston, Ama
"Forget Type As and Bs. The future lies with Type Rs– the individuals, leaders, businesses, families and communities that turn challenges into opportunity in times of upheaval, crisis and change. .. The authors look at the mindset, skills and strategies of Type Rs who are finding ways to turn some of the most challenging of circumstances into opportunity– …They share inspiring stories that highlight the complexity of the times we live in — unprecedented world events, environmental crises and businesses facing increasing global competition as well the individual and collective triumphs of Type Rs coping with these as well as the stress of daily life, unstable careers, and the challenges and disruptions that will inevitably rattle our lives at some point"– Provided by publisher." (Catalogue)
Chasing the sun : how the science of sunlight shapes our bodies and minds / Geddes, Linda
"For most of mankind's history, the sun has dictated our daily patterns of eating, sleeping and activity. The sun has also shaped human culture and biology. Bursting with original and cutting edge research, this book tells the story of our history with the sun, and explores what it means to lose our connection with it. This book asks us to rethink the significance of the sun in our lives and to exploit our relationship to improve our health, sleep and efficiency." (Adapted from the Catalogue)
8 keys to mental health through exercise / Hibbert, Christina G.
"Inspiring strategies from a wellness expert for keeping fit, relieving stress, and strengthening emotional well-being. Part 1. Understand — Key 1: Heal your mind and body with exercise — Key 2: Improve your self-esteem with exercise — Key 3: Exercise with your family — Part 2. Prepare — Key 4: Get motivated — Key 5: Change how you think about exercise — Key 6: Overcome roadblocks — Part 3. Exercise for life — Key 7: Get fitt; physically and mentally — Key 8: Implement your vision and flourish." (Adapted from the Catalogue)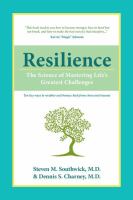 Resilience : the science of mastering life's greatest challenges / Southwick, Steven M.
This identifies ways to weather and bounce back from stress. Incorporating scientific research and dozens of interviews, it provides a practical guide to building emotional, mental and physical resilience. It provides a roadmap for overcoming the adversities we all face at some point in our lives. (drawn from the publisher's notes)
Psycho-logical : why mental health goes wrong – and how to make sense of It / Burnett, Dean
"An expertly written, extremely accessible primer on mental health from the bestselling author of The Idiot Brain. Why are mental health conditions so widespread? What is it about modern life that has such an impact on our mental health? The author answer these questions and more. This book is an expertly written and extremely accessible primer on how and why these problems arise, and what we can do to tackle them." (Adapted from the Catalogue)
Anxiety : expert advice from a neurotic shrink who's lived with it all his life / Cross, Mark
"Consultant psychiatrist Dr Mark Cross helps many of his patients who are sufferers of anxiety, Mark too has suffered from it all his life. In this book he demystifies anxiety in his trademark warm and friendly style. For sufferers, their families and friends, the book explores: types of anxiety; causes and common triggers; and treatments. Mark also shares his own experiences as well as stories from other sufferers who have not only survived but thrived." (Adapted from the Catalogue)
The NZ government has also put together a list of tools and contacts to follow up and support your well-being.