"Why is it that all men like to lie?"

― Seishi Yokomizo, The Village of Eight Graves
It is widely said in the book world that one of the genres of translated fiction that gains a wide and popular readership worldwide is that of crime and mystery detective novels. It seems that crime novels have a universal appeal.
And in this month's newly acquired crime and mystery novels we have an excellent example of this, in the form of the The Village of Eight Graves by Seishi Yokomizo. The Village of Eight Graves is the first English translation of the third instalment of the most popular murder mystery series ever in Japan. Originally published in 1949, the investigator Kosuke Kindaichi books were a Japanese smash hit phenomenon and eventually ran to seventy-six titles, spawned numerous television, film and theatre adaptations and sold five million copies of the series in Japan alone. Indeed, many people regard the first book in the series, The Honjin Murders, as the finest Japanese detective novel ever written and now, thanks to its much-delayed translated release, we can find out for ourselves what the excitement was all about. We've also included a few other recently acquired crime and mystery novels that caught our attention; for more details read on below.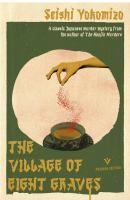 The village of eight graves / Yokomizo, Seishi
"Nestled deep in the mist-shrouded mountains, The Village of Eight Graves takes its name from a bloody legend: in the Sixteenth Century eight samurais, who had taken refuge there along with a secret treasure, were murdered by the inhabitants, bringing a terrible curse down upon their village. Centuries later a mysterious young man named Tatsuya arrives in town, bringing a spate of deadly poisonings in his wake. The inimitably scruffy and brilliant Kosuke Kindaichi investigates." (Adapted from Catalogue)
Murder most fancy / McCourt, Kellie
"Home for just 48 hours, billion-heiress Indigo-Daisy-Violet-Amber Hasluck-Royce-Jones-Bombberg has already committed two  felonies, reignited a childhood feud, been (possibly) humiliated (again) by her first love, and fallen over a nameless homeless dead man.  Grandmother's kindly neighbour, Dame Elizabeth Holly, wants to spring the anonymous corpse from the coroner's freezer. She's convinced Indigo and her parolee personal assistant Esmerelda can unearth the man's identity, thus allowing his burial. Meanwhile Grandmother wants the unlikely duo to locate Dame Holly's possibly missing gentleman friend… " (Adapted from Catalogue) Also available as an eBook.
Disappearance of a scribe / Stabenow, Dana
"After two Alexandrian fishermen discover a skeleton anchored by a cement weight, Queen Cleopatra charges Tetisheri, her new Eye of Isis, to uncover the identities of the victim and the killers.47 B.C. Two Alexandrian fishermen come across the body of a skeleton floating upright at the bottom of the sea, anchored in place by a cement weight around his feet. In Alexandria's rough-and-tumble construction trade they call that 'being fitted with a pair of Rhakotis sandals' and what's worse, he is the second such victim in two years. " (Adapted from Catalogue)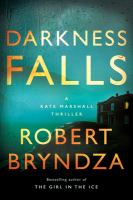 Darkness falls : a Kate Marshall thriller / Bryndza, Robert
"Kate Marshall's investigation into a journalist's disappearance sends her down an unexpectedly twisted path in a riveting thriller by the author of Shadow Sands. Kate Marshall's fledgling PI agency takes off when she and her partner, Tristan Harper, are hired for their first big case. It's a cold one. Twelve years before, journalist Joanna Duncan disappeared after exposing a political scandal. Most people have moved on. Joanna's mother refuses to let go. When Kate and Tristan gain access to the original case files, they revisit the same suspects and follow the same leads–but not to the same dead ends. Among Joanna's personal effects, Kate discovers the names of two young men who also vanished without a trace." (Adapted from Catalogue)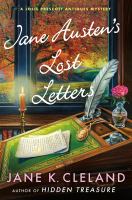 Jane Austen's lost letters / Cleland, Jane K
"Antiques appraiser Josie Prescott is in the midst of filming a segment for her new television show. Josie's Antiques, when the assistant director interrupts to let her know she has a visitor. Veronica Sutton introduces herself as an old friend of Josie's father, who had died twenty years earlier. Veronica hands Josie a brown paper-wrapped package. Mystified, Josie opens the package, and gasps when she sees what's inside: a notecard bearing her name–in her father's handwriting–and a green leather box. Inside the box are two letters in transparent plastic sleeves. The first bears the salutation, "My dear Cassandra," the latter, "Dearest Fanny." Both are signed "Jane Austen."  (Adapted from Catalogue)
Silent parade / Higashino, Keigo
"A popular young girl disappears without a trace, her skeletal remains discovered three years later in the ashes of a burnt-out house. And this isn't the first time he's been suspected of the murder of a young girl: nearly twenty years ago he was tried and released due to lack of evidence. Chief Inspector Kusanagi of the Homicide Division of the Tokyo Police worked both cases.  Chief Inspector Kusanagi turns once again to his college friend, Physics professor and occasional police consultant Manabu Yukawa, known as Detective Galileo, to help solve the string of seemingly impossible murders." (Adapted from Catalogue)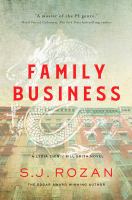 Family business / Rozan, S. J
"The death of Chinatown's most powerful mogul, a powerful Chinatown crime boss, thrusts private eye Lydia Chin and her partner Bill Smith into a world of double-dealing, murder, and real estate scandal . Choi has left the Tong headquarters building to his niece, who hires Lydia and her partner, Bill Smith, to accompany her to inspect it. The building is at the center of a tug-of-war between Chinatown preservation interests–including Lydia's brother Tim–and a real estate developer who's desperate to get his hands on it. Entering Choi's private living quarters they find the murdered body of Choi's chief lieutenant.  Can Lydia and Bill escape being caught in the crossfire?" (Adapted from Catalogue)
Easter bonnet murder / Meier, Leslie
"Known for its cheerful staff and elaborate annual Easter Bonnet Contest, the Heritage House senior center regularly attracts new residents and positive press. But once the town's retired librarian, Miss Julia Tilley, checks in to recover from an illness, Lucy sees a side of the facility that isn't quite so perfect and pristine. And the place may soon be making headlines for different reasons following an unexplained disappearance . Gathering clues as flimsy as a half-eaten milk chocolate bunny, Lucy must discover what happened to Agnes–before her own story becomes another springtime tragedy left unsolved ." (Adapted from Catalogue)