Laurie Winkless is a physicist and science writer. She has contributed to Forbes Magazine and worked with both the Royal Society and The Naked Scientists. She has a BSc in Physics with Astrophysics from Trinity College Dublin, has worked at NASA's Kennedy Space Centre and has done some impressive mahi with the Materials Team at the National Physical Laboratory, focussing on thermoelectric energy harvesting!  She has also researched the use of nanomaterials in the space industry for the European Space Agency.
Her first book, Science, and the City: The Mechanics Behind the Metropolis, explains the science behind aspects of urban living, including skyscrapers and subways. She recently took some time out from her busy schedule to talk to us about her latest book, Sticky, which is an exploration of the amazing world of surface science.
This interview with Laurie Winkless was done in conjunction with the Caffeine and
Aspirin arts and entertainment review show on Radioactive FM. Below is the podcast of that interview for your enjoyment:
We are thrilled that Winkless took time out from her very busy schedule to talk to us about her new book, her career, and loads of other fascinating scientific topics. We wish to extend our heartfelt thanks to her.
 For more information on Laurie, visit https://www.lauriewinkless.com/
 And for more information on her new book Sticky, visit HERE. 
Both of Laurie's books are available to borrow from the library.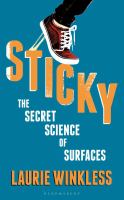 Sticky: The Secret Science Of Surfaces / Winkless, Laurie
"In Sticky, physicist Laurie Winkless brings the amazing world of surface science to the popular science market. Using her characteristic fun and relaxed tone, she introduces us to the glues, adhesives and textures that rule and improve stickiness to give plants and animals an advantage, as well as uncovering the physics behind our sense of touch." (Adapted from Catalogue)
Science and the city : the mechanics behind the metropolis / Winkless, Laurie
"A window into the hidden science and engineering that are the backbone and lifeblood of the city, now and in the future." (Adapted from Catalogue)