Have you checked out our eLibrary resource Environmental Studies in Context? Provided by Gale, it is a database filled with curated, educational resources about the physical, social, and economic aspects of environmental issues. Their collections are made up of accurate and peer-reviewed material,  and are created by a global network of scholars and educators.
This resource contains information on 446 issues related to Environmental Studies, spanning the agriculture industry, fast fashion, climate change and more. Gale has also included an in-built note-taking function, perfect for saving key quotes and research data for later. Environmental Studies in Context is the perfect place to deep dive into a new topic of interest, and is available for free with your Wellington City Libraries card. Login and start exploring through our eLibrary here.

For instance, have you ever heard about the concept of green technology? Gale defines green technology as "technology that conserves energy while producing few or no emissions.". The concept encompasses many types of technology, such as solar panels and electric cars, and aims to "harness power available in nature without destroying nature in the process".
Green technology is not just a beacon of hope in terms of living sustainably on Earth, it has also led to scientists discovering creative solutions to other world problems. For example, green technology may be able to support parts of the world where the availability and reliability of electricity is currently lacking. It has also lead to advancements in food production; in the future, farmers will hopefully be able to utilise green technology to improve their irrigation systems and reduce food waste. 
For any passionate environmentalists who would like some book recommendations, we've also included a booklist below. Happy researching!

Salmon: A Fish, The Earth, And The History Of A Common Fate / Kurlansky, Mark
"In his new global food history, Mark Kurlansky says if we can save the salmon, we can save the world. Centuries of our greatest assaults on nature, from overfishing to dams, from hatcheries to fish farms, from industrial pollution to the ravages of climate change, can be seen in their harrowing yet awe-inspiring life cycle." (Catalogue)
Environment Aotearoa : a collection of essays / Cleave, Peter
"This grew out of studies and discussions on the health of localities that I had been doing on the Manawatu River and on other places around New Zealand so the series was called Environment Aotearoa… This research, this thinking on the environment has, in the main, appeared since the turn of the century. Many of the ideas involved have been around for a lot longer but there is a fair bit of new writing in this mix and it came across to me at least as fresh and refreshing." (Adapted from Catalogue)
Wild souls : freedom and flourishing in the non-human world / Marris, Emma
"From an acclaimed environmental writer, a groundbreaking and provocative new vision for our relationships with-and responsibilities toward-the planet's wild animals […] When is it right to capture or feed wild animals for the good of their species? How do we balance the rights of introduced species with those already established within an ecosystem? (Adapted from Catalogue)
Climate Aotearoa : what's happening & what can we do about it?
"Climate Aotearoa outlines the climate situation as it is now, and as it will be in the years to come. It describes the likely impact on the environment and on our day-to-day living situation. It suggests the changes you can make for maximum impact, what we should be asking of our government and what we should be asking of our business community. In doing so, this is a hopeful book – actions can make a difference." — Publisher's website." (Adapted from Catalogue)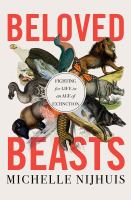 Beloved beasts : fighting for life in an age of extinction / Nijhuis, Michelle
"A vibrant history of the modern conservation movement–told through the lives and ideas of the people who built it. In the late nineteenth century, as humans came to realize that our rapidly industrializing and globalizing societies were driving other animal species to extinction, a movement to protect and conserve them was born. In Beloved Beasts, acclaimed science journalist Michelle Nijhuis traces the movement's history" (Adapted from Catalogue)
The great derangement : climate change and the unthinkable / Ghosh, Amitav
"Is our imagination adequate to the realities of global warming? The novelist Amitav Ghosh argues that we need art and literature to help us imagine our future in the Anthropocene, but that they are falling short of the task. If culture cannot help us see the realities of our plight, then our era, which so congratulates itself on its self-awareness, may come to be known as the time of the Great Derangement." (Adapted from Catalogue)
Living with the anthropocene : love, loss and hope in the face of environmental crisis
"Australia — and the world — is changing. On the Great Barrier Reef corals bleach white, across the inland farmers struggle with declining rainfall, birds and insects disappear from our gardens and plastic waste chokes our shores. The 2019–20 summer saw bushfires ravage the country like never before and young and old alike are rightly anxious. Human activity is transforming the places we live in and love. In this extraordinarily powerful and moving book, some of Australia's best-known writers and thinkers — as well as ecologists, walkers, farmers, historians, ornithologists, artists and community activists — come together to reflect on what it is like to be alive during an ecological crisis." (Adapted from Catalogue)