"I didn't have time to be anyone's muse… I was too busy rebelling against my family and learning to be an artist." – Leonora Carrington.
If you were lucky enough to go to the recent exceptional Surrealist exhibition at Te Papa, you may well have looked in wonder at Again the Gemini are in the Orchard, a painting by Leonora Carrington. In our recently acquired fiction titles we have a fictionalised account of one of the periods of her life called Leonora in the Morning Light by Michaela Carter.
Leonora Carrington was one of the leading lights of the surrealist movement, whose contribution and involvement until recently was largely ignored. She led an extraordinary, remarkable, and fascinating life. (View all our  books by or about Leonora Carrington here).
Born into a rich but constricted English family, against which she rebelled at every chance, after being expelled from various schools, she attended art school before eventually fleeing the country to go to Paris to join the Surrealists. She subsequently formed an artistic and personal relationship with the artist Max Ernst. This period was interrupted by World War Two; Ernst was arrested by the Nazis from which Leonora fled, ending up in a Spanish asylum. She was rescued from this asylum by her former nanny. Entering a marriage of convenience with the Mexican Ambassador allowed her to emigrate to Mexico. In Mexico City she when on to forge a career as one of the most important, innovative, and personally unique of all the Surrealists. She was also a highly accomplished writer of fiction, short fiction and autobiography.
Another title we were excited to see in the newly acquired recent fiction titles is the hugely recommended Huia short stories 14: Contemporary Māori fiction.
Leonora in the morning light / Carter, Michaela
"1937. British socialite and painter Leonora Carrington meets Max Ernst, an older, married artist whose work has captivated Europe. She follows him to Paris, and gains recognition under her own name. When Max and his circle are denounced as "degenerates" and arrested, Leonora battles terrifying circumstances to survive. 1940. A train carrying exiled German prisoners from a labor camp arrives in southern France, but face capture by the Nazis. Only one man does not flee, determined to ride the train until he reaches home, to find a woman he refers to simply as "her." (Adapted from Catalogue)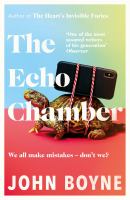 The echo chamber / Boyne, John
"What a thing of wonder a mobile phone is. Six ounces of metal, glass and plastic, fashioned into a sleek, shiny, precious object. At once, a gateway to other worlds – and a treacherous weapon in the hands of the unwary, the unwitting, the inept. The Cleverley family live a gilded life, little realising how precarious their privilege is, just one tweet away from disaster. George, the patriarch, is a stalwart of television interviewing, a 'national treasure' (his words), his wife Beverley, a celebrated novelist (although not as celebrated as she would like), and their children, Nelson, Elizabeth, Achilles, various degrees of catastrophe waiting to happen." (Adapted from Catalogue) Also available as an eBook. 
What storm, what thunder / Chancy, Myriam J. A.
"At the end of a long, sweltering day, as markets and businesses begin to close for the evening, an earthquake of 7.0 magnitude shakes the capital of Haiti, Port-au-Prince. Richard, an expat and wealthy water-bottling executive with a secret daughter; the daughter, Anne, an architect , Leopold, who pines for a beautiful call girl; Sonia and Ma Lou, the old woman selling produce in the market who remembers them all. Artfully weaving together these lives, witness is given to the desolation wreaked by nature and by man. " ( Adapted from Catalogue)
The sentence / Erdrich, Louise
"A small independent bookstore in Minneapolis is haunted from November 2019 to November 2020 by the store's most annoying customer. Flora dies on All Souls' Day, but she simply won't leave the store. Tookie, who has landed a job selling books after years of incarceration that she survived by reading with murderous attention, must solve the mystery of this haunting while at the same time trying to understand all that occurs in Minneapolis during a year of grief, astonishment, isolation, and furious reckoning." (Adapted from Catalogue)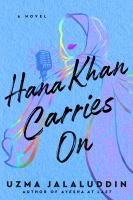 Hana Khan carries on / Jalaluddin, Uzma
"Sales are slow at Three Sisters Biryani Poutine, the only halal restaurant in the close-knit Golden Crescent neighborhood of Toronto. Hana waitresses there part time, but what she really wants is to tell stories on the radio. If she can just outshine her fellow intern at the city radio station, she may have a chance at landing a job. In the meantime, Hana pours her thoughts and dreams into a podcast. Soon she'll need all the support she can get: a new competing restaurant, a more upscale halal place, is about to open in the Golden Crescent, threatening her mother's restaurant. " (Adapted from Catalogue)
The cat who saved books : a novel / Natsukawa, Sōsuke
"Bookish high school student Rintaro Natsuki is about to close the second hand bookstore he has inherited from his beloved bookworm grandfather. However, one day, a talking cat named Tiger appears and asks Rintaro to save books with him. Of course, "ask" is putting it politely — Tiger is demanding Rintaro's help. The world is full of lonely books, left unread and unloved, and only Tiger and Rintaro can liberate them from their neglectful owners. And so, the odd couple begin an amazing journey, entering different mazes to set books free." (Adapted from Catalogue)
Dog park / Oksanen, Sofi 
"Helsinki, 2016. Olenka sits on a bench, watching a family play in a dog park. A stranger sits down beside her. Olenka startles; she would recognize this other woman anywhere. After all, Olenka was the one who ruined her life. And this woman may be about to do the same to Olenka. Yet, for a fragile moment, here they are, together–looking at their own children being raised by other people. Moving seamlessly between modern-day Finland and Ukraine in the early days of its post-Soviet independence." (Adapted from Catalogue)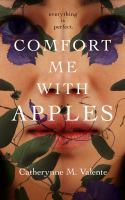 Comfort me with apples / Valente, Catherynne M.
"A woman who believes she is living a perfect life begins to wonder why her husband is away at work so much, and also what is in the locked basement she is not permitted to enter.Sophia was made for him. Her perfect husband. Their home together in Arcadia Gardens is perfect. Everything is perfect. It's just that he is away so much, so often. He says he misses her, so it must be true. But sometimes Sophia wonders about things. Strange things. Dark things. The look on her husband's face when he comes back from a long business trip. The questions he will not answer…" (Adapted from Catalogue) Also available as an eBook .
Huia short stories. 14, Contemporary Māori fiction.
"These stories present the best writing from the Pikihuia Awards for Māori writers 2021. The authors are a mix of new writers and known authors. The stories they tell have characters that will stay with you, descriptions that evoke strong sense of time and place, and situations that are funny, tense, sad and wistful." (Adapted from Catalogue) Also available as an eBook.