The longlist for the Jann Medlicott Acorn Prize for Fiction (the fiction element of The Ockham New Zealand Book Awards)  has just been announced.  And as always it reflects the rich, diverse, and vibrant literary scene in New Zealand. In this blog we are going to take a very quick look at the ten fiction contenders, but we strongly recommend a close look at the equally excellent Non-Fiction categories.
In the longlist this year we have…
Gigi Fenster's A Good Winter; a gripping dark and, in some respects, demanding thriller set in an apartment block among a group of women. The novel was initially abandoned by the author who said "The lead character took over the work in not-so-good ways.' Gigi eventually submitted it to and won the Michael Gifkins prize. Aljce in Therapy Land by Alice Tawhai is the debut novel from the acclaimed short story writer. Online relationships, stoned characters and logic, workplace bullying, quantum physics all overlayed with aspects of Alice in Wonderland in this smart, funny, and complex work.  Entanglement by Bryan Walpert is a multi-layered, multi-faceted work that weaves big ideas about the nature of existence and time into the integral fabric of the plot, whilst also being very personal about the characters' inner lives. In Stephanie Johnson's Everything Changes the central characters buy a rundown motel as a way of restarting their lives in this moving and funny work. A brother and sister from a Māori-Russian-Catalonian family negotiate the stormy waters of modern romance, largely from the Auckland apartment they share, in Greta & Valdin by Rebecca K Reilly, described by one reviewer as "part Shakespeare, part Wes Anderson".
In Whiti Hereaka's Kurangaituku a part bird, part woman central character "the Kurangaituku" retells her life from her inception till her death and beyond. This mythological tale is about love, in both its destructive and creative aspects. Sue Orr's Loop Tracks is set in two time periods; the late 1970's in Auckland and 2019 in Wellington, and centres around young sixteen-year-old Charlie's choices and decisions in 1978, and how they flow into her 2019 future.  She's a Killer by Kirsten McDougall is set in the very near future in New Zealand where the effects of climate change are really beginning to bite and affect both our physical world but also our society in this sharp and darkly funny work. Confidence tricksters, compulsive liars and jumbled up childhood memories all feature in Emma Neale's excellent first collection of short stories Pink Jumpsuit: short fictions, tall truths. And to round up the list is Clare Moleta's Unsheltered; a powerful tale of a woman's search for her daughter set against a background of destructive weather and social disintegration.
As always there are several novels that might have made the cut but didn't,  the most notable being  Jacqueline Bublitz's wonderful Before You Knew My Name.
We have also had the recent pleasure of having Kirsten McDougall in conversation with Rajorshi Chakraborti and interviewing Bryan Walpert  about their nominated books; you can watch these interviews at the end of this blog.
A good winter. / Fenster, Gigi
"I looked after Lara. We both looked after Sophie and her baby. We had to. It's not like Sophie was going to look after that baby herself. All she was interested in was weeping and wailing for her dead husband. She was so busy weeping and wailing for her dead husband that she rejected his baby who was right in front of her. When Olga's friend Lara becomes a grandmother, Olga helps out whenever she can. After all, it's a big imposition on Lara, looking after her bereaved daughter and the baby. And the new mother is not exactly considerate. But smoldering beneath Olga's sensible support and loving generosity is a deep jealous need to be the centre of Lara's attention and affection—a need that soon becomes a consuming, dangerous and ultimately tragic obsession." (Adapted from Catalogue) Also available as an eBook. 
Aljce in therapy land / Tawhai, Alice
"On her first day the sky had a salmon tint to it; after the rain, and before the cloud entirely cleared, as if it had been put into a washing machine with roses. Someone was probably really annoyed at the way they had run. Aljce parked in the asphalt car park outside the Therapy Hub. She was looking forward to her new job. It would be an exciting adventure with new challenges." (Adapted from Catalogue)
Entanglement / Walpert, Bryan
"A memory-impaired time traveller attempts to correct a tragic mistake he made in 1977 when, panicked, he abandoned his brother on a frozen lake in Baltimore. Decades later, in 2011, a novelist researching at the Centre for Time in Sydney becomes romantically involved with a philosopher from New Zealand. Another eight years on, and a writer at a lake retreat in New Zealand in 2019 obsesses over the disintegration of his marriage following another tragedy. Are these separate stories, or are they one? Is the time traveller actually travelling? Can the past be changed? As the answers to these questions slowly emerge, the three tales become entangled, along with the usual abstractions: love, desperation and physics." (Catalogue)
Everything changes / Johnson, Stephanie
"Buying a rundown motel to start a new life — what could possibly go wrong? In this funny and moving novel, prize-winning author Stephanie Johnson turns her wry eye on us. 'What a fabulous read. Stephanie Johnson's characters choose an old motel with little to offer except an amazing view in order to start a 'new life'. Their first guests are a classic cast of the sorrowful and dysfunctional that every-day life throws at us these days.  This is her best book ever, and I loved every page of it.' – Fiona Kidman" (Adapted from Catalogue) Also available as an eBook.
Greta & Valdin / Reilly, Rebecca K
"Valdin is still in love with his ex-boyfriend Xabi, who used to drive around Auckland in a ute but now drives around Buenos Aires in one. Greta is in love with her fellow English tutor Holly, who doesn't know how to pronounce Greta's surname, Vladislavljevic, properly. From their Auckland apartment, brother and sister must navigate the intricate paths of modern romance as well as weather the small storms of their eccentric Māori-Russian-Catalonian family" (Adapted from Catalogue) Also available as an eBook. 
Kurangaituku / Hereaka, Whiti
"In the void of time, Kurangaituku, the bird-woman, tells the story of her extraordinary Life – the birds who first sang her into being, the arrival of the Song Makers and the change they brought to her world, her life with the young man Hatupatu, and her death. But death does not end a creature of imagination like Kurangaituku. In the underworlds of Rarohenga, she continues to live in the many stories she collects as she pursues what eluded her in life. This is a story of love – but is this love something that creates or destroys?" (Adapted from Catalogue) Also available as an eBook.
Loop tracks / Orr, Sue
"It's 1978: the Auckland abortion clinic has been forced to close and sixteen-year-old Charlie has to fly to Sydney, but the plane is delayed on the tarmac. It's 2019: Charlie's tightly contained Wellington life with her grandson Tommy is interrupted by the unexpected intrusions of Tommy's first girlfriend, Jenna, and the father he has never known, Jim. The year turns, and everything changes again… written in real time against the progress of the Covid-19 pandemic and the New Zealand General Election and euthanasia referendum" (Adapted from Catalogue)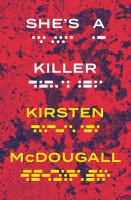 She's a killer / McDougall, Kirsten
"The world's climate is in crisis and New Zealand is being divided and reshaped by privileged immigrant wealthugees. Thirty-something Alice has a near-genius IQ and lives at home with her mother with whom she communicates by Morse code. Alice's imaginary friend, Simp, has shown up, with a running commentary on her failings. 'I mean, can you even calculate the square root of 762 anymore?' The last time Simp was here was when Alice was seven, on the night a fire burned down the family home. Now Simp seems to be plotting something. " (Adapted from Catalogue)
Pink jumpsuit : short fictions, tall truths / Neale, Emma
"In Emma Neale's first collection of short fiction, the tales range from the surreal to the real; from the true to the tall. This collection includes some of her internationally recognised flash fiction and more extended examinations of the eerie gaps and odd swerves in intimate relationships. There are confidence tricksters, compulsive liars, emotional turn-coats, the pulse of jumbled childhood memory still felt in adult life, the weird metamorphosis of fantasy hardening into reality…" (Adapted from Catalogue)
Unsheltered / Moleta, Clare
"Against a background of social breakdown and destructive weather, Unsheltered tells the story of a woman's search for her daughter. Li never wanted to bring a child into a world like this but now that eight-year-old Matti is missing, she will stop at nothing to find her. As she crosses the great barren country alone and on foot, living on what she can find and fuelled by visions of her daughter just out of sight ahead, Li will have every instinct tested. She knows the odds against her: an uncompromising landscape, an uncaring system, time running out, and the risks of any encounters on the road. " (Adapted from Catalogue) Also available as an eBook.