If I'm remembered 100 years from now, I hope it will be not for looks but for books. – Dolly Parton
So, with 2022 now well and truly started, we find ourselves at the perfect juncture in time to dust off our crystal ball to ascertain what fictional treasures may be in store for 2022. To get you in the mood for these titles, we have listed some of the previous works by the authors discussed at the end of this piece. Of course, there are many titles to be published that aren't yet announced or on publisher's schedules. Our crystal ball advises that you should check our fiction blog regularly for more fantastic fiction predictions.
To kick off January, we have The Sentence by Louise Erdrich, a story of bookshops and ghosts from the Pulitzer-winning author. For February, we have a new novel from author Monica Ali; Love Marriage, billed as a study of contemporary society, follows a wedding that brings together two families and their cultures.
Marian Keyes' new book  Again, Rachel is a sequel to Rachel's Holiday, set twenty-five years after the first book. Also in February, the pleasures of beauty and the senses are celebrated by a writer in Christos Tsiolkas' 7 ½
March sees the release of one of the books we are very excited by (which incidentally is accompanied by its own tie-in album). The wonderful iconic, immortal of country music Dolly Parton releases her first ever novel called Run, Rose, Run in conjunction with James Patterson, who recently also teamed up with US ex-president Bill Clinton to release a joint novel; the  thriller is reportedly about a young singer-songwriter. On a slightly different vein we have Marlon James' second book that celebrates African mythology called Moon Witch, Spider King and the purchase of the Holy Grail by an elderly woman is the premise of the graphic novel by Neil Gaiman and Colleen Doran called Chivalry.
April sees the follow up to the Booker prize winning Shuggie Bain by Douglas Stuart called Young Mungo, about the dangerous love between two Glaswegian men. Also, in April we have Companion Piece by Ali Smith and a new novel from the Station Eleven author Emily St John Mandel called Sea of Tranquility a tale of parallel worlds, time travel and pandemics.
In May we have a darkly humorous novel of revenge, murder and love set in pandemic Australia from Steve Toltz called Here Goes Nothing.
And finally, for the end of this first instalment for 2022 in June we have the following  Ghost Lover by Lisa Taddeo, Lapvona by Ottessa Moshfegh about medieval fiefdom, occult forces, and cannibalism, Sandra Newman's The Men (about a parallel world where every male person suddenly vanishes) and Fight Night by Canadian writer Miriam Toews, about an eccentric and fierce household of women.
Keep your eyes peeled on our social media for part two coming soon.
The night watchman : a novel / Erdrich, Louise
"It is 1953. Thomas Wazhushk is a prominent Chippewa Council member, trying to understand a new bill that is soon to be put before Congress. The US Government calls it an 'emancipation' bill; but it isn't about freedom – it threatens the rights of Native Americans to their land, their very identity. How can he fight this betrayal? Unlike most of the girls on the reservation, Pixie – 'Patrice' – Paranteau has no desire to wear herself down on a husband and kids. She works at the factory, earning barely enough to support her mother and brother, let alone her alcoholic father. But Patrice needs every penny if she's ever going to get to Minnesota to find her missing sister Vera." (Adapted from catalogue)
Brick lane : a novel / Ali, Monica
"Nanzeen, married off to an older man, moves from her Bangladeshi village to live with him in London in the 1980s and 1990s, where she raises a family, learns to love her husband, and comes to a realization that she has a voice in her own life." ( atalogue) Also available as an eBook.
Rachel's holiday / Keyes, Marian
"The fast lane is too slow for twenty-seven-year-old Rachel Walsh, who has a fondness for recreational drugs and good-looking men. And New York City is the perfect place for a young Irish female to overdo…everything! But then the merry-go-round stops short. In quick succession, Rachel loses her job, her best friend, and the boyfriend she adores…and wakes up in a hospital emergency room, having overindulged…" (Adapted from  atalogue) Also available as an eBook. 
Damascus / Tsiolkas, Christos
"'They kill us, they crucify us, they throw us to beasts in the arena, they sew our lips together and watch us starve. They bugger children in front of fathers and violate men before the eyes of their wives. The temple priests flay us openly in the streets and the Judeans stone us. We are hunted everywhere and we are hunted by everyone. We are despised, yet we grow. We are tortured and crucified and yet we flourish. We are hated and still we multiply. Why is that? You must wonder, how is it we survive?' " (Adapted from catalogue) Also available as an eBook.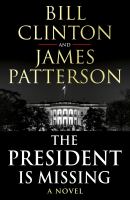 The president is missing / Clinton, Bill
"The White House is the home of the President of the United States, the most guarded, monitored, closely watched person in the world. So how could a U.S. President vanish without a trace? And why would he choose to do so? An unprecedented collaboration between President Bill Clinton and the world's bestselling novelist, James Patterson, The President Is Missing is a breathtaking story from the pinnacle of power." (catalogue) Also available as an eBook.
Black leopard, red wolf / James, Marlon
"Tracker is known far and wide for his skills as a hunter – and he always works alone. But when he is engaged to find a child who disappeared three years ago, he must break his own rules, joining a group of eight very different mercenaries working together to find the boy. Following the lost boy's scent from one ancient city to another, into dense forests and across deep rivers, Tracker starts to wonder: Why do so many people want to keep Tracker from finding him? And most important of all, who is telling the truth and who is lying?" (Adapted from catalogue) Also available as an eBook.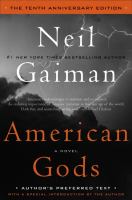 American gods / Gaiman, Neil
"Days before his release from prison, Shadow's wife, Laura, dies in a mysterious car crash. Numbly, he makes his way back home. On the plane, he encounters the enigmatic Mr Wednesday, who claims to be a refugee from a distant war, a former god and king of America. Together they embark on a profoundly strange journey across the heart of the USA, whilst all around them a storm of preternatural and epic proportions threatens to break." (Adapted from catalogue) Also available as an eBook.
Shuggie Bain / Stuart, Douglas
"Shuggie's mother Agnes walks a wayward path: she is Shuggie's guiding light but a burden for him and his siblings. Married to a philandering taxi-driver husband, Agnes keeps her pride by looking good-but under the surface, Agnes finds increasing solace in drink, and she drains away all the family has to live on–on cans of extra-strong lager hidden in handbags and poured into tea mugs. Agnes's older children find their own ways to get a safe distance from their mother, abandoning Shuggie to care for her as she swings between alcoholic binges and sobriety. Shuggie is meanwhile struggling to somehow become the normal boy he desperately longs to be." (Adapted from catalogue) Also available as an eBook.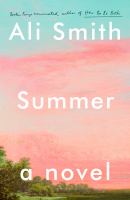 Summer / Smith, Ali
"In the present, Sacha knows the world's in trouble. Her brother Robert just is trouble. Their mother and father are having trouble. Meanwhile, the world's in meltdown–and the real meltdown hasn't even started yet. In the past, a lovely summer. A different brother and sister know they're living on borrowed time. This is a story about people on the brink of change. They're family, but they think they're strangers. So: Where does family begin? And what do people who think they've got nothing in common have in common? Summer." (Adapted from catalogue) Also available as an eBook.
Station eleven / Mandel, Emily St. John
"One snowy night a famous Hollywood actor slumps over and dies onstage during a production of King Lear. Hours later, the world as we know it begins to dissolve. Moving back and forth in time-from the actor's early days as a film star to fifteen years in the future, when a theater troupe known as the Traveling Symphony roams the wasteland of what remains-this suspenseful, elegiac, spellbinding novel charts the strange twists of fate that connect five people: the actor, the man who tried to save him, the actor's first wife, his oldest friend, and a young actress with the Traveling Symphony, caught in the crosshairs of a dangerous self-proclaimed prophet." (Adapted from catalogue) Also available as an eBook. 
Quicksand : a novel / Toltz, Steve
"Liam, a policeman and aspiring author, looks for inspiration to his best friend, Aldo, a hapless criminal with a knack for misfortunes who is trying to win back his ex-wife." (Adapted from catalogue)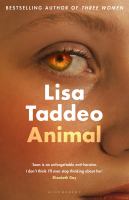 Animal / Taddeo, Lisa
'"I drove myself out of New York City where a man shot himself in front of me. He was a gluttonous man and when his blood came out it looked like the blood of a pig. That's a cruel thing to think, I know. He did it in a restaurant where I was having dinner with another man, another married man. Do you see how this is going?" At thirty-six, Joan knows more than most of the price of pleasure, the quotidian horror of being a woman at the mercy of a man. She knows men, too – their penchant for cruelty, the violence she has absorbed over decades that now threatens to burst from her own hands." (Adapted from catalogue) Also available as an eBook.
Death in her hands / Moshfegh, Ottessa
" While on her normal daily walk with her dog, our protagonist comes across a note. Her name was Magda. Nobody will ever know who killed her. It wasn't me. Here is her dead body. Our narrator is deeply shaken. She is new to this area, and she knows very few people. Her brooding about this note quickly grows into a full-blown obsession, and she begins to devote herself to exploring the possibilities of her conjectures about who this woman was and how she met her fate." (Adapted from Catalogue) Also available as an eBook.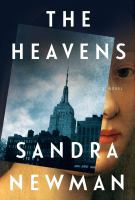 The heavens / Newman, Sandra
"A young man, Ben, meets a young woman, Kate — and they begin to fall in love. From their first meeting, Ben knows Kate is unworldly and fanciful, so at first he isn't that concerned when she tells him about the recurring dream she's had since childhood. In the dream, she's transported to the past, where she lives a second life as Emilia, the mistress of a nobleman in Elizabethan England. But for Kate, the dream becomes increasingly real and compelling until it threatens to overwhelm her life." (Adapted from catalogue)
Women talking / Toews, Miriam
"Between 2005 and 2009, in a remote religious Mennonite colony, over a hundred girls and women were knocked unconscious and raped, by what many thought were ghosts or demons, as a punishment for their sins. As the women tentatively began to share the details of the attacks-waking up sore and bleeding and not understanding why-their stories were chalked up to 'wild female imagination.' Women Talking is an imagined response to these real events. Eight women, all illiterate, without any knowledge of the world outside their colony and unable even to speak the language of the country they live in, meet secretly in a hayloft with the intention of making a decision about how to protect themselves and their daughters from future harm." (Adapted from catalogue)