"I am sometimes bored by people, but never by life."
— Nancy Mitford
Welcome to our first newly acquired Crime and Mystery titles roundup of 2022.
One of the titles we have selected for inclusion in this month's list is The Mitford Vanishing, the fifth instalment of Jessica Fellowes' Mitford Murders Mystery series, which skilfully and compellingly weaves fact and fiction into mystery stories revolving round the glamorous and eventful world of the Mitford sisters.
The Mitford family were amongst the most colourful and talked about aristocratic families in Britain of the 20th century; especially their six daughters, due in part to their controversial, stylish and privileged younger days, which were often lived out in the public eye. Times journalist Ben Macintyre once succinctly summarised the sisters up in this way "Diana the Fascist, Jessica the Communist, Unity the Hitler-lover; Nancy the Novelist; Deborah the Duchess and Pamela the unobtrusive poultry connoisseur."
Three of the sisters became acclaimed writers. Perhaps the best known and most famous of which was Nancy, whose novels include The Pursuit of Love and Love in a Cold Climate,. Her novels are still regarded as sharply observed and wittily written stories about upper class lives in England and Europe at that point in time, though Jessica Mitford's The American Way of Death is also regarded as a classic of its type.
The Mitford Vanishing revolves around the disappearance of the communist Mitford sister Jessica in Spain during the Spanish civil war. Other titles that caught our attention were the Neo Noir Shoot the Moonlight Out by William Boyle and not one but two new crime outings set in the world of Sherlock Holmes. Sherlock Holmes & the three winter terrors by James Lovegrove and Miss Moriarty, I presume? by Sherry Thomas.
The Mitford vanishing / Fellowes, Jessica
"War with Germany is looming, and a civil war already raging in Spain. Split across political lines, the six Mitford sisters are more divided than ever. Meanwhile their former maid Louisa Cannon is now a private detective, working with her ex-policeman husband Guy Sullivan. Louisa and Guy are surprised when a call comes in from novelist Nancy Mitford requesting that they look into the disappearance of her Communist sister Jessica, nicknamed Decca. It quickly becomes clear that Decca may have made for the war in Spain – and not alone…" (Adapted from Catalogue)
The bloodless boy / Lloyd, Robert J
"The City of London, New Year's Day, 1678. Eleven years have passed since the Great Fire ripped through the City. Twenty since the death of Cromwell and the restoration of a king. London is gripped by hysteria, where rumours of Catholic plots and sinister foreign assassins abound. When the body of a young boy drained of his blood is discovered on the snowy bank of the Fleet River, Robert Hooke, the Curator of Experiments of the Royal Society for the Improving of Natural Knowledge, and his assistant Harry Hunt, are called in to explain such a ghastly finding — and whether it's part of a plot against the king. " (Adapted from Catalogue)
Shoot the moonlight out / Boyle, William
"Southern Brooklyn, July 1996. Punk kids have to make their own fun. Bobby Santovasco and his pal Zeke like to throw rocks at cars getting off the Belt Parkway.  Fast forward five years: June 2001. Charlie French is a low-level gangster-wannabe trying to make a name for himself. When he stumbles onto a bowling alley locker stuffed with a bag full of cash, he brings it to his only pal, Max Berry, for safekeeping while he cleans up the mess surrounding it…" (Adapted from Catalogue)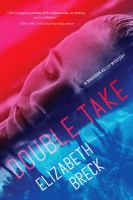 Double take : a Madison Kelly mystery / Breck, Elizabeth
" San Diego journalist Barrett Brown has been missing for a week, and her boyfriend hires private investigator Madison Kelly to find her. Barrett reminds Madison of a younger version of herself: smart, ambitious, and a loner. As she investigates, Madison realizes that Barrett's disappearance is connected to a big story she was chasing. She sets out to walk in Barrett's footsteps– and as the trail grows colder, things begin to heat up between Madison and Barrett's boyfriend. But he doesn't seem to be telling everything he knows.. What dirty secrets lie at the heart of Barrett's big lead? " (Adapted from Catalogue)
Lemon / Kwŏn, Yŏ-sŏn
"In the summer of 2002, when Korea is abuzz over hosting the FIFA World Cup, nineteen-year-old Kim Hae-on is killed in what becomes known as the High School Beauty Murder. Two suspects quickly emerge: rich kid Shin Jeongjun, whose car Hae-on was last seen in, and delivery boy Han Manu, who witnesses Hae-on in the passenger seat of Jeongjun's car just a few hours before her death. But when Jeongjun's alibi turns out to be solid, and no evidence can be pinned on Manu, the case goes cold. Seventeen years pass without any resolution Unable to move on with her life, Da-on sets out to find the truth of what happened. " (Adapted from Catalogue)
Under color of law / Clark, Aaron Philip
"Black rookie cop Trevor "Finn" Finnegan aspires to become a top-ranking officer in the Los Angeles Police Department and fix a broken department. A fast-track promotion to detective in the coveted Robbery-Homicide Division puts him closer to achieving his goal. Four years later, calls for police accountability rule the headlines. The city is teeming with protests for racial justice. When the body of a murdered Black academy recruit is found in the Angeles National Forest, Finn is tasked to investigate. " (Adapted from Catalogue)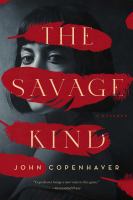 The savage kind / Copenhaver, John
"Philippa Watson, a good-natured yet troubled seventeen-year-old, has just moved to Washington, DC. She's lonely until she meets Judy Peabody. The girls become unlikely friends and fashion themselves as intellectuals, drawing the notice of Christine Martins, their dazzling English teacher. When Philippa returns a novel Miss Martins has lent her, she interrupts a man grappling with her in the shadows of the school. Days later, her teacher returns to school altered: a dark shell of herself. And a classmate is found dead in the Anacostia River–murdered…" (Adapted from Catalogue)
Dolphin Junction / Herron, Mick
"When a man's wife leaves him under suspicious circumstances, he sets off in search for her, unprepared for the guilty secrets he's about to drag back into the light. A man is tempted by a luxury apartment with a top-of-the-range kitchen. But there is a heavy price to pay for this glamorous new life. And a couple with their marriage on the rocks go on a hike through the Derbyshire countryside as another way to avoid their real problems. Mick Herron's skill for tension, humour, and memorable twists are captured in his short stories, collected here for the first time." (Adapted from Catalogue)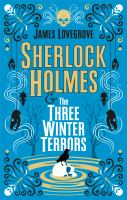 Sherlock Holmes & the three winter terrors / Lovegrove, James
"1889. The First Terror. At a boys? prep school in the Kent marshes, a pupil is found drowned in a pond. Could this be the fulfilment of a witch's curse from over two hundred years earlier? 1890. The Second Terror. A wealthy man dies of a heart attack at his London townhouse. Was he really frightened to death by ghosts? 1894. The Third Terror. A body is discovered in the dark woods near a Surrey country manor, hideously ravaged. Is the culprit a cannibal, as the evidence suggests? These three chilling and strangely linked crimes test Sherlock Holmes?s deductive powers, and his scepticism about the supernatural, to the limit." (Adapted from Catalogue)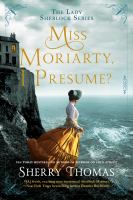 Miss Moriarty, I presume? / Thomas, Sherry
"Charlotte Holmes comes face-to-face with her enemy when Moriarty turns to her in his hour of need in the USA Today bestselling series set in Victorian England. A most unexpected client shows up at Charlotte Holmes's doorstep: Moriarty himself. Moriarty fears that tragedy has befallen his daughter and wants Charlotte to find out the truth. Charlotte and Mrs. Watson travel to a remote community of occult practitioners where Moriarty's daughter was last seen, a place full of lies and liars. Is it merely to test Charlotte's skills as an investigator, or has the man of shadows trapped her in a nest of vipers?"(Adapted from Catalogue)