One of our favourite annual anthologies (and an excellent way to find rising stars of the genre) is the wonderful award-winning The Year's Best Aotearoa New Zealand Science Fiction & Fantasy (now in its third volume). An excellent all-in-one survey of the latest in New Zealand Science Fiction and Fantasy; these anthologies continue to provide a fabulous platform and spotlight on the wide variety of talent and diversity in the Aotearoa.
This year's anthology contains numerous award-winning and award-nominated stories,  such as "For Want of Human Parts", by Casey Lucas, "Salt White, Rose Red" by Emily Brill-Holland, "Synaesthete" by Melanie Harding-Shaw and "How to Get a Girlfriend (When You're a Terrifying Monster)" by Marie Cardn. Not to mention another particular highlight, Paul Veart's Florentina. 
With this in mind, we decided it was long overdue to interview the editor of the series Marie Hodgkinson and ask her a few questions about the anthology. We wish to extend our heartfelt thanks and appreciation to Marie for taking the time out of her busy schedule to answer our questions, and for providing such an illuminating insight into her world and work. For more information about the anthology, check out the Paper Road Press website.
Links to borrow the various anthologies from the library can be found at the end of following interview.
The line between contemporary fiction and speculative fiction is often blurred. I was wondering how you went about navigating those definitions?
Sometimes, there are fairies, which should make the distinction easy to make – but sometimes the fairies are metaphorical, which complicates things again. In the end I think it is about the author's intent and the reader's interpretation of that intent. Many SFF readers have the experience of coming across books in their childhood in which the fairies were and only were metaphor, possibly for drugs, or dying of cancer. If there is space in a story, no matter how small, for the supernatural or one-second-ahead tech to exist within the scope of the story's world, then I count it as speculative fiction.
The Year's Best Aotearoa New Zealand Science Fiction & Fantasy has now made it to Volume Three, can you tell us a little bit about the origins of the series and its overall aims?
I started the anthology series because it became clear to me that Aotearoa authors were writing and publishing incredible short speculative fiction – but that local readers rarely heard about it because most of the stories were published overseas. My initial goal was to bring those stories back to be read and enjoyed here. Over the three years of the series so far however I am seeing more and more mainstream NZ media publishing short speculative fiction, such as Stuff's Forever Project commissioning short climate fiction stories. So now it's both a way to bring stories back home, and to celebrate the openness of local media to publishing speculative fiction.
There is a real diversity in the stories included. Could you tell us about that diversity, and how it is represented in the collection?
The diversity in the anthologies reflects the diversity of this country's writers – perhaps seeing them all in one place just makes it more obvious!
How do you go about the selection process?
I read as much as I can throughout the year, and also contact publishers, writing groups and make public calls for submissions – because there's no way I could find all the stories on my own, and I don't want the anthologies to be limited by my normal reading. Once stories are sent in I read them several times. If a story sticks in my mind after multiple readings, it goes on the list.
We love the book cover this year! Can you tell us a little about the artist and the brief you gave them ?
This is the first year I have not briefed an artist to create a work for the cover – because the perfect artwork already existed! Rebekah Tisch painted 'Goodbye 2020' in response to – well, it goes without saying doesn't it – and frankly I couldn't imagine anything better for the anthology.
Are there any particularly precedent themes or topics that have come through this year? Perhaps stories revolving around to pandemics, environmental collapse etc…
Climate change is a perennial theme; several stories in this year's volume, such as Renee Liang's 'The Waterfall' and Tim Jones's 'The Double-Cab Club', are about people living in a post-environmental-collapse world. Ecological collapse/change also features in PK Torrens's 'Crater Island'. I haven't noticed either a sudden glut or lack of stories about pandemics – but where those themes do appear the focus is on individual, interpersonal response to events that seem overwhelming or incomprehensible, such as the infectious flora in Paul Veart's 'Florentina' and the central positioning of the relationship between two old friends in Anthony Lapwood's 'Wild Horses'.
Is Science Fiction and Fantasy, in your opinion, the best literary genre to hold up a mirror to our existence? I was thinking about how it can easily be used to examine big, complex and seemingly strange ideas.
I think it's the perfect genre to act as a warped mirror – science fiction and fantasy can help us explore concepts one step removed from our own reality, which can make them easier to play with or take to logical or illogical extremes.
Can you tell us about your impression of the current state of Science Fiction and Fantasy scene in New Zealand?
Science fiction and fantasy writing in Aotearoa is flourishing – particularly with the rise of self publishing. I'm cheerfully following the careers of authors like AJ Lancaster and Steff Green, who are thriving as indie publishers, as well as what feels like the constant rise of support for speculative fiction by traditional publishers. One of my top reads this year has been Butcherbird, a horror novel by Cassie Hart published by Huia.
And finally, with your crystal ball in hand, what do you think will be in store for Volume Four of the anthology?
I can't know for certain, but I'm very excited to find out!
Y
ear's Best Aotearoa New Zealand science fiction and fantasy, V3
"When borders closed last year, Kiwi science fiction and fantasy took readers on flights of imagination through space and time. This anthology contains a selection of the best short science fiction and fantasy stories published by Aotearoa New Zealand writers in 2020. Inc.. New Zealand gothic by Jack Remiel Cottrell,  Synaesthete by  Melanie Harding-Shaw, Kōhuia by T Te Tau, Death confetti by Zoë Meager,  For want of human parts by Casey Lucas ,How to get a girlfriend (when you're a terrifying monster) by Marie Cardno , Salt White, Rose Red by Emily Brill-Holland , Florentina by Paul Veart ,Otto Hahn speaks to the dead by Octavia Cade, The waterfall Renee Liang — The Double-Cab Club by Tim Jones , Wild horses by Anthony Lapwood , You and me at the end of the world by Dave Agnew , The secrets she eats by Nikky Lee , How to build a unicorn by AJ Fitzwater , Even the clearest water by Andi C. Buchanan , You can't beat Wellington on a good day by Anna Kirtlan, The moamancer (a Musomancer short story) by Bing Turkby , They probably play the viola by Jack Remiel Cottrell , Crater Island by P.K. Torrens, A love note by Melanie Harding-Shaw and  The turbine at the end of the world by James Rowland." (Adapted from Catalogue) Also available as an eBook.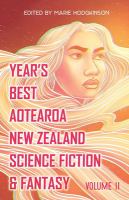 Year's best Aotearoa New Zealand science fiction & fantasy. V2
"Ancient myths go high-tech a decade after the New New Zealand Wars. Safe homes and harbours turn to strangeness within and without. Splintered selves come together again – or not. Twelve authors. Thirteen stories. The best short science fiction and fantasy from Aotearoa New Zealand in 2019. With works by: Juliet Marillier, Nic Low, Rem Wigmore, Andi C Buchanan, Octavia Cade, A.J. Fitzwater, Nicole Tan, Melanie Harding-Shaw, Alisha Tyson, James Rowland, Zoë Meager, and Casey Lucas."–Publisher description." (Adapted from Catalogue) Also available as an eBook.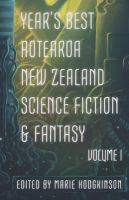 Year's best Aotearoa New Zealand science fiction & fantasy. V1
"For the first time ever, the best short SFF from Aotearoa New Zealand is collected together in a single volume. This inaugural edition of the Year's Best Aotearoa New Zealand Science Fiction & Fantasy brings together the very best short speculative fiction published by Kiwi authors in 2018. Explore worlds of hope and wonder, and worlds where hope and wonder are luxuries we wasted long ago; histories given new life, and futures you might prefer to avoid." (Catalogue) Also available as an eBook.