It is not often that the death of one of our very own homegrown authors receives instant world-wide recognition as portrayed in this collection of images and tributes below. But never has any of our authors managed to win a Booker Prize with their first novel, and at the same time, inserted a Māori and multicultural voice into the landscape of prize-winning international literature.
To remember this original and important voice in Aotearoa New Zealand literature, we've collected some links and works below:
Keri Hulme Resources:
New Zealand Electronic Text Centre: Full list of Keri Hulme's work.
Audio:
Ngā Taonga: Hulme on winning the Booker Prize.
Ngā Taonga: Hulme interviewed about the Booker Prize by Maggie Barry.
Library of Congress: Hulme reading from her work.
Video:
NZ On Screen: Kai Purakau – The Storyteller (Excerpts).
NZ On Screen: Arts All Blacks announcement by John Clarke.
Articles and Profiles:
Tu Tangata: "A Conversation with Keri".
Te Rūnanga o Ngāi Tahu: Article series.
Ruminator: "Beyond the Headland: An Encounter with Keri Hulme".
Academy of New Zealand Literature: Profile.
Read NZ: Profile.
Britannica: Biography.
Tributes:
Stuff: "An Icon Who Showed What Was Possible".
The Guardian: "Keri Hulme, New Zealand's first Booker prize-winning writer, dies aged 74".
New York Times: "Keri Hulme, New Zealand's First Booker Prize Winner, Dies at 74".
Washington Post: "Keri Hulme, Booker Prize-winning author from New Zealand, dies at 74".
Booklist:
The bone people / Hulme, Keri
"A story of Kerewin, a despairing part-Māori artist who is convinced that her solitary life is the only way to face the world. Her cocoon is rudely blown away by the sudden arrival during a rainstorm of Simon, a mute six-year-old whose past seems to hold some terrible trauma." (Catalogue)
Strands / Hulme, Keri
"This second collection of poems by the Booker Prize-winning author of The Bone People is made up of three parts. Hulme's verse is loose, sometimes including passages of prose, but is shaped by a powerful romantic drive and a sophisticated attention to the behaviour of language." (Catalogue)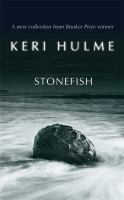 Stonefish / Hulme, Keri
"A collection of short stories and poems by the only New Zealand writer to win the Pegasus Prize for Māori Literature and the Booker Prize." (Catalogue)