"We have no need of other worlds. We need mirrors. We don't know what to do with other worlds. A single world, our own, suffices us; but we can't accept it for what it is."
― Stanisław Lem, Solaris
This month's newly acquired science fiction and fantasy features not one but two of the titans of the science fiction genre. A newly published collection of Ray Bradbury stories. And the one we are particularly excited about; a new collection of Stanisław Lem, including nine stories never published before.
Stanislaw Lem's work has proved ferociously difficult to translate due to his use of Neologism's –  "new words created by Lem that are rooted in the Polish language." He was born on the 13th of September 1921, though his birth certificate says the 12th due to reasons of superstation. He was born in the second Polish Republic (now the Ukraine). He rose to fame in the 1950's with works of poetry and essays on philosophy, futurology and literary criticism, but it was his science fiction which often included aspects of these subjects that was to shoot him to international fame.
He held a very low opinion of the vast bulk of American science fiction, with the exception of the works of Philip K Dick whose works he helped get translated into Polish. The movie adaptation of his novel Solaris by Andrei Tarkovsky is regarded as one of the classics of the genre, and the more recent Steven Soderbergh version starring George Clooney and Natascha McElhone is pretty good, too.
The other books we are particularly thrilled to see arrive this month were Under the Whispering Door by T.J. Klune, who we recently had the great pleasure of interviewing. See the end of the blog for that and Alex Pheby's sprawling gothic fantasy Mordew.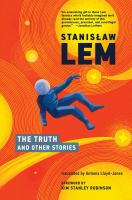 The truth and other stories / Lem, Stanisław
" The stories display the full range of Lem's intense curiosity about scientific ideas as well as his sardonic approach to human nature, presenting as multifarious a collection of mad scientists as any reader could wish for. Many of these stories feature artificial intelligences or artificial life forms, long a Lem preoccupation; some feature quite insane theories of cosmology or evolution. All are thought provoking and scathingly funny. Written from 1956 to 1993, the stories are arranged in chronological order. These stories are peak Lem, exploring ideas and themes that resonate throughout his writing." (Adapted from Catalogue)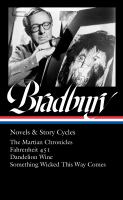 Novels & story cycles / Bradbury, Ray
"Contains four classics from the master storyteller and visionary champion of creative freedom–the complete "Martian Chronicles," "Fahrenheit 451," "Dandelion Wine," and "Something Wicked This Way Comes." (Adapted from Catalogue)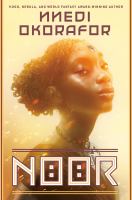 Noor / Okorafor, Nnedi
"Anwuli Okwudili prefers to be called AO. To her, these initials have always stood for Artificial Organism. AO has never really felt…natural, and that's putting it lightly.  AO embraces all that she is: a woman with a ton of major and necessary body augmentations. And then one day she goes to her local market and everything goes wrong. Once on the run, she meets a Fulani herdsman named DNA and the race against time across the deserts of Northern Nigeria begins. In a world where all things are streamed, everyone is watching the "reckoning of the murderess and the terrorist" and the "saga of the wicked woman and mad man" unfold." (Adapted from Catalogue)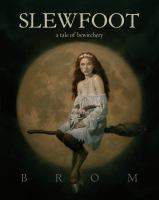 Slewfoot : a tale of bewitchery / Brom
" Connecticut, 1666. An ancient spirit awakens in a dark wood. The wildfolk call him Father, slayer, protector. The colonists call him Slewfoot, demon, devil. To Abitha, a recently widowed outcast, alone and vulnerable in her pious village, he is the only one she can turn to for help. Together, they ignite a battle between pagan and Puritan – one that threatens to destroy the entire village, leaving nothing but ashes and bloodshed in their wake. "If it is a devil you seek, then it is a devil you shall have!" (Adapted from Catalogue)
Far from the light of heaven / Thompson, Tade
"The colony ship Ragtime docks in the Lagos system, having traveled light-years to bring one thousand sleeping souls to a new home among the stars. But when first mate Michelle Campion rouses, she discovers some of the sleepers will never wake. Answering Campion's distress call, investigator Rasheed Fin is tasked with finding out who is responsible for these deaths. Soon a sinister mystery unfolds aboard the gigantic vessel, one that will have repercussions for the entire system–from the scheming politicians of Lagos station, to the colony planet Bloodroot, to other far-flung systems, and indeed to Earth itself." (Adapted from Catalogue)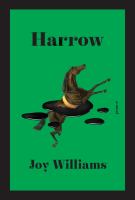 Harrow : a novel / Williams, Joy "In her first novel since The Quick and the Dead, the legendary writer takes us into an uncertain landscape after the environmental apocalypse, a world in which only the man-made has value, but some still wish to salvage the authentic. Once nature as we know it is dead, the pursuit of happiness fades into insignificance, food is scarce, and even time doesn't progress in an organized fashion. Harrow follows the picaresque journey of Khristen–a teenager who, her mother believes, was marked by greatness as a baby when she died for a moment and then came back to life." (Adapted from Catalogue)
Mordew / Pheby, Alex
" God is dead, his corpse hidden in the catacombs beneath Mordew. In the slums of the sea-battered city, a young boy called Nathan Treeves lives with his parents, eking out a meager existence by picking treasures from the Living Mud and the half-formed, short-lived creatures it spawns. Until one day his desperate mother sells him to the mysterious Master of Mordew. The Master derives his magical power from feeding on the corpse of God. But Nathan, despite his fear and lowly station, has his own strength–and it is greater than the Master has ever known. " (Adapted from Catalogue) Also available as an eBook.
Under the whispering door / Klune, TJ
"A Man Called Ove meets The Good Place in Under the Whispering Door, a delightful queer love story from TJ Klune, author of the New York Times and USA Today bestseller The House in the Cerulean Sea. When a reaper comes to collect Wallace from his own funeral, Wallace begins to suspect he might be dead. And when Hugo, the owner of a peculiar tea shop, promises to help him cross over, Wallace decides he's definitely dead. But even in death he's not ready to abandon the life he barely lived, so when Wallace is given one week to cross over, he sets about living a lifetime in seven days. Hilarious, haunting, and kind, Under the Whispering Door is an uplifting story about a life spent at the office and a death spent building a home"– Provided by publisher." (Catalogue) Also available as an eBook.
Below T. J Klune talking about Under the Whispering Door.