Canadian Astronaut Chris Austin Hadfield became known throughout the world after he recorded a version of David Bowie's 'Space Oddity' in orbit from the International Space Station . The subsequent video has been watched by over fifty million viewers. And was even the subject of a piece in The Economist about copyright in space.
His New York Times bestselling autobiography An Astronaut's Guide to Life on Earth: What Going to Space Taught Me About Ingenuity, Determination, and Being Prepared for Anything talks about his many of his passions and even gives leadership tips from the time when he was commander of the International Space Station. And in this month's newly acquired fiction titles we have Chris's first thriller, The Apollo Murders, set during the space race when the cold war was at its peak. It is part alternative history of the Apollo program and part murder mystery.
In other notable books in this month newly acquired fiction works we have Kirsten McDougall's She's a Killer, one of the most talked about and acclaimed novels of New Zealand 2021 set in the very near future in New Zealand where the effects of climate change are really beginning to bite and affect both our physical world but also our society. We were totally stoked when Kirsten agreed to be interviewed on our behalf by fellow novelist Rajorshi Chakraborti about this work. You can view that interview at the end of this blog.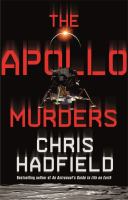 The Apollo murders / Hadfield, Chris
"1973: a final, top-secret mission to the Moon. Three astronauts in a tiny module, a quarter of a million miles from home. A quarter of a million miles from help. As Russian and American crews spring for a secret bounty hidden away on the lunar surface, old rivalries blossom and the political stakes are stretched to breaking point back on Earth. Houston flight controller Kaz Zemeckis must do all he can to keep the NASA crew together, while staying one step ahead of his Soviet rivals. But not everyone on board Apollo 18 is quite who they appear to be." (Adapted from Catalogue)
The women of Troy / Barker, Pat
"Troy has fallen. The Greeks have won their bitter war. They can return home as victors, loaded with their spoils: their stolen gold, stolen weapons, stolen women. All they need is a good wind to lift their sails. But the wind does not come. The gods have been offended – the body of Trojan king Priam lies desecrated, unburied – and so the victors remain in limbo, camped in the shadow of the city they destroyed, pacing at the edge of an unobliging sea. And, in these empty, restless days, the hierarchies that held them together begin to fray, old feuds resurface and new suspicions fester.." (Adapted from Catalogue) Also available as an eBook.
To Italy, with love / Pellegrino, Nicky
"Love happens when you least expect it… Assunta has given up on love. She might run her little trattoria in the most romantic mountain town in Italy, but love just seems to have passed her by. Sarah-Jane is finished with love. She's hiring an old convertible and driving around Italy this summer – it's the perfect way to forget all about her hot celebrity ex-boyfriend! But when Sarah-Jane's van breaks down in Montenello, she has to stay longer than she intended! And the trouble is, love is everywhere…" (Adapted from Catalogue)
Silverview / Le Carré, John
"Julian Lawndsley has renounced his high-flying job in the City for a simpler life running a bookshop in a small English seaside town. But only a couple of months into his new career, Julian's evening is disrupted by a visitor. Edward, a Polish émigré living in Silverview, the big house on the edge of town, seems to know a lot about Julian's family and is rather too interested in the inner workings of his modest new enterprise. When a letter turns up at the door of a spy chief in London warning him of a dangerous leak, the investigations lead him to this quiet town by the sea . . ." (Adapted from Catalogue)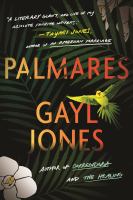 Palmares / Jones, Gayl
"The epic rendering of a Black woman's journey through slavery and liberation, set in 17th-century colonial Brazil. "Palmares" recounts the journey of Almeyda, a Black slave girl who comes of age on Portuguese plantations and escapes to a fugitive slave settlement called Palmares. Following its destruction, Almeyda embarks on a journey across colonial Brazil to find her husband lost in battle. Her story brings to life a world impacted by greed, conquest, and colonial desire. She encounters a mad lexicographer, desperate to avoid military service; a village that praises a god living in a nearby cave; and a medicine woman who offers great magic, at a greater price."(Adapted from Catalogue) Also available as an eBook.
The night watchman : a novel / Erdrich, Louise
"It is 1953. Thomas Wazhushk is the night watchman at the first factory to open near the Turtle Mountain Reservation in rural North Dakota. He is also a prominent Chippewa Council member, trying to understand a new bill that is soon to be put before Congress. The US Government calls it an 'emancipation' bill; but it isn't about freedom – it threatens the rights of Native Americans to their land, their very identity. How can he fight this betrayal? Pixie – 'Patrice' – Paranteau has no desire to wear herself down on a husband and kids. She works at the factory, earning barely enough to support her mother and brother, let alone her alcoholic father who sometimes returns home to bully her for money. But Patrice needs every penny if she's ever going to get to Minnesota to find her missing sister Vera." (Adapted from Catalogue)
Cwen / Albinia, Alice
"On an unnamed archipelago off the east coast of Britain, they say the impossible has come to pass. Women run the civic institutions. Decide how the islands' money is spent. Till the land. Tend to their families. Teach the men how to be better. They say the woman who made it so is Eva Harcourt Vane, and now that she has died, the gynotopia that was her life's work may be destroyed. But they don't know about Cwen. Cwen has been here longer than any of the buildings and any of the people. The clouds are her children, and the waves are too. Her name has ancient roots, reaching down into the earth beneath her feet. She knows this place has always belonged to women. And she will do anything to protect them. " (Adapted from Catalogue)
She's a killer / McDougall, Kirsten
"Set in a very near future New Zealand where the effects of climate change are really beginning to bite and affect both our physical world but also our society. Full of spicy and fresh characters that leap of the book's pages and a plot effortlessly moves from razor sharp humour to Climate fear driven sure shot action. " ( Adapted from Catalogue)