"In fine, the truffle is the very diamond of gastronomy."

— Jean Anthelme Brillat-Savarin
In this month's selection of new crime and mystery titles we have a hunt for the legendary Boscuri White truffle in the hills around Bologna. So, what better reason do we need to investigate just a little of the history of the mighty truffle.
Truffles are the fruiting body of a subterranean ascomycete fungus, and one of the most prized gastronomic ingredients in France, Italy and beyond. Described as the "Diamond of the kitchen" their use in cooking can be traced way back to the neo-Sumerians in 22nd to 21st century BC. The ancient Romans used them too, but they appeared to have fallen out of favour in the medieval period though there are one or two references from that time. Pigs and dogs are traditionally used to find wild truffles and fortunes can be paid for a good truffle dog.
It is from Renaissance period up to modern times that the truffle has really found its place. Hugely popular in Parisian markets of the 1700's, they were often so expensive that they only appeared at the dining tables of nobles. It's also used in a wide range of dishes; one traditional favourite is with turkey and, even more recently, truffle vodka. Up until recently, if you wanted to experience the flavour sensation of the truffle here in New Zealand then you would have had to import them; the first ever Southern Hemisphere harvested truffles were from Gisborne in 1993!!!
We have a wide range of other recently acquired crime and mystery titles too, for a small selection peruse below.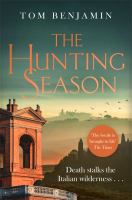 The hunting season / Benjamin, Thomas
"It's truffle season and in the hills around Bologna the hunt is on for the legendary Boscuri White, the golden nugget of Italian gastronomy. But when an American truffle 'supertaster' goes missing, English detective Daniel Leicester discovers not all truffles are created equal. Did the missing supertaster bite off more than he could chew? As he goes on the hunt for Ryan Lee, Daniel discovers the secrets behind 'Food City', but the deeper he goes into the disappearance of the supertaster the darker things become. Murder is once again on the menu…" (Adapted from Catalogue)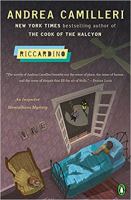 Riccardino / Camilleri, Andrea
"When Inspector Montalbano receives an early-morning phone call it proves to be the start of a very trying day. For the caller expects Montalbano to arrive imminently at a rendezvous with some friends. But before he can remonstrate, the caller announces himself ass someone called Riccardino and peremptorily issues his instructions.  Later that day news comes in of a brutal slaying in broad daylight by an unknown assassin who makes his getaway on a motorbike. And when the Inspector learns of the victim's identity – a man called Riccardino – his troubles are only just beginning…" (Adapted from Catalogue) Also available as an eBook.
The midnight hour / Griffiths, Elly
"Once-famous theatrical impresario Bert Billingham is found dead, no one suspects foul play. But when the post mortem reveals that he was poisoned, suspicion falls on his wife. Frustrated by the police response to Bert's death and determined to prove her innocence. Verity calls in private detective duo Emma Holmes and Sam Collins.  She and Sam are convinced the answer lies in Bert's dark past and in the glamorous, occasionally deadly, days of Music Hall. But the closer they get to the truth, the more danger they find themselves in." (Adapted from Catalogue)
Harlem shuffle / Whitehead, Colson
""Ray Carney was only slightly bent when it came to being crooked…" To his customers and neighbors on 125th street, Carney is an upstanding salesman of reasonably-priced furniture, making a life for himself and his family. He and his wife Elizabeth are expecting their second child, and if her parents on Striver's Row don't approve of him or their cramped apartment across from the subway tracks, it's still home. Few people know he descends from a line of uptown hoods and crooks, and that his façade of normalcy has more than a few cracks in it. Cracks that are getting bigger and bigger all the time…" (Adapted from Catalogue)
The man who died twice / Osman, Richard
"It's the following Thursday. Elizabeth has received a letter from an old colleague, a man with whom she has a long history. He's made a big mistake, and he needs her help. His story involves stolen diamonds, a violent mobster and a very real threat to his life. As bodies start piling up, Elizabeth enlists Joyce, Ibrahim and Ron in the hunt for a ruthless murderer. And if they find the diamonds too? Well, wouldn't that be a bonus? But this time they are up against an enemy who wouldn't bat an eyelid at knocking off four septuagenarians. Can The Thursday Murder Club find the killer (and the diamonds) before the killer finds them?"(Adapted from Catalogue) Also available as an Audiobook.
The assistant / Dahl, Kjell Ola
"Oslo, 1938. War is in the air and Europe is in turmoil. Hitler's Germany has occupied Austria and is threatening Czechoslovakia; there's a civil war in Spain and Mussolini reigns in Italy. When a woman turns up at the office of police-turned-private investigator Ludvig Paaske, he and his assistant – his one-time nemesis and former drug-smuggler Jack Rivers – begin a seemingly straightforward investigation into marital infidelity. But all is not what it seems, and when Jack is accused of murder, the trail leads back to the 1920s, to prohibition-era Norway, to the smugglers, sex workers and hoodlums of his criminal past … and an extraordinary secret." (Adapted from Catalogue)
A change of circumstance / Hill, Susan
"DCS Simon Serrailler has long regarded drugs ops in Lafferton as a waste of time. Small-time dealers are picked up outside the local secondary school, they don't have any information about those higher up the chain, they're given a fine or a suspended and away they go. And rinse and repeat. But when the body of a 22-year-old drug addict is found in neighbouring Starley, the case pulls Simon into a whole new way of running drugs." (Adapted from Catalogue) Also available as an Audiobook.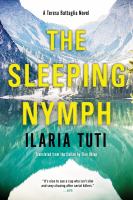 The sleeping nymph / Tuti, Ilaria
"A decades-old murder investigation has landed on Superintendent Teresa Battaglia's desk. DNA analysis has revealed that a painting from the final days of World War II contains matter from a human heart. Teresa is able to trace the evidence to Val Resia, one of Italy's most isolated, untouched regions. When Teresa's investigation hits too close to the truth, a second human heart is hung at the valley's entrance, a warning not to cross its threshold. Meanwhile, Teresa must not only deal with rapidly progressing physical and cognitive ailments, but also someone she hoped never to see again-a man who is now her supervisor"– Provided by publisher." (Catalogue)