Bryan Walpert is a professor in creative writing at Massey University, a poet, novelist and a creative thinker. His work so far encompasses nine books including four collections of poetry: – Etymology, A History of Glass, Native Bird and Brass Band to Follow being the most recent. His short novella called 'Late Sonata', won the Seizure Viva La Novella Prize and he was also recently a contributor to the Dante project More Favourable Waters.
'Late Sonata' was praised  for its "seamless melding of the emotional and the intellectual", something his new novel Entanglement does too.
Entanglement is Bryan's first full length novel and revolves around various threads: A memory-impaired time traveller and his attempts to correct a tragic mistake, a novelist researching at the Centre for Time in Sydney, and a writer at a lake retreat in New Zealand in 2019 obsessing over the disintegration of his marriage following another tragedy. Are they separate stories, or are they one?
Entanglement is a multi-layered, multi-faceted work that weaves big ideas about the nature of existence and time into the integral fabric of the plot, whilst also being very personal about the characters' inner lives. It was recently listed in the Listener's Best Books of 2021 list and when Bryan agreed to talk to us about Entanglement and its creation and themes, we jumped at the chance.
We wish to extend to Bryan a huge thank you for letting us interview him about Entanglement and giving us such a fascinating insight into your creative process. Read more about Bryan Walpert here and more about Entanglement by clicking here.
Entanglement / Walpert, Bryan
"A memory-impaired time traveller attempts to correct a tragic mistake he made in 1977 when, panicked, he abandoned his brother on a frozen lake in Baltimore. Decades later, in 2011, a novelist researching at the Centre for Time in Sydney becomes romantically involved with a philosopher from New Zealand. Another eight years on, and a writer at a lake retreat in New Zealand in 2019 obsesses over the disintegration of his marriage following another tragedy. Are these separate stories, or are they one? Is the time traveller actually travelling? Can the past be changed? As the answers to these questions slowly emerge, the three tales become entangled, along with the usual abstractions: love, desperation and physics." (Adapted from Catalogue)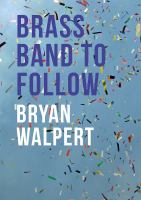 Brass band to follow : poems / Walpert, Bryan
"Bryan Walpert's fourth collection of lyric poems ranges in its focus from flowers to infinities, from laundry to eternity, but is founded most fully on what it is to move into middle age – to wait for life's promised brass band to arrive. Whether writing from the perspective of a parent watching childhood slip away or ventriloquising the 17th-century scientific language of Robert Hooke and Robert Boyle to craft surprising love poems, he engages the world with a keen and often witty perception, a deft juggling of the sentence, and a sense of wonder. Frequently playful in approach, the poems are always serious in their engagement with the bewildering nature of time passing – of growing up and growing older." (Adapted from Catalogue)
More favourable waters : Aotearoa poets respond to Dante's Purgatory
"An anthology of contemporary poets from Aotearoa New Zealand commemorating one of the world's great poets, Dante Alighieri (1265–1321), 700 years after his death.
Each of the 33 poets has written a poem of 33 lines inspired by and including a short passage from one of the 33 cantos of Dante's Purgatory, the second part of his epic The Divine Comedy." ( Adapted from Catalogue)
Strong words 2019 : the best of the Landfall essay competition
"Judging her first Landfall Essay Competition in 2018, Landfall editor Emma Neale was seriously challenged. The overall high quality of the 90 submissions made it impossible to choose. After a nails-bitten-to-the-quick struggle, she optimistically submitted her 'shortlist' of 21 essays. The publisher had some strong words with her. Emma was told a shortlist needed to be shorter than 21. A lot shorter. In the end she pared the list back to 10 but it seemed so wasteful not to be awarding many more prizes. That's when this book was born … Strong Words is a striking collection of essays that celebrates an extraordinary year in New Zealand writing." (adapted from catalogue)