Love him or hate him, you can't deny Simon Bridges is the man of the moment. How timely that he has released a biography National identity: confessions of an outsider. While this biography doesn't delve into his politics, it is an opportunity to better understand the man himself and make your own mind up about him. In contrast Labour saving: a memoir by the late Sir Michael Cullen describes his lengthy political career and achievements during one of the most turbulent times in our political history. Check out these and other recent biographies below.
National identity : confessions of an outsider / Bridges, Simon
"In National Identity, Bridges offers an attempt to question himself and the country he loves. Politics, crime, kai, music, nature: these are the stuff of a life. Through candid and self aware reflections, he points out that politicians have become less robust, and that people don't participate as much anymore – eroding our institutions and national life. He speaks his mind on an education system in crisis, the decline of Christianity, and how being the smallest, most isolated developed country in the world explains why we are how we are". (Catalogue) Also available as an ebook.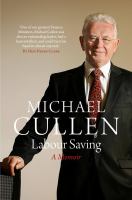 Labour saving : a memoir / Cullen, M. J.
"In this clever, witty and detailed memoir, Sir Michael Cullen describes his lengthy political career, including his pivotal roles as Minister of Finance for nine years and Deputy Prime Minister for six years in Helen Clark's government from 1999 to 2008. Best known for his major economic policies, Sir Michael was also the principal author of the Working for Families package which substantially increased the incomes of many low income families. As one of Labour's most trusted and senior party members, he has had a box seat during the highs and lows of the party's fortunes." (Adapted from catalogue) Also available as an e-book.
Ten thousand aftershocks / Tom, Michelle
"After Michelle Tom's house was damaged by a deadly magnitude 6.3 earthquake in Christchurch, New Zealand, in 2011, she and her young family suffered through another 10,000 aftershocks before finally relocating to the stability of Melbourne, Australia. But soon after arriving, Michelle received the news that her estranged sister was dying. Michelle Tom explores the similarities between seismic upheaval and her own family's tragedies: her sister's terminal illness, her brother's struggle with schizophrenia and ultimate suicide, the sudden death of her father, her own panic disorder and, through it all, one overarching battle – her lifelong struggle to form a healthy connection with her mother." (adapted from catalogue)
Bourdain : the definitive oral biography / Woolever, Laurie
"When celebrity chef, author and traveller Anthony Bourdain died in June 2018, fans around the globe came together to celebrate the life of an inimitable man. Now, for the first time, people have been granted a look into Bourdain's life through the stories and recollections of his closest friends and colleagues. Laurie Woolever, Bourdain's longtime assistant and confidante, interviewed nearly a hundred of the people who shared Tony's orbit, from members of his kitchen crews to his writing, publishing, and television partners, to his daughter and his closest friends, to piece together a remarkably full, vivid, and nuanced vision of Tony's life and work." (Adapted from catalogue)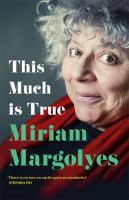 This much is true / Margolyes, Miriam
"BAFTA-winning actor Miriam Margolyes is the nation's favourite (and cheekiest) treasure. Now at the age of eighty, she has finally decided to tell her life story, and it's well worth the wait. Find out how being conceived during an air raid gave her curly hair; what pranks led to Miriam being known as the naughtiest girl ever to be educated at Oxford High School; how, as a teenager, she ended up posing nude for Augustus John; what she did when Warren Beatty asked 'Do you fuck?' and much, much more. With a cast list stretching from Martin Scorsese to Barbara Streisand, a cross-dressing Leonardo DiCaprio to an incomprehensible Isaiah Berlin, This Much is True is as clever and self-critical, as warm and honest, as full of life and surprises, as its wonderful author." (Adapted from catalogue)
Starstruck : my unlikely road to Hollywood / Maltin, Leonard
"Hollywood historian and film reviewer Leonard Maltin invites readers to pull up a chair and listen as he tells stories, many of them hilarious, of 50+ years interacting with legendary movie stars, writers, directors, producers, and cartoonists. Maltin's career as a free-lance writer and New York Times-bestselling author as well as his 30-year run on Entertainment Tonight, gave him access to Katharine Hepburn, Elizabeth Taylor, Sean Connery, Shirley Temple, and Jimmy Stewart among hundreds of other Golden Age stars, his interviews cutting through the Hollywood veneer and revealing the human behind each legend." (Adapted from catalogue)