"What will the world look like in ten thousand years―or ten million? What kinds of stories will be told about us?"

― David Farrier, Footprints
Just as traces of dinosaurs and the Mesozic era remained 65 million years later, or as remnants of the Palaeolithic period persist to exist in the modern world, we too have created long-lasting imprints to be discovered by our descendants, both in the distant and not so distant future.
Plastic-ridden oceans, cities dominated by roads and remnants of our radioactive waste are just a few of the fossils we are set to leave behind, as explained by David Farrier in his latest work Footprints.
Considering these future fossils with reference to our children, grandchildren, and all those who may come after us is confronting, but it may just be the call to action we've all been waiting for.
Check out this title, or any of our other recent science picks below.
Footprints / Farrier, David
"A profound meditation on climate change and the Anthropocene, and an urgent search for the fossils–industrial, chemical, geological–that humans are leaving behind. Footprints invites us to think about how we will be remembered in the myths, stories, and languages of our distant descendants. Travelling from the Baltic Sea to the Great Barrier Reef, and from an ice core laboratory in Tasmania to Shanghai, David Farrier will not only alter how you think about the future, but also change how you see the world today." (Adapted from Fishpond)
The glitter in the green : in search of hummingbirds / Dunn, Jon
"Hummingbirds are a glittering, sparkling collective of over three hundred wildly variable, colourful species. This tells the colourful story of these fabulous birds — their history, their compelling life cycles, and their perilous position in a changing landscape — and the stories of the people, past and present, whose lives have been shaped by the zealous passion hummingbirds inspire. Travelling the full length of their worldwide range, nature writer Jon Dunn embarks on a search for the most remarkable examples of their kind, exploring their rich cultural heritage, and encountering a host of human characters as colourful as the birds themselves."(Adapted from Catalogue)
Beasts before us : the untold story of mammal origins and evolution / Panciroli, Elsa
"For most of us, the story of mammal evolution starts after the asteroid impact that killed the dinosaurs, but over the last 20 years scientists have uncovered new fossils and used new technologies that have upended this story. In Beasts Before Us, palaeontologist Elsa Panciroli charts the emergence of the mammal lineage, Synapsida. They made the world theirs long before the rise of dinosaurs. Travelling forward into the Permian and then Triassic periods, we learn how our ancient mammal ancestors evolved from large hairy beasts with accelerating metabolisms to exploit miniaturisation, which was key to unlocking the traits that define mammals as we now know them." (Adapted from Catalogue)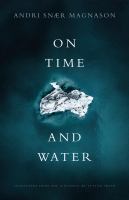 On time and water / Andri Snær Magnason
"Author and activist Andri Snaer Magnason's 'Letter to the Future', an extraordinary and moving eulogy for the lost Okjokull glacier, made global news and was shared by millions. Now he attempts to come to terms with the issues we all face in his new book On Time and Water. Magnason writes of the melting glaciers, the rising seas and acidity changes that haven't been seen for 50 million years. These are changes that will affect all life on earth." (Adapted from Fishpond)
Jungle : how tropical forests shaped the world – and us / Roberts, Patrick
"Jungle tells a deep new history of the world, arguing that tropical rainforests played an outsized and overlooked role in our lives.  Blending cutting-edge research and incisive social commentary, Jungle offers a bold vision of what the rainforests can teach us about who we are and where we come from." (Adapted from Catalogue)
Islands of abandonment : life in the post-human landscape / Flyn, Cal
"This is a book about abandoned places – and what happens when nature is allowed to reclaim its place. In Chernobyl, following the nuclear disaster, only a handful of people returned to their dangerously irradiated homes. On an uninhabited Scottish island, feral cattle live entirely wild. In Detroit, once America's fourth-largest city, entire streets of houses are falling in on themselves, looters slipping through otherwise silent neighbourhoods. This book explores the extraordinary places where humans no longer live – or survive in tiny, precarious numbers – to give us a possible glimpse of what happens when mankind's impact on nature is forced to stop." (Adapted from Catalogue)