A brilliant, inventive and unsettling exploration of our glorious and broken nature. — David Haskell on Being a Human
There are lots of ways to try and understand animals, but not everyone has committed to the process as much as author Charles Foster. When writing his debut book Being a Beast, Foster spent time eating worms like a badger, hunting through bins like a fox and running like a deer. Five years later he's back with his latest work: Being a Human.
Being a Human covers 40,000 years of history in an attempt to discover why "few of us have any idea what sort of creatures we are". However, this isn't a traditional search through artefacts and written records–instead, Foster teams up with his son Tom to live as a hunter-gatherer, exploring the physical (and mystical) world of the Upper Palaeolithic.
Reserve your copy of Being a Human below, or check out other great new titles on offer. For more, visit our New Materials page.
Being a human: adventures in forty thousand years of consciousness / Foster, Charles
"How did humans come to be who we are? Readers will experience the Upper Paleolithic era as a Cro-Magnon hunter-gatherer, living in the rural woods of England. For the Neolithic period, they learn about a Neolithic settlement. To explore the Enlightenment, Foster finds his world and himself bizarre and disembodied, and he rues the atrophy of our senses." (Adapted from Catalogue)
Cultish : the language of fanaticism / Montell, Amanda
"What causes people to join–and more importantly, stay in–extreme groups? The answer, Montell believes, has nothing to do with freaky mind-control wizardry or Kool-Aid. She argues that the key to manufacturing intense ideology, community, and us/them attitudes all comes down to language. In both positive ways and shadowy ones, cultish language is something we hear–and are influenced by–every single day." (Adapted from Catalogue)
The scent of empires: Chanel no. 5 and red Moscow / Schlögel, Karl
"Can a smell bear the traces of history? What can we learn about the history of the twentieth century by examining the fate of perfumes? Piecing together the intertwined histories of these two famous perfumes, which shared a common origin, Schlögel tells a surprising story of power, intrigue and betrayal that offers an altogether unique perspective on the turbulent events and high politics of the twentieth century." (Adapted from Catalogue)
The whale in the living room: a wildlife documentary maker's unique view of the sea / Ruthven, John
"The Whale in the Living Room follows the thrilling adventures of BBC Blue Planet producer, John Ruthven, on a journey of discovery that helped the marine world flow into your living room via the TV. Through each stunning adventure John draws out important insights into what is presently known about how the sea, and our whole blue planet works." (Catalogue)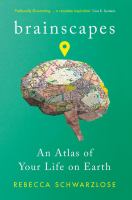 Brainscapes: an atlas of your life on earth / Schwarzlose, Rebecca
"Your brain is a collection of maps. That is no metaphor: scrawled across your brain's surfaces are actual schematic images of the sights, sounds, and actions that hold the key to your survival. Scientists first began uncovering these maps over a century ago, but we are only now beginning to unlock their secrets. The maps in our brain raise important questions about what is real, what is fair, and what is private." (Adapted from Catalogue)
The brainwashing of my dad : how the rise of the right-wing media changed a father and divided our nation, and how we can fight back / Senko, Jen
"Author Jen Senko's father went from being a non-political, open-minded Democrat to a radical, angry, and intolerant right wing devotee. As politics began to take precedence over anything and everything, Jen was mystified at how these concepts began to insidiously seep into her father's mood and mindset. How had this happened? When and why had this started?" (Adapted from Catalogue)
Plenty: a memoir of food & family / Howard, Hannah
"Hannah Howard is at a pivotal moment in her life when she begins searching out her fellow food people–women who've carved a place for themselves in a punishing, male-dominated industry. But amid her travels, Hannah finds herself on a heart-wrenching path. Looking to her food heroes for solace, companionship, and inspiration, she discovers new ways to appreciate her body and nourish her life." (Adapted from Catalogue)
How dead languages work / George, Coulter H.
"What could Greek poets or Roman historians say in their own language that would be lost in translation? After all, different languages have different personalities, and this is especially clear with languages of the ancient and medieval world. This volume celebrates six such languages – Ancient Greek, Latin, Old English, Sanskrit, Old Irish, and Biblical Hebrew." (Adapted from Catalogue)