"Mona Lisa must have had the highway blues; you can tell by the way she smiles."

— Bob Dylan
Is the Mona Lisa portrait hanging in the Louvre a fake?
This is the intriguing premise of The Last Mona Lisa by Jonathan Santlofer, one of our recently acquired general fiction titles. It's a premise not without some substance as the Mona Lisa was stolen in 1911. The initial suspicion for the theft fell on the painter Pablo Picasso, and the poet Guillaume Apollinaire both were taken in for questioning and later released without charge. The real culprit was an Italian patriot Vincent Peruggia, with connections to a known forger who strongly believed the painting belonged in Italy. His cunning and successful plan involved hiding in a broom cupboard, wrapping the painting around a smock, tucked it under his arm, and walking out a staff door. Ironically it was this theft that was to make the painting world famous; up to that point it was relatively unheralded. He was only caught when he attempted to sell the picture to the Uffizi nearly two years later.  And since that time rumours about the authenticity of the picture hanging in the Louvre have persisted.
The Mona Lisa itself is over 500 years old, thought to have been started by Leonardo da Vinci around 1503 and completed sometime around 1517. It is now the world's most famous and recognisable painting and is rumoured to be insured for over 870 million dollars.  It once hung in Napoleon's bedroom and is now owned by the French republic.
Other selected titles in this months newly acquired general fiction list include Colm Tóibín's The Magician, a fictionalised biography about the German writer Thomas Mann, Jonathan Franzen's latest novel called Crossroads, set in 1970's Chicago and a debut novel from American New Zealander Dana C Carver called Two Truths.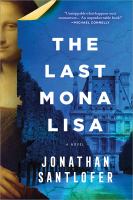 The last Mona Lisa : a novel / Santlofer, Jonathan
"August, 1911: The Mona Lisa is stolen by Vincent Peruggia. Exactly what happens in the two years before its recovery is a mystery. Many replicas of the Mona Lisa exist, and more than one historian has wondered if the painting now in the Louvre is a fake, switched in 1911. Present day: art professor Luke Perrone digs for the truth behind his most famous ancestor: Peruggia. His search attracts an Interpol detective with something to prove and an unfamiliar but curiously helpful woman. Soon, Luke tumbles deep into the world of art and forgery, a land of obsession and danger. " (Adapted from Catalogue)
The magician / Tóibín, Colm
"When the Great War breaks out in 1914 Thomas Mann, like so many of his fellow countrymen, is fired up with patriotism. He imagines the Germany of great literature and music, which had drawn him away from the stifling, conservative town of his childhood, might be a source of pride once again. But his flawed vision will form the beginning of a dark and complex relationship with his homeland, and see the start of great conflict within his own brilliant and troubled family. " (Adapted from Catalogue) Also available as an eBook.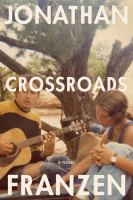 Crossroads / Franzen, Jonathan
"It's December 23, 1971, and heavy weather is forecast for Chicago. Russ Hildebrandt, the associate pastor of a liberal suburban church, is on the brink of breaking free of a marriage he finds joyless — unless his wife, Marion, who has her own secret life, beats him to it. Their eldest child, Clem, is coming home from college on fire with moral absolutism, having taken an action that will shatter his father. Clem's sister, Becky, long the social queen of her high-school class, has sharply veered into the counterculture, while their brilliant younger brother Perry, who's been selling drugs to seventh graders, has resolved to be a better person." (Adapted from Catalogue) Also available as an eBook. 
Two truths / Carver, Dana C
"On a wintry day long ago, Renee Morgan walked into the snowy mountains of Lake Tahoe, where she met a man who changed her world forever. Now, nearly half a century later, she must face the facts of who the man was and, ultimately, face the truth about herself. After the mysterious death of her husband, Renee's daughters – Brett, Sara and Hadley – become increasingly determined to explore the circumstances of his death, and in doing so tread a dangerous path. If Renee is to protect them, she must evolve in a way she has spent a lifetime avoiding. " (Adapted from Catalogue)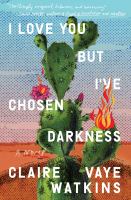 I love you but I've chosen darkness / Watkins, Claire Vaye
" Claire, a writer, gets on a flight for a speaking engagement in Reno, not carrying much besides a breast pump-and a creeping case of postpartum depression. But what begins as a temporary escape from domestic duties and an opportunity to reconnect with old friends soon mutates into an extended flight from the confines of marriage and motherhood, and a seemingly bottomless descent into the depths of the past.  Claire can't go back in time to make any of it right, but what exactly is her way forward? Alone in the wilderness, she finally finds a way to make herself at home in the world. ." (Adapted from Catalogue)
She wouldn't change a thing / Adlakha, Sarah
" A second chance is the last thing she wants. When thirty-nine year old Maria Forssmann wakes up in her seventeen-year-old body, she doesn't know how she got there. All she does know is she has to get back: to her home in Bienville, Mississippi, to her job as a successful psychiatrist and, most importantly, to her husband, daughters, and unborn son. But she also knows that, in only a few weeks, a devastating tragedy will strike her husband, a tragedy that will lead to their meeting each other. Can she change time and still keep what it's given her? Exploring the responsibilities love lays on us, the complicated burdens of motherhood, and the rippling impact of our choices." (Adapted from Catalogue)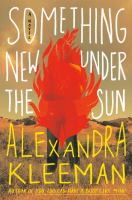 Something new under the sun : a novel / Kleeman, Alexandra
"East-coast novelist Patrick Hamlin has come to Hollywood with simple goals in mind: overseeing the production of a film adaptation of one of his books, preventing starlet Cassidy Carter's disruptive behavior from derailing said production, and turning this last-ditch effort at career resuscitation into the sort of success that will dazzle his wife and daughter back home. But California is not as he imagined: drought, wildfire, and corporate corruption are omnipresent, and the company behind a mysterious new brand of synthetic water seems to be at the root of it all….." (Adapted from Catalogue)
Revelator / Gregory, Daryl
" In 1933, nine-year-old Stella is left by her father in the care of her grandmother, Motty, in the backwoods of Tennessee. The remote hills of the Smoky Mountains are home to dangerous secrets, and upon her arrival, Stella wanders into a dark cavern where she encounters the presence of the family's personal god, an entity known only as Ghostdaddy. Fifteen years later, after a tragic incident causes her to flee, Stella–now a professional moonshiner and bootleg runner–returns for Motty's funeral, finds a mysterious ten-year-old girl named Sunny living on the property. Though she appears innocent enough, Sunny is more powerful than Stella can ever know and a direct link to Stella's buried past. " (Adapted from Catalogue)