"Change often starts with the smallest of whispers. Like-minded people building it up to a roar."

― T.J. Klune, The House in the Cerulean Sea
We have a real treat coming up soon (19th November to be exact) on our various social media outlets.
T. J. Klune  is one of the world's biggest and most popular names in contemporary fantasy and romance fiction, whose works emphasises positive gay and LGBTQ+ characters, has very kindly agreed to an exclusive filmed Q and A with Wellington City Libraries.
If you haven't come across his works, his breakout novel The House in the Cerulean Sea, set in an orphanage for magical beings on an island, has justifiably been called a "Warm hug of a book"; a thoroughly recommended read with important messages about, friendship healing, inclusion and finding out who you really are, and it's also funny, unexpected, and thrilling.
And his just-released afterlife fantasy novel Under the Whispering Door is equally compelling and engrossing; another romantic fantasy story which deals with universal themes of life, death, grief and second chances. It's about a ghost who refuses to cross over, and the ferryman and his team tasked with helping him.
Both have been huge bestsellers. T.J Klune is also a nominee for the 2021 Mythopoeic Fantasy Award for Adult Literature and won the Alex Award.
His other books include Bear, Otter and the Kid, Burn, The Lambda Award Winner Into This River I Drown, Murmuration, The Bones Beneath My Skin, Wolfsong, Ravensong, Heartsong and Brothersong, The Lightning-Struck Heart, A Destiny of Dragons, The Consumption of Magic, A Wish Upon the Stars, Fairytales from VeraniaandExtraordinaries which has a sequel, Flash Fire just out.
So, on the 19th of  November  on our YouTube channel and on our Facebook page we will be putting up this touching, entertaining, insightful, poignant, and funny interview.  We thoroughly enjoyed doing the interview and think you will enjoy hearing it just as much. We wish to extend our most heartfelt thanks to T.J. Klune, Tor Books and Macmillan Publishers for making this happen.
You can borrow T.J. Klune books from the library ( see below)  or buy them from any good bookshop.
Under the Whispering Door / Klune, TJ
"The tea is hot, the scones are fresh, and the dead are just passing through." When a reaper comes to collect Wallace from his own funeral, Wallace begins to suspect he might be dead. And when Hugo, the owner of a peculiar tea shop, promises to help him cross over, Wallace decides he's definitely dead.
But even in death he's not ready to abandon the life he barely lived, so when Wallace is given one week to cross over, he sets about living a lifetime in seven days. An uplifting story about a life spent at the office and a death spent building a home.." (Adapted from Catalogue) Also available as an eBook and an Audiobook.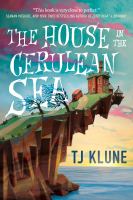 The house in the Cerulean Sea / Klune, TJ
"A magical island. A dangerous task. A burning secret. Linus Baker leads a quiet, solitary life. At forty, he lives in a tiny house with a devious cat and his old records. As a Case Worker at the Department in Charge Of Magical Youth, he spends his days overseeing the well-being of children in government-sanctioned orphanages. When Linus is unexpectedly summoned by Extremely Upper Management he's given a curious and highly classified assignment: travel to Marsyas Island Orphanage, where six dangerous children reside: a gnome, a sprite, a wyvern, an unidentifiable green blob, a were-Pomeranian, and the Antichrist." ( Adapted from Catalogue) Also available as an eBook and an Audiobook.
The Extraordinaries / Klune, TJ
"If being the most popular fanfiction writer in the Extraordinaries fandom was a superpower, Nick Bell would be a hero. Instead he's just a fanboy with ADHD, posting online. After a chance encounter with Shadow Star, Nova City's mightiest hero (and Nick's biggest crush), he sets out to make himself extraordinary. And he'll do it with or without the reluctant help of Seth Gray, Nick's best friend (and maybe the love of his life)." (Adapted from Catalogue)
Flash fire / Klune, TJ
"Through bravery, charm, and an alarming amount of enthusiasm, Nick landed himself the superhero boyfriend of his dreams. Now instead of just writing stories about him, Nick actually gets to kiss him. But having a superhero boyfriend isn't everything Nick thought it would be–he's still struggling to make peace with his own lack of extraordinary powers. When new Extraordinaries begin arriving in Nova City–siblings who can manipulate smoke and ice, a mysterious hero who can move objects with their mind, and a drag queen superhero with the best name and the most-sequined costume anyone has ever had–it's up to Nick and his friends Seth, Gibby, and Jazz to determine who is virtuous and who is villainous." (Adapted from Catalogue)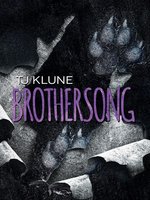 Brothersong, TJ Klune (ebook)
"In the ruins of Caswell, Maine, Carter Bennett learned the truth of what had been right in front of him the entire time. And then it—he—was gone.
Desperate for answers, Carter takes to the road, leaving family and the safety of his pack behind, all in the name of a man he only knows as a feral wolf. But therein lies the danger: wolves are pack animals, and the longer Carter is on his own, the more his mind slips toward the endless void of Omega insanity.
What Carter finds will change the course of the wolves forever." (adapted from Overdrive description)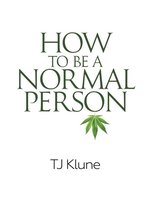 How to Be a Normal Person, TJ Klune (ebook)
"Gustavo Tiberius is not normal. He knows this. Everyone in his small town of Abby, Oregon, knows this. Until Casey, an asexual stoner hipster and the newest employee at Lottie's Lattes, enters his life. For some reason, Casey thinks Gus is the greatest thing ever. And maybe Gus is starting to think the same thing about Casey, even if Casey is obsessive about Instagramming his food. But Gus isn't normal and Casey deserves someone who can be. Suddenly wanting to be that someone, Gus steps out of his comfort zone and plans to become the most normal person ever. After all, what could possibly go wrong?" (Adapted from Overdrive description)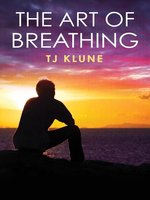 The Art of Breathing, TJ Klune (ebook)
Tyson Thompson graduated high school at 16 and left the town of Seafare, Oregon, bound for what he assumed would be bigger and better things. He soon found out the real world has teeth, and he returns to the coast with four years of failure, addiction, and a diagnosis of panic disorder trailing behind him. But shortly after he arrives home, Tyson comes face to face with inevitability in the form of his childhood friend and first love, Dominic Miller, who he hasn't seen since the day he left Seafare. As their paths cross, old wounds reopen, new secrets are revealed, and Tyson discovers there is more to his own story than he was told all those years ago. (Adapted from Overdrive description)