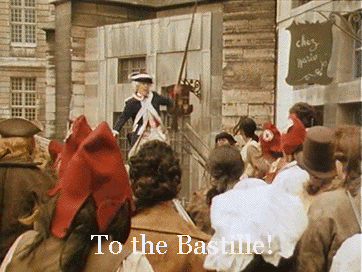 "In a few days, I will have them all guillotined in Paris."
One of this month's recently acquired crime, mystery and thriller fiction titles Murder at Madame Tussauds is set in and around the world-famous Madame Tussauds gallery in London. It isn't the first time Madame Tussaud's gallery has featured in fiction; indeed, it features in the Sherlock Holmes story "The Mazarin Stone" and Jules Verne's Around the World in Eighty Days to name but two.
Madame Tussauds the person led a life that wasn't without historical incident either. She was born Marie Grosholtz in 1761 in France and quickly gained a reputation as a wax sculptor and at the age 17 of she became the art tutor to Madame Elizabeth, the sister of King Louis XVI; something which was to lead to her spending three months awaiting execution as the French revolution unfolded, and it was only the intervention of a close friend that prevented her demise.
After inheriting her mentor Philippe Curtius' vast collection of waxwork figures she toured Europe for 33 years, first exhibiting in London 1802 in a joint show with lantern and phantasmagoria pioneer Paul Philidor. But it wasn't until 1835, in Baker Street, that she opened a permanent museum location, moving later to the present location. These days there are various Madame Tussauds museums throughout the globe and some of her original sculptures are still in the various collections.
Amongst the other the titles that caught our eye this month include Booker Prize winning John Banville's latest work April in Spain and Tim Major's reimagining of Sherlock Holmes called The Back to Front Murder.
Murder at Madame Tussauds / Eldridge, Jim
"London, 1896. Madame Tussauds opens to find one of its nightwatchmen decapitated and his colleague nowhere to be found. To the police, the case seems simple: one killed the other and fled, but workers at the museum aren't convinced. Although forbidden contact by his superior officer, Scotland Yard detective John Feather secretly enlists 'The Museum Detectives' Daniel Wilson and Abigail Fenton to aid the police investigation. When the body of the missing nightwatchman is discovered encased within a wax figure, the case suddenly becomes more complex.." (Adapted from Catalogue)
April in Spain : a novel / Banville, John
"San Sebastian, Spain. Dublin pathologist Quirke is struggling to relax, despite the beaches, cafés and the company of his lovely wife. When he glimpses a familiar face in the twilight at Las Acadas bar, he knows it can't be April Latimer– she was murdered by her brother, years ago. When Quirke makes a call back home to Ireland, Detective St. John Strafford is dispatched to Spain. But he is not the only one en route: A relentless hit man is on the hunt for his latest prey, and the next victim might be Quirke himself." (Adapted from Catalogue) Also available as an eBook.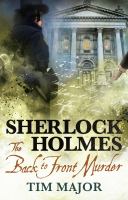 The back to front murder / Major, Tim
"May 1898: Sherlock Holmes investigates a murder stolen from a writer's research. Abigail Moone presents an unusual problem at Baker Street. She is a writer of mystery stories under a male pseudonym, and gets her ideas following real people and imagining how she might kill them and get away with it. It's made her very successful, until her latest "victim" dies, apparently of the poison method she meticulously planned in her notebook. Abigail insists she is not responsible, and that someone is trying to frame her for his death. With the evidence stacking up against her, she begs Holmes to prove her innocence…" (Adapted from Catalogue)
Tokyo redux / Peace, David
"Tokyo, July 1949: the president of the Japanese National Railways goes missing just a day after announcing 30,000 layoffs. In the midst of the U.S. occupation, against the backdrop of widespread social, political, and economic reforms, as tensions and confusion reign, American Detective Harry Sweeney–fighting against his own disillusion and demons–leads the missing person's investigation. Fifteen years later, a resurgent Tokyo prepares for the 1964 Olympics and the global spotlight. Private investigator Hideki Murota, a former policeman during the occupation, is given a case that forces him to go back to confront a time, a place, and the crime he's been hiding from for the past fifteen years." (Adapted from Catalogue)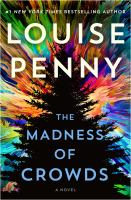 The madness of crowds / Penny, Louise
"While the residents of the Quebec village of Three Pines take advantage of the deep snow to ski and toboggan, the Chief Inspector finds his holiday with his family interrupted by a simple request. He's asked to provide security for what promises to be a non-event. While he is perplexed as to why the head of homicide for the Surete du Quebec would be assigned this task, it sounds easy enough. That is until Gamache starts looking into Professor Abigail Robinson and discovers an agenda so repulsive he begs the university to cancel the lecture. When a murder is committed, it falls to Armand Gamache the team to investigate the crime." (Adapted from Catalogue)
Dark queen watching / Doherty, P. C
"November, 1471. With Edward of York on the English throne and her son, Henry Tudor, in exile in Brittany, the newly-widowed Margaret Beaufort, Countess of Richmond, is alone, without protectors. All she can do is wait and watch, planning for a time when she's in a position to make her move. But new dangers are emerging.  But who has hired them… and why? The discovery of the body of an unexpected visitor, found murdered in a locked room in her London townhouse, heralds the start of a series of increasingly menacing incidents which threaten Margaret and her household. " (Adapted from Catalogue)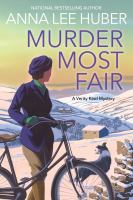 Murder most fair : a Verity Kent mystery / Huber, Anna Lee
"November 1919. At the seaside with her husband, Sidney, could almost convince Verity Kent that life has returned to the pleasant rhythm of pre-war days. Then her beloved Great Aunt Ilse lands on their doorstep after years in war-ravaged Germany. Ilse has returned to England for her health– and because someone has been sending her anonymous threats. As she joins Verity's family deep in the Yorkshire Dales, Ilse encounters difficulties; normally peaceful neighbors are hostile. When Ilse's maid is found dead, is this anti-German sentiment taken to murderous lengths, or a more personal motive at work?"  (Adapted from Catalogue)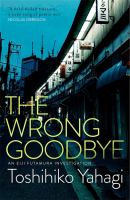 The wrong goodbye / Yahagi, Toshihiko
"After the frozen corpse of immigrant barman Tran Binh Long washes up in midsummer near Yokosuka U.S. Navy Base, Futamura meets a strange customer from Tran's bar. Vietnam vet pilot Billy Lou Bonney talks Futamura into hauling three suitcases of "goods" to Yokota US Air Base late at night and flies off leaving a dead woman behind. Thereby implicated in a murder suspect's escape and relieved from active duty, Futamura takes on hack work for the beautiful concert violinist Aileen Hsu. As the loose strands flashback to Vietnam, the string of official lies and mysterious allegiances build into a dark picture of the U.S.-Japan postwar alliance." (Adapted from Catalogue)