"Having a diversity of voices and perspectives in the historical literature, as opposed to having one view on this part of the world, is essential."

― Madi Williams, Polynesia, 900-1600
Kia ora e te whānau, we're back with a new selection of kōrero pono (non-fiction) from Aotearoa!
I tēnei marama (this month) we're starting off with some kurī pīwari (cute dogs) as featured on the cover of Big Dog, Small Dog. This pukapuka is by Selina McIntyre who works in the Waikato as a dog behavioural expert. For those of you who've spent time cuddling up with your kurī during Level 3 and 4, this might be the perfect pick for you! Or, if you've been looking after tamariki, then you might like to leaf through Parenting in the Anthropocene, a wide-ranging pukapuka which includes chapters on growing up in a climate crisis, nurturing tamariki Māori, and childlessness. Contributors include cool humans such as Brannavan Gnanalingam, Jess Berentson-Shaw, Leonie Pihama and Emily Writes.
A major recent release is Polynesia, 900-1600 by historian Madi Williams (Ngāti Kuia, Ngāti Koata). Polynesia covers the time period that in Western history is referred to as 'the Middle Ages', but Williams challenges Eurocentric ideas and provides an Indigenous perspective on the history of South Polynesia. Another important pukapuka is Mark Beehre's landmark oral history, A Queer Existence: the lives of young gay men in Aotearoa New Zealand. It features 27 men who grew up after the 1986 Homosexual Law Reform Act (which decriminalised sex between men) and gives them space to tell their stories in their own words.
Two more history pukapuka incoming! He Kupu Taurangi: Treaty Settlements and the Future of Aotearoa New Zealand begins with a foreword by Sir Tipene O'Regan and spans the time that Christopher Finlayson spent as Minister for Treaty of Waitangi Negotiations, as well as thoughts on the future of Treaty settlements. In The History of a Riot, Jared Davidson looks at the 1843 worker's revolt in Nelson (a New Zealand Company settlement) and challenges some of the stories that Pākehā New Zealanders tell themselves.
Finally, whether your garden is big or small, shady or a sun-trap, Homegrown Happiness promises to help us plan a low maintenance vege patch – ka rawe!
Big dog, small dog / McIntyre, Selina
"Dog behaviour expert Selina McIntyre uses a natural and direct method, helping humans understand how dogs deal with things like fear, change and anxiety. Big Dog Small Dog is packed with practical advice and natural ways to understand your dog's world: what they really want from their daily walk, what they think about children, and the truth about dog parks. Owning a dog is a huge responsibility and the more we prepare for such a major life decision, the more we empower ourselves. With the right signals, you'll soon be able to understand and speak your dog's language." (Adapted from publisher's description)
Parenting in the anthropocene / ed. Emma Johnson
"Humans are changing the world in extremely complex ways, creating a new geological age called the Anthropocene. How do we – as parents, caregivers and as a society – raise our children and dependents in this new world? This multi-author book explores the ways to ensure the health and wellbeing of the next generations, with a view to encouraging inclusivity and critical discourse at a time of climate crisis, inequality and polarisation. Topics include tikanga Māori and collective care child-rearing through to new family forms." (Adapted from Catalogue)
A queer existence : the lives of young gay men in Aotearoa New Zealand / Beehre, Mark
"A Queer Existence uses photographic portraiture and oral history to record the life experiences of a group of 27 gay men born since the passing of the Homosexual Law Reform Act 1986. Candid, powerful and affecting, these first-person narratives form a valuable insight into how gay men continue to face their own challenges as they forge their queer identities." (Adapted from Catalogue)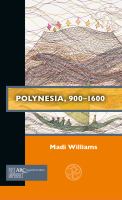 Polynesia, 900-1600 / Williams, Madi
"This book provides a concise overview of the history of Polynesia, focusing on New Zealand and its outlying islands, during the period 900-1600. It provides a thematic examination of Polynesia to avoid placing the region's history into an inaccurate, linear Western chronology. The themes of movement and migration, adaptation and change, and development and expansion offer the optimal means of understanding Polynesia during this time. Through this innovative and unique perspective on Polynesian history, which has not been previously undertaken, the reader is encouraged to think about regions outside Europe in relation to the premodern period." (Catalogue)
He Kupu Taurangi : Treaty settlements and the future of Aotearoa New Zealand / Finlayson, Christopher
"Between 2008 and 2017, an unprecedented number of Treaty of Waitangi settlements were completed with iwi and hapū across New Zealand. In He Kupu Taurangi, the authors cover themes including apologies, financial and cultural redress, natural resources, co-governance and the establishment of legal entities. They pay particular attention to the landmark Whanganui River and Ngāi Tūhoe settlements, which have become internationally recognised." (Adapted from Catalogue)
The history of a riot / Davidson, Jared
"In 1843, the New Zealand Company settlement of Nelson was rocked by the revolt of its emigrant labourers. Over 70 gang-men and their wives collectively resisted their poor working conditions through petitions, strikes and, ultimately, violence. Yet this pivotal struggle went on to be obscured by stories of pioneering men and women 'made good'. The History of a Riot uncovers those at the heart of the revolt for the first time. Who were they? Where were they from? And how did their experience of protest before arriving in Nelson influence their struggle? By putting violence and class conflict at the centre, this fascinating microhistory upends the familiar image of colonial New Zealand." (Catalogue)
Homegrown happiness : a Kiwi guide to living off the suburban land / Lewis, Elien
"Whether you have a small urban section or a rambling, shady backyard, Homegrown Happiness will help you create the perfect garden to suit your needs. An advocate of the low-maintenance no-dig gardening method, Elien Lewis leads you through a year in your vegetable garden, including advice on: preparing and maintaining your vegetable patch, what to plant and when, whatever your climate, how to establish a working compost bin, keeping pests at bay, and the best time to forage and harvest." (Adapted from Catalogue)