A lot of horror movies and books offer a commentary of modern times, but a more recent trend in horror writing is to add a horror scenario to a previous event or time in history. Graphic novels have really picked up this ball and ran with it, as the visual storytelling lets you quickly immerse a reader in a time and place.
This 'horror in history' approach can be a great gimmick to enliven an old horror trope, like throwing werewolves into the backwoods criminal underbelly of the Prohibition era (Moonshine) or vampires into the sun-drenched American Wild West (American Vampire). The best takes usually offer some kind of commentary on the times, whether its looking at the 1920s through the eyes of an underrepresented community, like the Sangerye family in Bitter Root, or examining a person's life through the horror genre, like Sarah Winchester inheriting the Winchester rifle fortune and the ghosts of its victims in House of Penance.
For this spooky season, here's a list of recommendations for horror comics set in different periods of history for you to check out.
Monsters from Mythology Return…to 1970s Detroit!
Abbott / Ahmed, Saladin
"While investigating police brutality and corruption in 1970s Detroit, journalist Elena Abbott uncovers supernatural forces being controlled by a secret society of the city's elite. In the uncertain social and political climate of 1972 Detroit, hard-nosed, chain-smoking tabloid reporter Elena Abbott investigates a series of grisly crimes that the police have ignored. Crimes she knows to be the work of dark occult forces. Forces that took her husband from her. Forces she has sworn to destroy. Hugo Award-nominated novelist Saladin Ahmed and artist Sami Kivelä present one woman's search for the truth that destroyed her family amidst an exploration of the systemic societal constructs that haunt our country to this day." (Catalogue)
A House Haunted…by the victims of the Winchester Rifle!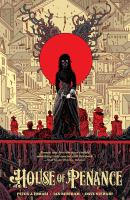 House of penance / Tomasi, Peter
"A horrific story of a haunted house and one woman's mission to wash away the blood curse of her husband's invention from claiming her own life and soul" (Catalogue)
A Family of Monster Hunters…in the Harlem Renaissance!
Bitter root. Volume one, Family business / Walker, David
"In the 1920s, the Harlem Renaissance is in full swing, and only the Sangerye Family, once known as the greatest monster hunters of all time, can save New York — and the world — from the supernatural forces threatening to destroy humanity. But those days are fading and the once-great family that specialized in curing the souls of those infected by racism and hate has been torn apart by tragedies and conflicting moral codes. A terrible tragedy has claimed most of the family, leaving the surviving cousins divided between by the desire to cure monsters or to kill them; they must heal the wounds of the past and move beyond their differences… or sit back and watch a force of unimaginable evil ravage the human race." (Catalogue)
Werewolves stalk the mountains…at the height of Prohibition!
Moonshine. Vol. 1 / Azzarello, Brian
"Set during Prohibition, and deep in the backwoods of Appalachia, [this book] tells the story of Lou Pirlo, a city-slick "torpedo" sent from New York City to negotiate a deal with the best moonshiner in West Virginia, one Hiram Holt. Lou figures it for milk run– how hard could it be to set-up moonshine shipments from a few ass-backward hillbillies? What Lou doesn't figure on is that Holt is just as cunning as ruthless as any NYC crime boss and Lou is in way over his pin-striped head. Because not only will Holt do anything to protect his illicit booze operation, he'll stop at nothing to protect a much darker family secret… a bloody, supernatural secret that must never see the light of day… or better still, the light of the full moon" (Catalogue)
A ghost story…on the eve of the Russian Civil War!
The gift / Maeve, Zoe
"The Shining meets Sophia Coppola's Marie Antoinette in this gripping debut from an award-winning talent The Gift is a fantastical/horror retelling of the story of Anastasia Nikolaevna and the Romanov family, the last rulers of Imperial Russia before the revolution. Her childhood days are filled playing on the palace grounds, the guards always on watch. She recieves a gift of a camera on her thirteenth birthday and begins to document her days. It is through her dreams however, where her gift of seeing the supernatural is made evident. She witnesses a creature on the edge of her vision. But could this creature actually be real? When the revolution begins, Anastasia's world comes crashing down and she must flee. But something is following her, and it might not be human." (Catalogue)
A new breed of vampire rises…in the Wild West!
American Vampire. [Volume one] / Snyder, Scott
"From writers Scott Snyder and Stephen King, AMERICAN VAMPIRE introduces a new strain of vampire – a more vicious species – and traces the creatures' bloodline through decades of American history. This first hardcover volume of the critically acclaimed series collects issues #1-5 and follows two stories: one written by Snyder and one written by King, both with art by future superstar Rafael Albuquerque. Snyder's tale follows Pearl, a young woman living in 1920s Los Angeles, who is brutally turned into a vampire and sets out on a path of righteous revenge against the European monsters who tortured and abused her. And in King's story set in the days of America's Wild West, readers learn the origin of Skinner Sweet, the original American vampire – a stronger, faster creature than any vampire ever seen before." (Adapted from Catalogue)