It's that time of the year again, when we all get the opportunity to vote for our favourite New Zealand Bird of the Year.  Whether you're a purist who insists that only birds qualify, or one of these new radicals championing a *gasp* mammal (the pekapeka-tou-roa or long-tailed bat), there's a bird to suit everyone's tastes.  From cheeky kākā, to those chonky kererū or the tiny tītīpounamu with their bumblebee sized hatchlings, New Zealand birds are fascinating and sadly, all too many of them are at risk of disappearing altogether.
If you're not sure what birds you might like to vote for, we're here to help, with plenty of books about the birds of New Zealand, whether you're backyard bird watcher, a recreational twitcher or a serious ornithologist, we've got something for you.  Here are a selection of titles:
A naturalist's guide to the birds of New Zealand / Thomas, Oscar
"This photographic identification guide to 239 bird species in New Zealand, including the most commonly seen, unique and endemic species, is perfect for resident and visitor alike. High-quality photographs from one of New Zealand's youngest nature photographers are accompanied by detailed species descriptions, which include nomenclature, size, distribution, habits and habitat. The user-friendly introduction covers climate, vegetation, biogeography and the key sites for viewing the listed species. Also included is an all-important checklist of all of the birds of New Zealand encompassing, for each species, its common and scientific name, IUCN status." (Catalogue)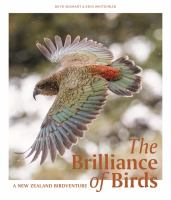 The brilliance of birds : a New Zealand birdventure / Wishart, Skye
"Who knew that the morepork, our forest-dwelling owl, can turn its head 270 degrees? Or that the eastern bar-tailed godwit triples its body weight before undertaking an epic and continuous migration of 11,000 kilometres? Or that the tūī has two voiceboxes – enabling it to duet with itself – one producing sounds too high-frequency for humans to hear?" (Catalogue)
Birdstories : a history of the birds of New Zealand / Norman, Geoff
"Norman covers a range of our bird families and individual species, and provides an up-to-date picture of how these birds are regarded by both Māori and Pākehā, the backstory of their discovery, and their current conservation status. Extensively illustrated with historic illustrations and contemporary artwork, this is a beautiful, comprehensive publication that will help New Zealanders realise what a taonga we have in our birds." (Catalogue)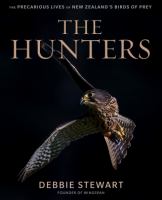 The hunters : the precarious lives of New Zealand's birds of prey / Stewart, Debbie.
"The majestic New Zealand falcon in flight looks like a sleek killing machine – but it is one of the most endangered and misunderstood birds in our nation today. This landmark book presents all of our amazing birds of prey, from the cute ruru (or morepork) we hear calling in the night, to the hawks that hover over roadkill on our highways. Stunning photographs show the lives of these birds in intimate close-ups, and the stories make a case for their continuing protection as a vital part of our fragile ecosystem." (Catalogue)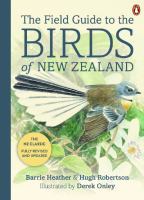 The field guide to the birds of New Zealand / Heather, B. D.
"The Field Guide to the Birds of New Zealand is the modern classic of the genre – the tried and trusted reference for lovers of New Zealand birds. Comprehensive, reliable and easy to use, this revised edition features: 374 species, including 11 new additions – the book's biggest revision since first publication ; 85 stunning colour paintings of New Zealand birds, including rare and recently extinct species ; an introduction to key bird-watching sites ; distribution maps and an in-depth guide to field identification ; an additional handbook section that includes information on the distribution, habitat, population, conservation, breeding, behaviour and feeding habits of each species. The only field guide to New Zealand birds officially endorsed by the Ornithological Society of New Zealand, this is the most authoritative reference available – a wonderful celebration of our extraordinary and diverse birdlife." (Catalogue)
Buller's birds of New Zealand : the complete work of JG Keulemans / Keulemans, J. G.
"Presents the full set of artworks created by JG Keulemans for "A history of the birds of New Zealand" by Walter Buller." (Catalogue)
Land of birds : an illustrated tribute to the birds of New Zealand / Meyer-Westfeld, Niels
"Land of Birds is a stunning new book of New Zealand bird illustrations. Using the structure of a naturalist's journal, Niels Meyer-Westfeld has created a very personal and sensitive tribute to this country's remarkable birdlife. The heart of the book is his beautifully detailed illustrations of birds, covering all of our best-loved wetland, sea and forest species. The main illustrations are supported by beautifully rendered sketches and working drawings. Accompanying the illustrations is text from the author, which provides information about the species, and anecdotes about the process of creating his artwork. His text is also an impassioned call for a greater awareness of the wider threats that so much of our endangered birdlife faces in New Zealand. Land of Birds will appeal to anyone with a passion for New Zealand's flora and fauna, particularly birds, as well as those with an interest in illustration and art." (Catalogue)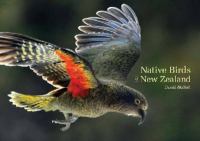 Native birds of New Zealand / Hallett, David
"Native Birds of New Zealand is a photographic book of New Zealand native birds that will appeal to the casual bird-watcher as well as the ornithologist. Many books in the past have been aimed at the serious ornithologist, with illustrations designed to show distinct feather patterns but not to create an image that is also pleasing to the eye. The photographs in this book have been taken by David Hallett, one of New Zealand's leading wildlife photographers, who captures the beauty of New Zealand's native birds in their natural environment, from the subtropical north to the Sub-Antarctic Islands, and from the oceans to the alpine meadows of the Southern Alps. The text is kept short and avoids the in-depth academic material found in some of the very good reference books on the market. It does include all the interesting facts that set our native birds apart, presented in a short, concise format that makes the book ideal for browsing. With the advent of digital photography, many more birders are now equipping themselves with cameras as well as binoculars when they go into the field, creating an increasing awareness of wildlife photography. This trend, combined with the affection New Zealanders have for their native birds, makes Native Birds of New Zealand a book that will have widespread appeal." (Catalogue)
Birds of New Zealand : a photographic guide / Scofield, R. Paul
"[An] introduction to the identification and behaviour of this country's extraordinary avian life. From the Kermadecs to Campbell Island, from beloved endemics to passing vagrants, from albatrosses and shearwaters to kiwi and kākā, the book ranges widely. Key features include: expert and up-to-date information on the 345 bird species found in New Zealand ; almost 1000 new photographs illustrating key identification characteristics and variation by age and sex ; authoritative text covering identification, behaviour, distribution and taxonomy ; Māori, English and scientific names." (Catalogue)
Shorebirds of New Zealand : sharing the margins / Woodley, Keith
"Shorebirds of New Zealand is a beautiful, informative and lyrical account of the many shorebirds found here – those living and breeding in the same area year after year, those that migrate within New Zealand, and those whose migrations link the hemispheres. It examines the lifecycles, habits and histories of our shorebirds, such as red knots (some 50,000 of which reach New Zealand from Siberia annually), or red-necked stints (birds the size of a sparrow that make a similar journey), and our own shorebirds – stilts and oystercatchers, terns and gulls, dotterels and wrybills, snipes and godwits. Author Keith Woodley connects these shorebirds with everyday people and the environment, looking into our social and cultural values, the work of researchers and community conservation groups, as well as the ways in which our lives impact those of shorebirds – both harmoniously and harmfully. Shorebirds of New Zealand is a significant and thought-provoking book, with many stories to tell and a strong environmental message elegantly stated. " (Adapted from Catalogue)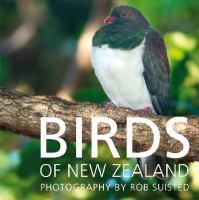 Birds of New Zealand / Suisted, Rob
"New Zealand boasts exceptional species of birds; a quarter of the birdlife lives nowhere else on the planet. With the concerted focus on bird recovery, through sanctuaries, the Department of Conservation and volunteer groups, native birds are abundant, and those struggling species are continually growing in population. Rob Suisted has captured these beautiful birds in remarkable, vibrant photographs, with individual portraits and habitat shots. The four main habitats – forest, wetlands, sea and coast, and open country are introduced by Alison Dench's thoroughly researched text. Extended captions accompany each photograph. This attractive, colourful book is a wonderful expression of New Zealand's most interesting birdlife." (Catalogue)