Verb Wellington, Wellington's very own readers and writer's festival, is fast approaching — with events coming up around the city from 3-7 November.
While we wait for its writers panels, workshops and the dynamic fun of LitCrawl, we're getting ready here at the library by spotlighting eBooks by Verb authors in the lead-up to Verb on our Libby app and website. These are 'always available' titles — so you'll never miss out. Have a browse below and grab a good read!
Every few days, from the 26th of October to the 8th of November we'll be featuring local eBook titles by authors at Verb as a readers and writers Book Club, and primer for the event to follow. You'll have the chance to download and read together fantastic 2021 eBooks by Pip Adam, Madison Hamill, and Eamonn Marra — but also anthologies featuring more than one author appearing throughout the event.
Keep checking in with the Libby app or website as we spotlight the our special eBook titles over the coming days, or use the links below to download a copy now in preparation!
Pip Adam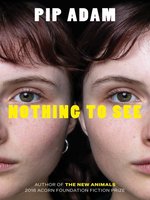 Nothing to See, Pip Adam (ebook)
"It's 1994. Peggy and Greta are learning how to live sober. They go to meetings and they ring their support person, Diane. They have just enough money for one Tom Yum between them, but mostly they eat carrot sandwiches. They volunteer at the Salvation Army shop, and sometimes they sleep with men for money. They live with Heidi and Dell, who are also like them. It's 2006. Peggy and Greta have two jobs: a job at a call centre, and a job as a moderator for a website. They're teaching themselves how to code. Heidi and Dell don't live together anymore, and Dell keeps getting into trouble. One day, Peggy and Greta turn around and there's only one of them. It's 2018. Margaret lives next door to Heidi and her family. She has a job writing code that analyses data for a political organisation, and she's good at it. Every day she checks an obsolete cellphone she found under her bed, waiting for messages. She struggles to stay sober. Then, one day, there are two of them again, both trying to figure out where they have come from. Nothing to See is a compelling, brilliantly original novel about life in the era of surveillance capitalism, when society prefers not to see those who are different" (Libby Description)
A Clear Dawn anthology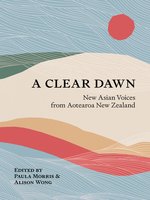 A Clear Dawn, edited by Paula Morris and Alison Wong (ebook)
"This landmark collection of poetry, fiction and essays by emerging writers is the first-ever anthology of Asian New Zealand creative writing. A Clear Dawn presents an extraordinary new wave of creative talent. With roots stretching from Indonesia to Japan, from China to the Philippines to the Indian subcontinent, the authors in this anthology range from high school students to retirees, from recent immigrants to writers whose families have lived in New Zealand for generations. Some of the writers, including Gregory Kan, Sharon Lam, Rose Lu and Chris Tse, have published books; some, like Mustaq Missouri, Aiwa Pooamorn and Gemishka Chetty, are better known for their work in theatre and performance. For many, A Clear Dawn is their first-ever print publication. The 75 writers explore the full range of human experience: from the rituals of food and family to sexual politics; from issues around displacement and identity to teen suicide and revenge attacks; from political chicanery to social activism to childhood misadventures. Funerals, affairs, accidents, friendships, crimes, jealousy, small victories, devastating losses, transcendent moments: all are here." (Libby description)
Eamonn Morra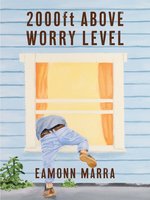 2000ft Above Worry Level, Eamonn Marra (ebook)
Everything is sad and funny and nothing is anything else2000ft Above Worry Level begins on the sad part of the internet and ends at the top of a cliff face. This episodic novel is piloted by a young, an hedonic, gentle, slightly disassociated man. He has no money. He has a supportive but disintegrating family. He is trying hard to be better. He is painting a never-ending fence. Eamonn Marra's debut novel occupies the precarious spaces in which many twenty-somethings find themselves, forced as they are to live in the present moment as late capitalism presses in from all sides. Mortifying subjects – loserdom, depression, unemployment, cam sex – are surveyed with dignity and stoicism. Beneath Marra's precise, unemotive language and his character's steadfast grip on the surface of things, something is stirring. (Libby description)
Madison Hamill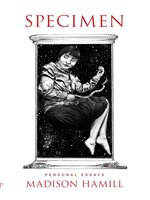 Specimen, Madison Hamill (ebook)
A father rollerblading to church in his ministerial robes, a university student in a leotard sprinting through fog, a trespass notice from Pak'nSave, a beautiful unborn goat in a jar . . .In scenarios ranging from the mundane to the surreal, Madison Hamill looks back at her younger selves with a sharp eye. Was she good or evil? Ignorant or enlightened? What parts of herself did she give up in order to forge ahead in school, church, work, and relationships, with a self that made sense to others? With wit and intelligence, these shape-shifting essays probe the ways in which a person's inner and outer worlds intersect and submit to one another. It is a brilliantly discomfiting, vivid and funny collection in which peace is found in the weirdest moments. 'I never felt that I was looking at fine writing – only at astonishing writing.' —Elizabeth Knox (Libby description)
Elizabeth Knox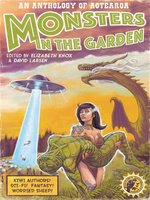 Monsters in the Garden, edited by Elizabeth Knox, David Larsen (ebook)
Too stuffy inside? All those familiar social realist furnishings, all those comfortable literary tropes. Perhaps a stroll out under the trees, where things are breezier, stranger, more liable to break the rules. You may meet monsters out there, true. But that's the point. Casting its net widely, this anthology of Aotearoa-New Zealand science fiction and fantasy ranges from the satirical novels of the 19th-century utopians one of which includes the first description of atmospheric aerobreaking in world literature to the bleeding edge of now. Spaceships and worried sheep. Dragons and AI. The shopping mall that swallowed the Earth. The deviant, the fishy and the rum, all bioengineered for your reading pleasure. Featuring stories by some of the country's best known writers as well as work from exciting new talent, Monsters in the Garden invites you for a walk on the wild side. We promise you'll get back safely. Unchanged? Well, that's another question. (Libby description)