In just under two weeks, 30,000 people from across the globe will descend on Glasgow for a meeting that's been called "the world's best last chance to get runaway climate change under control." But what exactly is it?
What is Cop26?
Cop26 is the 2021 United Nations Climate Change Conference, with 197 countries coming together to work out how to tackle the climate emergency. These meetings have been happening every year since 1995, with the most well known being the 2015 Cop21 in Paris, which resulted in the landmark Paris Agreement.
Why is the Paris Agreement important?
The key to the Paris Agreement is the commitment to keep global warming below an average of 2C, with efforts to limit temperature rise to 1.5C. To reach this goal, each country has decided on its own target of greenhouse gas reduction, known as Nationally Determined Contributions (NDCs). Countries are required to update their NDCs every five years, which is one of the reasons this year's conference is so significant.
What should I look out for?
The biggest questions at Cop26 will probably revolve around updated NDCs–how much more greenhouse gas reduction will countries commit to? However there are a lot of other vital areas of discussion, including international funding to help developing countries reduce their carbon emissions.
The New Zealand delegation to Cop26 will have several areas of focus, but two to watch out for are the amplification of Pacific voices and also discussions around methane.
How do I find out more?
Cop26 will be covered by news outlets around the world, although the only New Zealand journalist going to the conference in person is business and climate reporter Rod Oram. The official Cop26 website is available here and the action can also be followed via Twitter.
Books:

This changes everything : capitalism vs. the climate / Klein, Naomi
"In
This Changes Everything
Naomi Klein argues that climate change isn't just another issue to be neatly filed between taxes and health care. It's an alarm that calls us to fix an economic system that is already failing us in many ways. Klein meticulously builds the case for how massively reducing our greenhouse emissions is our best chance to simultaneously reduce gaping inequalities, re-imagine our broken democracies, and rebuild our gutted local economies." (Adapted from Catalogue)
All we can save : truth, courage, and solutions for the climate crisis
"Women are on the front line of the climate-change battle, and are uniquely situated to be agents of change. Today, across the world, from boardrooms and policy positions to local communities, from science to activism, women everywhere are using their voices to take leadership and call for action on climate change. This anthology is a collection and celebration of these diverse voices, asking critical questions and providing invaluable insight and solutions." (Adapted from Catalogue)
Drawdown : the most comprehensive plan ever proposed to reverse global warming
"In the face of widespread fear and apathy, an international coalition of researchers, professionals, and scientists have come together to offer a set of realistic and bold solutions to climate change. One hundred techniques and practices are described here–some are well known; some you may have never heard of." (Adapted from Catalogue)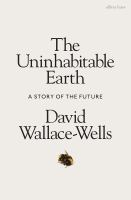 The uninhabitable Earth : life after warming / Wallace-Wells, David
"It is worse, much worse, than you think. If your anxiety about global warming is dominated by fears of sea-level rise, you are barely scratching the surface of what terrors are possible. Without a revolution in how billions of humans conduct their lives, parts of the Earth could become close to uninhabitable, and other parts horrifically inhospitable, as soon as the end of this century." (Adapted from Catalogue)
Doughnut economics : seven ways to think like a 21st century economist / Raworth, Kate
"Kate Raworth sets out seven key ways to fundamentally reframe our understanding of what economics is and does. Along the way, she points out how we can break our addiction to growth; redesign money, finance, and business to be in service to people; and create economies that are regenerative and distributive by design. Simple, playful, and eloquent, Doughnut Economics offers game-changing analysis and inspiration for a new generation of economic thinkers." (Catalogue)
Braiding sweetgrass : indigenous wisdom, scientific knowledge and the teachings of plants / Kimmerer, Robin Wall
"As a botanist, Robin Wall Kimmerer has been trained to ask questions of nature with the tools of science. As a member of the Citizen Potawatomi Nation, she embraces the notion that plants and animals are our oldest teachers. In Braiding Sweetgrass, Kimmerer brings these two lenses of knowledge together to take us on "a journey that is every bit as mythic as it is scientific, as sacred as it is historical, as clever as it is wise" (Adapted from Catalogue)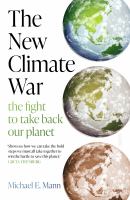 The new climate war : the fight to take back our planet / Mann, Michael E.
"Recycle. Fly less. Eat less meat. These are some of the tactics that we've been told can slow climate change. But most of these recommendations are a result of a multi-pronged marketing campaign that has succeeded in placing the responsibility for fixing climate change squarely on the shoulders of individuals. Fossil fuel companies have followed the example of other industries deflecting blame or greenwashing." (Adapted from Catalogue)
Library Databases:
NZ Geographic: NZ Geographic has been celebrating our people, places, wildlife and environment for two decades. Its archives hold more than 600 in-depth features about our country, natural history and culture.
Gale Environmental Studies in Context: The Global Reference on the Environment, Energy, and Natural Resources focuses on the physical, social, and economic aspects of environmental issues.
LinkedIn Learning: LinkedIn Learning is a video tutorial service providing access to over 12,000 instructional videos on many topics, including several aspects of the climate emergency.