By Sarah Connor, founder of the grassroots project Menopause Over Martinis.
Every year, World Menopause Day is held on 18 October to raise awareness of menopause and the support options available for improving health and wellbeing.
Despite menopause/te ruahinetanga being a natural, normal and inevitable stage of life, it's a topic that isn't often talked about – at home, work or in our community. I certainly didn't grow up knowing what to expect.
In early 2019, I crash landed in perimenopause: the years before periods come to an end. At 46, I experienced a pile up of symptoms without knowing why. Not feeling like my usual happy-and-healthy self was a worrying, confusing and sometimes lonely experience.
I've since learned that people experience menopause differently just as they experience puberty or pregnancy differently. The hormonal changes during menopause can result in 30+ symptoms for one to ten years – cognitively, physically, and emotionally – most commonly from the age of 40.
Having the support of my partner, friends, family, colleagues and health professionals made a big difference. Accessing credible information via the many resources available in my local library was hugely useful: books written by medical practitioners and health professionals, and authors of personal essays too.
Booklist:
To celebrate World Menopause Day, our team has put together a sample of the resources, including a book list, to inform and support people going through menopause/te ruahinetanga.
For more books, visit the Book River on our Catalogue. You can also access menopause-related eBooks and eAudiobooks via Overdrive or the Libby app.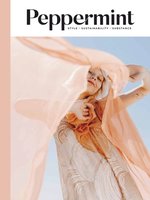 Peppermint Magazine
"Peppermint is a green fashion magazine, covering eco and ethical style with a fun, fresh, intelligent and positive spin. Included in the Spring 2021 issue is 'Pause for Thought: Conversations about Menopause.'" (Adapted from Overdrive description)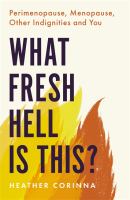 What fresh hell is this? : perimenopause, menopause, other indignities, and you / Corinna, Heather
"Perimenopause and menopause experiences are as unique as all of us who move through them. With practical, clear information and support, inclusive of those with disabilities, queer, transgender, nonbinary and other gender-diverse people, people of colour, working class and others who have long been left out of the discussion, What Fresh Hell Is This? is the cooling pillow and empathetic best friend to help you through the fire." (Adapted from Catalogue)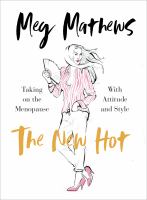 The new hot : navigating the menopause with attitude and style / Mathews, Meg
"When Meg Mathews hit menopause she was shocked at the lack of awareness, understanding and support shown to women – and also found the information available far too dreary. After getting her symptoms under control she became determined to help other women avoid an experience like hers. The New Hot is her no-holds-barred guide to menopause designed to entertain and empower women in equal measure." (Adapted from Catalogue)
The menopause manifesto : own your health with facts and feminism / Gunter, Jen
"Menopause is not a disease–it's a planned change, like puberty. And just like puberty, we should be educated on what's to come years in advance. Knowing what is happening, why, and what to do about it is both empowering and reassuring. Filled with practical, reassuring information, this essential guide will revolutionize how women experience menopause." (Adapted from Catalogue)
Your menopause bible / Phillips, Robin N
"'The most authoritative and up-to-date sourcebook on menopause, created by a team of experts in gynaecology, psychology, sexuality, nutrition and exercise. Provides practical and reassuring advice on all aspects of menopause, from recognising and easing the symptoms of hormonal insufficiency to maintaining bone health and general well-being.' — from back cover." (Catalogue)
Flash count diary : a new story about the menopause / Steinke, Darcey
"By weaving together her personal story with philosophy, science, art, and literature, the author provides an exploration into aspects of menopause that have rarely been written about, including the changing gender landscape that reduced levels of hormones brings, the actualities of transforming desires, and the realities of prejudice against older women." (Catalogue)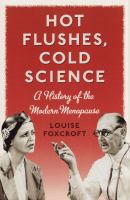 Hot flushes, cold science : the history of the modern menopause / Foxcroft, Louise
"A powerful, taboo-shattering history of the menopause, from wandering wombs to HRT." (Catalogue)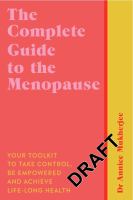 The complete guide to the menopause : your toolkit to take control and achieve life-long health / Mukherjee, Annice
"Dr Annice Mukherjee went through the menopause at just 41 following a breast cancer diagnosis, and she is also a top UK hormone specialist with nearly 30 years of experience. In this book she combines her medical expertise and personal experience to develop an essential menopause toolkit offering balanced, practical and comprehensive advice." (Adapted from Catalogue)
The M word : how to thrive in menopause / Mansberg, Ginni
"A practicing GP and mother who has just turned 50 herself, Dr Mansberg has written a solution-focused book for understanding, embracing and (even) enjoying this stage in a woman's life. She outlines medical science, explaining what happens at a cellular level in the body once key hormones begin to diminish; she details symptoms and experience; then explores pros and cons of treatment options." (Adapted from Catalogue)
Hormone repair manual : every woman's guide to healthy hormones after 40 / Briden, Lara
"Lara Briden, author of the international bestseller Period Repair Manual, has more than 20 years' experience in women's health. Her fresh approach aims to overturn the stigma of perimenopause and menopause and show women that many symptoms are temporary and manageable, emotional challenges can present an opportunity to thrive and a focus on health during this period can bring benefits for years to come." (Adapted from Catalogue)
Menopause : women tell their stories
"No one asks a woman: 'How's the menopause?' Unlike pregnancy, it is a private, sometimes lonely time, and often distressing for a woman and her uncomprehending family. Debra Vinecombe has interviewed 20 women whose honesty, warmth and touches of humour take the reader into their homes, doctors' rooms, and work places." (Catalogue)
Other Resources: