Written in the late middle ages, 'The Wife of Bath's Tale' by Geoffrey Chaucer is definitely one of the best known of The Canterbury Tales. The tale gives a rare, if skewed, insight into the role of women at that time and illuminates the changing social structure in a society that was very heavily male dominated. At a time when women were defined only by their relations with men, the tale depicted a person who was unashamed of her sexuality, was more than capable of holding her own amongst bickering pilgrims and was living a very unconventional life for the time, though Chaucer's tone was often mocking. Some critics have speculated that Chaucer may have written the tale in part to ease a guilty conscience and as a partial critique of misogyny in the literature of the time, though the tale still contains elements of that misogyny.
Karen Brooks' reimagining of the tale takes a very different tack – in The good wife of Bath: a (mostly) true story she puts the narrative very firmly in the lead protagonist's voice, and in doing so highlights the caustic results of leaving male power to run unchecked on both society and individuals. The resulting book is often ribaldry, funny and picaresque and examines issues that are just as pertinent to the present day as they were to Chaucer's time. As well as The Good Wife of Bath we have a wide selection of newly acquired fiction titles including two fabulous Aotearoa titles. 
The good wife of Bath : a (mostly) true story / Brooks, Karen
"In the middle ages, a poet told a story that mocked a strong woman. It became a literary classic. But what if the woman in question had a chance to tell her own version? Who would you believe? England, The Year of Our Lord, 1364. When married off aged 12 to an elderly farmer, Eleanor Cornfed, who's constantly told to seek redemption for her many sins, quickly realises it won't matter what she says or does, God is not on her side – or any poor woman's for that matter. But Eleanor was born under the joint signs of Venus and Mars. Both a lover and a fighter, she will not bow meekly to fate. A recasting of a literary classic that gives a maligned character her own voice, and allows her to tell her own (mostly) true story." (Adapted from Catalogue)
Crazy love / Allan, Rosetta
"It has been 28 years since Vicki last sent a letter to Robert Muldoon. Last time she wrote, he was Prime Minister, while she was living with her loser-boyfriend and wanting to know why people like her had to exist in such dire straits. Back then, Muldoon sent her a dollar, but it was the irrepressible Billy who turned up and transformed her life. This time Muldoon is dead and it is Billy who has made her so desperate she doesn't know where to turn. Since running away with Billy, Vicki has barely looked back. Together they have become a family and prospered. They have survived so much, but can they survive Billy's increasingly erratic behaviour, especially when he seems so set on pulling them apart?" (Adapted from Catalogue)
The last guests / Pomare, J. P.
"What do you do when you think no one is watching? Lina and Cain are doing their best to stay afloat. Money has been tight since Cain returned from active duty, and starting a family is proving harder than they thought. Putting Lina's inherited lakehouse on Airbnb seems like the solution to at least one of their problems. The secluded house is more of a burden than a retreat, anyway, and fixing up the old place makes Cain feel useful for once. But letting strangers stay in their house might not be the best idea. Someone is watching – their most mundane tasks, their most intimate moments – and what they see will change everything." (Adapted from Catalogue)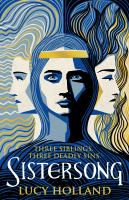 Sistersong / Holland, Lucy
"535 AD. King Cador's children inherit a land abandoned by the Romans, torn by warring tribes. Riva can cure others, but can't heal her own scars. Keyne battles to be seen as the king's son, although born a daughter. And Sinne dreams of love, longing for adventure. All three fear a life of confinement within the walls of the hold, their people's last bastion of strength against the invading Saxons. However, change comes on the day ash falls from the sky – bringing Myrdhin, meddler and magician. The siblings discover the power that lies within them and the land. But fate also brings Tristan, a warrior whose secrets will tear them apart. " (Adapted from Catalogue)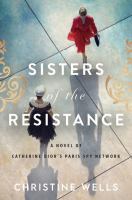 Sisters of the resistance : a novel of Catherine Dior's Paris spy network / Wells, Christine
"Gabby Foucher hates the Nazis who occupy Paris. As the concierge of ten rue Royale, she makes it a point to avoid trouble, unlike her sister Yvette. Both women are recruited into the Resistance by Catherine Dior, sister of fashion designer Christian Dior. Gabby discovers an elderly tenant is hiding a wounded British fugitive, and Yvette becomes a messenger for the Resistance. As Gabby begins to fall in love with her patient and Yvette's impulsiveness lead her into intrigue at an ever-higher level, both women will discover that their hearts– and their lives– hang in the balance. " (Adapted from Catalogue) Also Available as an Audiobook.
Painting time / Kerangal, Maylis de
"An aesthetic and existential coming-of-age novel exploring the apprenticeship of a young female painter, Paula Karst, who is enrolled at the famous Institut de Peinture in Brussels. With the attention of a documentary filmmaker, de Kerangal follows Paula's apprenticeship, punctuated by brushstrokes, hard work, sleepless nights, sore muscles, and long, festive evenings. After completing her studies at the Institute, Paula continues to practice her art in Paris, in Moscow, then in Italy on the sets of great films, all as if rehearsing for a grand finale: at a job working on Lascaux IV, a facsimile reproduction of the world's most famous paleolithic cave art and the apotheosis of human cultural expression." (Adapted from Catalogue)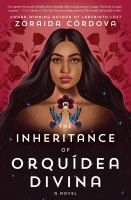 The inheritance of Orquídea Divina : a novel / Córdova, Zoraida
"The Montoyas know better than to ask why the pantry never seems to run low or empty, or why their matriarch won't ever leave their home in Four Rivers, even for graduations, weddings, or baptisms. When Orquídea Divina invites them to her funeral and to collect their inheritance, they hope to learn the secrets that she has held onto so tightly their whole lives. Instead Orquídea is transformed, leaving them with more questions than answers. Seven years later, her gifts have manifested in different ways ……." (Adapted from Catalogue)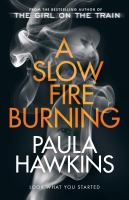 A slow fire burning / Hawkins, Paula
"Laura has spent most of her life being judged. She's seen as hot-tempered, troubled, a loner. Some even call her dangerous. Miriam knows that just because Laura is witnessed leaving the scene of a horrific murder with blood on her clothes, that doesn't mean she's a killer. Innocent or guilty, everyone is damaged. Some are damaged enough to kill." (Adapted from Catalogue)