Anne Harré's debut novel The Leaning Man is a newly released, gripping, suspenseful page-turning thrill ride of a book (you are very likely to stay up very late to see what happens next). It is set in our very own windy Wellington and in some respects is a love letter to the city with its perfectly visualised, vivid, and evocative descriptions of the capital both its light and darker sides.
The main protagonist in the novel is Stella; a complex, engaging, and damaged individual on a mission to get to the bottom of her friends' mysterious death.
And to top it all one of the locations in the book is our very own Te Awe Library, with accompanying fictional librarian.
The book has already gained glowing reviews in The Listener, The Dominion Post as well as RNZ. So, when the opportunity arose for us to interview Anne about The Leaning Man's origins and creation and  how Anne approaches her writing, not to mention how it feels to release your first novel, we jumped at it.
And when it was confirmed that one of the most respected and acclaimed of all our authors, Dame Fiona Kidman was to conduct the interview we were over the moon.
This exclusive interview will be premiered on our Facebook page
Sunday 17th October at 8.30
It will be available on our library social media platforms soon after. We wish to extend our heartfelt thanks to Anne Harré, Dame Fiona Kidman and Mary McCallum for making this interview happen. This interview was done in conjunction with The Cuba Press and Creative New Zealand.
The leaning man / Harré, Anne
"Wellington. The land dips and rolls, the wind has a life of its own. Dig a little deeper and the city is unforgiving and unrepentant. Forget the politicians, they're poor amateurs in deception and crime. It's Saturday night down on the wharf. Celebrations are in full swing for the Westons' fortieth wedding anniversary. Their daughter Stella has returned from London to attend. Once shoulder-tapped as detective material, a few bad decisions and a questionable ethical dilemma saw her leave the force under a cloud. She's now a private investigator in London, reduced to filming errant husbands for court cases. She doesn't want to be home. Later that night her best friend Teri is found dead in a lane in the central city. Her phone is missing. It looks like suicide, but Stella won't believe it. Stella Weston is relentless, foul-mouthed and tenacious. She's not above taking big risks to find the truth about her friend and the shady world she appears to have been dragged into. The race is on between those who want the phone, the homeless man who's pocketed it, and Stella." (Adapted from Catalogue)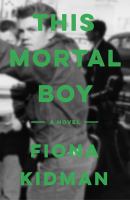 This mortal boy / Kidman, Fiona
"Albert Black, known as the 'jukebox killer', was only twenty when he was convicted of murdering another young man in a fight at a milk bar in Auckland on 26 July 1955. His crime fuelled growing moral panic about teenagers, and he was to hang less than five months later, the second-to-last person to be executed in New Zealand. But what really happened? Was this a love crime, was it a sign of juvenile delinquency? Or was this dark episode in our recent history more about our society's reaction to outsiders." (Adapted from Catalogue)