"For my part, I travel not to go anywhere but to go. I travel for travel's sake. The great affair is to move." – Robert Louis Stevenson.
New Zealand writer Andy Southall has just released his second novel Both Feet in Paradise.  Andy's mysterious, compelling, suspenseful thriller is occasionally surreal and chock full of unexpected twists and turns. It is set in Samoa, and along with its other attributes, is also a love letter to the island.
Andy has already published two travelogues: One Hundred Days in Samoa and 28 Days in Sri Lanka. His debut novel Making Meredith was about an amateur genealogist traveling to the north of England hoping to research his mother's father.
During our interview with Andy we talked about his travel writing, the processes he uses whilst creating his work and how his mentorship with Pip Adam helped him finish the book. The resulting interview is a fascinating insight into Andy's writing practice and also a great non plot spoiler accompaniment to Both Feet in Paradise. Andy was interviewed in conjunction with Caffeine and Aspirin arts and entertainment review show on Radioactive FM.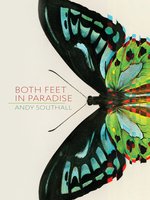 Both Feet in Paradise, Andy Southall (ebook)
"After months of researching butterflies in Sāmoa, Adam is looking forward to returning home to his family. Then his transfer to the airport doesn't arrive. Worse, a hastily arranged taxi takes him not to departures but an empty field in the middle of nowhere, and he misses his flight. As he fails to find alternative ways off the island – other flights, ferries, even seagoing yachts – he grows increasingly frustrated, especially as all overseas phone lines and emails seem to be down as well. In a café, he meets Eve, who offers to help him. Adam decides he has to trust her, for there is no one else. Yet he has a strange feeling he's met her before …" (Adapted Overdrive description)