"Above all things — read. Read the great stylists who cannot be copied rather than the successful writers who must not be copied."
― Ngaio Marsh, Death on the Air and Other Stories
The shortlist for this year's Ngaio Marsh Awards has just been announced and what a powerful and diverse shortlist it is.  Included amongst its illustrious ranks we have Brannavan Gnanalingam's Sprigs, the debut novel sensation The Girl in the Mirror by Rose Carlyle, which already has its film rights snapped up by Hollywood, and a whole host of other stunning works.
The Ngaio Marsh Awards began in 2010 with an aim to recognise and proclaim excellence in New Zealand mystery, crime, and thriller writing. It is presented to the best novel, best first novel, best nonfiction work, and this year a whole new category has been launched for novels for younger readers. Each of the books in all the categories need to have been published the preceding year.
We wish to extend our congratulations to all this year's nominees and we don't envy the judges' task in selecting the final winners.
Best Nonfiction (biennial):
Weed: A New Zealand story (James Borrowdale)
Rock College: An unofficial history of Mount Eden Prison (Mark Derby)
From Dog Collar to Dog Collar (Bruce Howat)
Gangland (Jared Savage)
Black Hands: Inside the Bain family murders (Martin Van Beynen)
Inaugural Prize for Novel for Younger Readers:
Katipo Joe (Brian Falkner)
Red Edge (Des Hunt)
A Trio of Sophies (Eileen Merriman)
Deadhead (Glenn Wood)
Best Novel: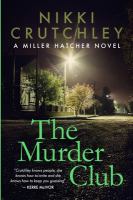 The murder club / Crutchley, Nikki
"When the first letter arrives saying that 'tonight it begins', journalist Miller Hatcher ignores it. But then the body of a murdered woman is discovered, strangled, a scarf around her neck. Cassie Hughes has always vowed to find the man who murdered her mother. Cassie knows he's out there and wants him to pay, and Miller agrees to bring the cold case back into the public's eye. Logan Dodds has been obsessed with true crime ever since his sister was murdered thirty years ago. He has turned his obsession into a career and has created the True Crime Enthusiasts Club and his newest venture, True Crime Tours." (Adapted from Catalogue)
Sprigs / Gnanalingam, Brannavan
"It is Saturday afternoon and two boys' schools are locked in battle for college rugby supremacy. Priya – a fifteen year old who barely belongs – watches from the sidelines. Then it is Saturday night and the team is partying. Priya's friends have evaporated and she isn't sure what to do. In the weeks after 'the incident' life seems to go on. But when whispers turn to confrontation, the institutions of wealth and privilege circle the wagons."(Adapted from Catalogue)
The tally stick / Nixon, Carl
"Up on the highway, the only evidence that the Chamberlains had ever been there was two smeared tyre tracks in the mud leading into the almost undamaged screen of bushes and trees. No other cars passed that way until after dawn. By that time the tracks had been washed away by the heavy rain . . . It was a magic trick. After being in the country for only five days, the Chamberlain family had vanished into the air. The date was 4 April 1978. In 2010 the remains of the eldest Chamberlain child have been discovered in a remote part of the West Coast, showing he lived for four years after the family disappeared. Found alongside him are his father's watch and what turns out to be a tally stick, a piece of wood scored across, marking items of debt. How had he survived and then died? Where was the rest of his family? And what is the meaning of the tally stick?"–Publisher information." (Catalogue)
The secrets of strangers / Norman, Charity
"Five strangers, one cafe – and the day that everything changed. A regular weekday morning veers drastically off-course for a group of strangers whose paths cross in a London cafe – their lives never to be the same again when an apparently crazed gunman holds them hostage. But there is more to the situation than first meets the eye and as the captives grapple with their own inner demons, the line between right and wrong starts to blur. Will the secrets they keep stop them from escaping with their lives?" (Adapted from Catalogue) Also available as an eBook.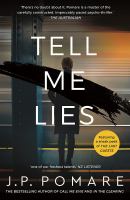 Tell me lies / Pomare, J. P.
"Psychologist Margot Scott has a picture-perfect life: a nice house in the suburbs, a husband, two children and a successful career. On a warm spring morning Margot approaches one of her clients on a busy train platform. He is looking down at his phone, with his duffel bag in hand as the train approaches. That's when she slams into his back and he falls in front of the train. Margot's clients all lie to her, but one lie cost her family and freedom." (Adapted from Catalogue)
Best First Novel:
The girl in the mirror / Carlyle, Rose
"Identical twins only look the same … Beautiful twin sisters Iris and Summer are startlingly alike, but beyond what the eye can see lies a darkness that sets them apart. Cynical and insecure, Iris has long been envious of open-hearted Summer's seemingly never-ending good fortune, including her perfect husband Adam. Called to Thailand to help sail the family yacht to the Seychelles, Iris nurtures her own secret hopes for what might happen on the journey. But when she unexpectedly finds herself alone in the middle of the Indian Ocean, everything changes. Now is her chance to take what she's always wanted – the idyllic life she's always coveted. But just how far will she go to get the life she's dreamed about? And how will she make sure no one discovers the truth?" (Adapted from Catalogue) Also available as an eBook.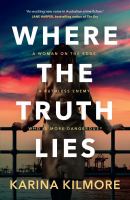 Where the truth lies / Kilmore, Karina
"When investigative journalist Chrissie O'Brian lands a senior job at The Argus, she is desperate to escape the nightmares of her past. Her life has become a daily battle to resist numbing the pain. But her job is something she can do better than anyone else – and the only thing that keeps the memories at bay. A face-off on the waterfront between the unions and big business is just the kind of story to get her career back on track. But after a dockworker who confided in her turns up dead, Chrissie becomes obsessed with unravelling the truth. When a gruesome threat lands on her desk, it's clear someone is prepared to do anything to stop her." (Adapted from Catalogue) Also available as an eBook

For reasons of their own / Stuart, Chris
"Robbie Gray, a talented but troubled Detective Inspector stationed in Melbourne, who has fallen foul of police bureaucracy, is called to a investigate a dead body found in a rural wetland swamp. Under-resourced, with a corpse that cannot be identified and no apparent motive for the murder, she fails to make headway. The Federal Police take over the investigation and ASIO becomes involved, focusing on a terrorism angle. Convinced they are misinterpreting the evidence, or worse, DI Gray begins her own investigation assisted by a young Aboriginal policeman…." (Adapted from Catalogue)
Also on the list is  The Beautiful Dead by Kim Hunt and While the Fantail Lives by Alan Titchall.