"It was as if the sun had come out" — Nelson Mandela, after hearing that the Hamilton match had been cancelled.
In our selection of newly acquired general fiction titles this month we have a novel that centres around one of the most divisive events of modern Aotearoa / New Zealand history.
Forty years ago, the South African rugby team (the Springboks) toured the country. The tour and the attendant political situation in South Africa caused a huge social schism that split New Zealand society in half, triggering mass demonstrations, unprecedented police actions and creating a for or against divide across the whole country. The 1981 Springbok Tour became one of its biggest political conflicts in New Zealand of the 20th century. The issue at the heart of this rip in society was the fact that South Africa was still operating under the abhorrent apartheid system of racial segregation and whether this should have any bearing on sporting events.
Much has been written about the tour from all sides of the argument.
And if you want more information on the history of the Tour Wellington City Libraries and Wellington Archives have joined forces this year to mark the events of 1981 as they happened.
The Twitter account Tweet the Tour is live tweeting things as they happened.
In this month newly acquired general fiction selection we have Hold the line: The Springbok tour of '81: a family, a love affair, a nation at war: a novel by Kerry Harrison. A fictionalised recreation of this momentous time that dramatically recreates the tensions of the tour.
We also have two other very different Aotearoa / New Zealand titles in this month's selection. The Piano Girls is a very welcome new fiction work from Elizabeth Smither. And The Only Living Lady Parachutist by Catherine Clarke is a novel based on fact, centring on the life of Lillian a death defying daredevil hot air balloon acrobat who thrilled crowds in New Zealand and Australia in the 1890s.
A darker reality / Perry, Anne
"Elena's grandparents are marking a milestone anniversary by throwing an elaborate party with the influential friends of her grandfather. But the festivities come to a sudden and tragic end when one of the guests, Lila Worth, is run over by a car in the driveway outside. Elena believes Lila was trying to tell her something before her death, and when a call from her employer back home, MI6, confirms that Lila was a British spy, Elena pairs with a fellow agent to find out what vital information the young woman had in her possession." (Adapted from Catalogue)
Hard like water / Yan, Lianke
"Returning to his village invigorated by success in the army, Gao Aijun sees the beautiful Xia Hongmei walking barefoot alongside the railway track in the warm afternoon sun, and is instantly smitten. Hiding their relationship from their spouses, the pair hurl themselves into the struggle to bring revolution to their backwater village. They wait to consummate their relationship until Aijun has managed to dig a literal tunnel of love between their homes, where underneath the village their revolutionary and sexual fervor reaches a boiling point." (Adapted from Catalogue)
The hummingbird / Veronesi, Sandro
"Marco Carrera is 'the hummingbird,' a man with the almost supernatural ability to stay still as the world around him continues to change. As he navigates the challenges of life – confronting the death of his sister and the absence of his brother; taking care of his parents as they approach the end of their lives; raising his granddaughter when her mother, Marco's own child, can no longer be there for her; coming to terms with his love for the enigmatic Luisa – Marco Carrera comes to represent the quiet heroism that pervades so much of our everyday existence. " (Adapted from Catalogue)
The piano girls / Smither, Elizabeth
"Three musical sisters honour their mother with a piano recital every year in her memory. They compete with one another, practising in secret to see who can be the best. In other stories, music, food, and restaurants are themes. There is a woman who fends off a seducer by cooking up a storm; Fire Lady prepares flambe dishes in a restaurant. There is a cat called Min; an agonising breakup in a luxury hotel; a young woman obsessed with her breasts. The stories cover a wide range from schooldays and ballet lessons to advanced age." (Adapted from Catalogue)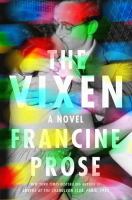 The vixen : a novel / Prose, Francine
"1953. Simon Putnam, newly hired by a distinguished New York publishing firm, gets his first assignment: editing The Vixen, the Patriot and the Fanatic, a lurid bodice-ripper improbably based on the recent trial and execution of Ethel and Julius Rosenberg. It is a potboiler intended to shore up the firm's failing finances. Simon's mother was a childhood friend of Ethel Rosenberg's; his parents mourn Ethel's death. Simon meets The Vixen author, reckless, seductive Anya Partridge, ensconced in her opium-scented boudoir in a luxury Hudson River mental asylum. Simon comes to realize that everyone is not what they seem, that everyone is keeping secrets, and that ordinary events may conceal a diabolical plot." (Adapted from Catalogue)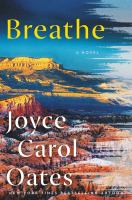 Breathe : a novel / Oates, Joyce Carol
"Amid a starkly beautiful but uncanny landscape in New Mexico, a married couple from Cambridge, MA takes residency at a distinguished academic institute. When the husband is stricken with a mysterious illness, misdiagnosed at first, their lives are uprooted and husband and wife each embarks upon a nightmare journey. At thirty-seven, Michaela faces the terrifying prospect of widowhood – and the loss of Gerard, whose identity has greatly shaped her own." (Adapted from Catalogue)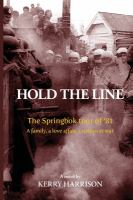 Hold the line : the Springbok tour of '81 : a family, a love affair, a nation at war : a novel / Harrison, Kerry
"It's 1981 and New Zealand is about to host the Springboks from apartheid South Africa for a national rugby tour. Thousands, in a well-supported protest movement, pitch against a nation of die-hard rugby supporters. Despite growing public protest, the Government and Rugby Union are adamant the tour will proceed. Beth returns from London. Her World War 2 veteran father is a rugby fanatic, her brother becomes a protestor embroiled in street violence. She studies law and meets Viktor who, unknown to her, is a member of the notorious Police Red Squad. What will happen to their polarised relationship in a country where the very survival of civil order is at risk? " (Adapted from Catalogue)
The only living lady parachutist / Clarke, Catherine
"To test her courage, daredevil Lillian risks her life for fame and fortune by parachuting from a hot air balloon throughout Australia and New Zealand. But in the competitive 1890s era of charlatans, showmen, and theatrical hucksters, is she brave enough to confront the truth about her past?" (Adapted from Catalogue)