Today is Phantom National Poetry Day – a one-day national poetry extravaganza to celebrate the poetry of Aotearoa. We're always in the mood for poetry and we love the opportunity to revisit old favourites and discover new gems. Here, our librarians have shared some of their picks:
Celeste's Pick: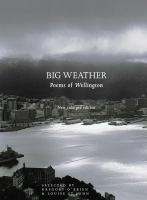 Big weather : poems of Wellington
"Since the nineteenth century, Wellington has been the site and object of much literary activity and never more so than now. Where many of New Zealand's leading poets once wandered, frequenting bars, delivering mail up the steepest of streets, raising their children in the suburbs, today's XY generation are now vividly, energetically present, and recent poetry has kept track of the changing inner and outer life of the city. BIG WEATHER: Poems of Wellington captures the vivacity and diversity of the capital." (adapted from catalogue)
Fiona's Pick:

Other animals / Lloyd, Therese
"Focused on the theme of a well-lived life, Other Animals is the powerful and provocative first book from one of New Zealand's most exciting new poets. With a uniquely lyrical voice, these works find their ways towards ideas of beauty, wisdom, and, ultimately, to a sense of joy in the world that only poetry can bring." (Catalogue)
Susannah's Pick:

Cat world : poems on cats / Jeune, Margaret
"Cat World by Margaret Jeune is a collection of poems about cats drawn from the author's personal experiences as a cat owner and carer over many years." (Catalogue)
This is Susannah's cat Kedi, who is not included in the collection but who seconds Susannah's purrrrfect choice.

Paige's Pick:

Head girl / Sadgrove, Freya Daly
"'The first time I read Freya's work I thought . . . uh oh. And then I thought, you have got to be kidding me. And then I thought, God dammit. And then I walked around the house shaking my head thinking . . . OK – alright. And then – finally – I thought, well well well – like a smug policeman. Listen – she's just the best. I'm going to say this so seriously. She is, unfortunately, the absolute best. Trying to write a clever blurb for her feels like an insult to how right and true and deadly this collection is. God, she's just so good. She kills me always, every time, and forever.' -Hera Lindsay Bird" (adapted from catalogue)
Alex's Pick:

Under glass / Kan, Gregory
"A dialogue between a series of prose poems, following a protagonist through a mysterious and threatening landscape, and a series of verse poems, driven by the speaker's compulsive hunger to make sense of things"–Publisher information." (Catalogue)
Also available on Libby as an eBook.
Gábor's Pick:

Postscripts / Sturm, J. C
J. C. Sturm was the writing name of Jacquie Baxter who for many years was the New Zealand Room librarian at the old Wellington Central Library. Postscripts is Sturm's second book of poetry after Dedications (1996), though her work had appeared in numerous anthologies and journals as far back as 1947. Her poems cover a wide range of human experience, are often compelling, largely autobiographical and sometimes have a profoundly emotional impact as she reviews a life of loss and love, youth and age as seen from both Māori and Pakeha perspectives.
Neil's Pick:

Reading the signs / Freegard, Janis
"The poems in Janis Freegard's new collection take their starting point from the poet's daily ritual of reading the tea leaves while writing in the Ema Saiko room in the Wairarapa. Reading the Signs is a series of linked poems that are thoughtful and humorous, provocative and tender, and come together as a quiet epic about a planet that is fast running out of puff." (adapted from catalogue)
Steph's Pick: (an old favourite and a new favourite, because choosing only one is impossible)

Fast talking PI / Marsh, Selina Tusitala
"'Tusitala' means writer of tales in Samoan, and Marsh here lives up to her name with stories of her life, her family, community, ancestry, and history. Her poetry is sensuous and strong, using lush imagery, clear rhythms and repetitions to power it forward. Her work deals specifically with issues that affect Pacific communities in New Zealand and indigenous peoples elsewhere, most recently focusing on the challenges and triumphs of being afakasi." (adapted from the catalogue) – Also available on Libby as an eBook.
The savage coloniser book / Avia, Tusiata
"The voices of Tusiata Avia are infinite. She ranges from vulnerable to forbidding to celebratory with forms including pantoums, prayers and invocations. And in this electrifying new work, she gathers all the power of her voice to speak directly into histories of violence. The Savage Coloniser Book is a personal and political reckoning. As it holds history accountable, it rises in power." (adapted from catalogue)
Special Mention:
Our very own poetry publication, Tūhono, is full of poems written by children and young adults of Pōneke on the theme of tūhono – connection, and we could all do with more of that right now. Find this heart-warming collection on Libby, there are 500(!) available to lend.
Tūhono. a journal of poetry by children and teens / 2020 :
"Tūhono : connection. This is the theme that binds together all 197 poems you are about to read, which were contributed by young Wellington writers aged 5-18 and collected by Wellington City Libraries throughout the month of November 2020. The year 2020 was challenging for many people. Some had to spend time apart from their friends and the people they love. Some had to find ways to live with uncertainty and the sense that everything might not be okay in the world. But taken together, these poems represent a constellation of thoughts, ideas, worries, anxieties, hopes, loves, and dreams about how we find ways to connect, even in the face of adversity." (Catalogue)