In our latest biographies we read about the indomitable Helen Kelly, President of the New Zealand Council of Trade Unions from 2007 to 2015, whose life was tragically cut short at the age of 52. Beloved NZ writer Patricia Grace takes us on a journey through her childhood and writer, columnist and former lawyer Charlotte Grimshaw opens up about growing up as daughter of the famous CK Stead. There are stories of strength and resilience from Sharon Stone and from the winner of the 2020 Costa Biography Award: Lee Lawrence who documents the shooting of his mother by police, the subsequent uprising, the fight to clear his mothers name and racial prejudice he encountered. Finally we hear the story of kiwi scientist Dave Lowe who for decades has been recording the changes in our climate and trying to open people's eyes to the effects of increasing fossil fuel emissions.
Helen Kelly : her life / Macfie, Rebecca
"When Helen Kelly died on a Wellington spring night in October 2016, Aotearoa New Zealand lost an extraordinary leader. Kelly was the first female head of the country's trade union movement, but she was also much more – a visionary who believed that all workers, whether in a union or not, deserved to be given a fair go; a fighter from a deeply communist family who never gave up the struggle; a strategist and orator who invoked strong loyalty; a woman who could stir fierce emotions." (Adapted from catalogue)
From the centre : a writer's life / Grace, Patricia
"With photographs and quotes from her many, hugely loved books, Patricia Grace begins with her grandparents and parents and takes us through her childhood, her education, marriage and up to the present day in this touching and self-deprecating story of her life, the life of a writer, of a Maori woman and of a teacher. It expresses the love for family and for ancestral land; shows the prejudices she had to face and that made her stronger; and tracks her career as a writer." (Catalogue)
"In this memoir you witness the slow, bittersweet reclamation of te reo Māori me ōna tikanga from a time when our culture was in desperate peril through the eyes of someone who has lived it. With Grace there is no distance between us, no shallow interpretation and we recognise that, in learning history, it matters who is telling the story." (Emma Espiner, Kete) Read the complete review here.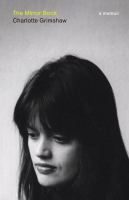 The mirror book : a memoir / Grimshaw, Charlotte
"'It's material, make a story out of it,' was the mantra Charlotte Grimshaw grew up with in her famous literary family. But when her life suddenly turned upside-down, she needed to re-examine the reality of that material. The more she delved into her memories, the more the real characters in her life seemed to object. So what was the truth of 'a whole life lived in fiction'? This is a vivid account of a New Zealand upbringing, where rebellion was encouraged, where trouble and tragedy lay ahead. It looks beyond the public face to the 'messy reality of family life' and much more." (Catalogue) Also available as an e-book.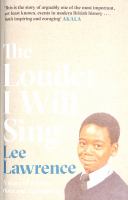 The louder I will sing / Lawrence, Lee
"On 28th September 1985, Lee Lawrence's mother Cherry Groce was wrongly shot by police during a raid on her Brixton home. The bullet shattered her spine and she never walked again. For Lee, it was a spark that lit a flame that would burn for the next 30 years as he fought to get the police to recognise their wrongdoing. The Louder I Will Sing is a powerful, compelling and uplifting memoir about growing up in modern Britain as a young Black man. It's a story both of the underlying racism beneath many of our most important institutions, but also the positive power that hope, faith and love can bring in response." (Adapted from Catalogue)
The beauty of living twice / Stone, Sharon
"Sharon Stone suffered a massive stroke that cost her not only her health, but her career, family, fortune, and global fame. Stone chronicles her efforts to rebuild her life and writes about her slow road back to wholeness and health. Stone made headlines not just for her beauty and her talent, but for her candor and her refusal to "play nice," and it's those same qualities that make this memoir so powerful. The Beauty of Living Twice is a book for the wounded and a book for the survivors; it's a celebration of women's strength and resilience." (Adapted from Catalogue) Also available as an e-book.
The alarmist : fifty years measuring climate change / Lowe, D. C.
"His research was urgent fifty years ago. Now, it's critical. In the early 1970s, budding Kiwi scientist Dave Lowe was posted at an atmospheric monitoring station in the North Island. On a shoestring salary he measured carbon in the atmosphere, collecting data towards what became one of the most important discoveries in modern science. What followed was a lifetime's career marked by hope and despair. Dave has faced down climate deniers, foot-dragging bureaucracy and widespread complacency to open people's eyes to the effects of increasing fossil fuel emissions on our atmosphere." (Adapted from Catalogue)