Amongst this month's recently acquired fiction titles we have a few that have modes of transport woven into their plots, including a Japanese novel by Kōtarō Isaka intriguingly situated almost entirely on a bullet train. The first initial Shinkansen, known in English as the bullet train, routes started to transport passengers in 1964, expanding over the following decades. The high-speed network has now chalked up over 10 billion passenger journeys. In the novel, five killers find themselves competing for a suitcase full of money on a bullet train.
We also have Falling by real-life flight attendant T. J. Newman, written on redeye flights at 35,000 feet whilst her passengers were asleep.
We also have the fabulous Bug week & other stories by Airini Beautrais, the winner of this year's Ockham prize and the recently released New Zealand novel Greta & Valdin, set in an Auckland apartment and revolving round brother and sister, navigating the complexities of modern romance. For a wider selection of our recently acquired new fiction just check out our list below.
Bullet train / Isaka, Kōtarō
"Satoshi looks like an innocent schoolboy but he is really a viciously cunning psychopath. Kimura's young son is in a coma thanks to him, and Kimura has tracked him onto the bullet train headed from Tokyo to Morioka to exact his revenge. But Kimura soon discovers that they are not the only dangerous passengers onboard. Nanao, the self-proclaimed 'unluckiest assassin in the world', and the deadly partnership of Tangerine and Lemon are also travelling to Morioka. A suitcase full of money leads others to show their hands. Why are they all on the same train, and who will get off alive at the last station?" (Adapted from Catalogue) Also available as an eBook.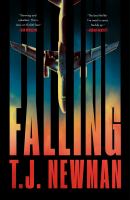 Falling / Newman, T. J.
"You just boarded a flight to New York. There are one hundred and forty-three other passengers onboard. What you don't know is that thirty minutes before the flight your pilot's family was kidnapped. For his family to live, everyone on your plane must die. The only way the family will survive is if the pilot follows his orders and crashes the plane. Enjoy your flight." (Adapted from Catalogue)
Bug week & other stories / Beautrais, Airini
"A science educator in domestic chaos fetishises Scandinavian furniture and champagne flutes. A group of white-collar deadbeats attend a swinger's party in the era of drunk Muldoon. A pervasive smell seeps through the walls of a German housing block. A seabird performs at an open-mic night. Bug Week is a scalpel-clean examination of male entitlement, a dissection of death, an agar plate of mundanity. From 1960s Wellington to post-Communist Germany, Bug Week traverses the weird, the wry and the grotesque in a story collection of human taxonomy."(Adapted from Catalogue) Also available as an eBook.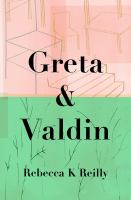 Greta & Valdin / Reilly, Rebecca K
"Valdin is still in love with his ex-boyfriend Xabi, who used to drive around Auckland in a ute but now drives around Buenos Aires in one. Greta is in love with her fellow English tutor Holly, who doesn't know how to pronounce Greta's surname, Vladislavljevic, properly. From their Auckland apartment, brother and sister must navigate the intricate paths of modern romance as well as weather the small storms of their eccentric Māori-Russian-Catalonian family"–Information from publisher." (Adapted from Catalogue)
The discomfort of evening / Rijneveld, Marieke Lucas
"Jas lives with her devout farming family in the rural Netherlands. One winter's day, her older brother joins an ice skating trip; resentful at being left alone, she makes a perverse plea to God; he never returns. As grief overwhelms the farm, Jas succumbs to a vortex of increasingly disturbing fantasies, watching her family disintegrate into a darkness that threatens to derail them all. "–Publisher." (Adapted from Catalogue) Also available as an eBook. 
Katharine Parr : the sixth wife / Weir, Alison
"Having sent his much-beloved but deceitful young wife Katheryn Howard to her beheading, King Henry fixes his lonely eyes on a more mature woman, thirty-year-old, twice-widowed Katharine Parr. She, however, is in love with Sir Thomas Seymour, brother to the late Queen Jane. Aware of his rival, Henry sends him abroad, leaving Katharine no choice but to become Henry's sixth queen. Four years into the marriage, Henry dies, leaving England's throne to nine-year-old Edward—a puppet in the hands of ruthlessly ambitious royal courtiers. The result is a tangled tale of love and a struggle for power, bringing to a close the dramatic and violent reign of Henry VIII." (Adapted from Catalogue)
A fine madness : a novel inspired by the life and death of Christopher Marlowe / Judd, Alan
"Danger and dissent stalk the streets and taverns of Elizabethan England. The Queen's chief spymaster, Francis Walsingham, and his team of agents must maintain the highest levels of vigilance to ward off Catholic plots and the ever-present threat of invasion. One operative in particular – a young Cambridge undergraduate, controversial beliefs and literary genius who goes by the name of Kit Marlowe – is relentless in his pursuit of intelligence for the Crown. When he is killed outside an inn in Deptford, his mysterious death becomes the subject of rumours and suspicion ." (Adapted from Catalogue)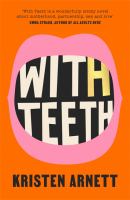 With teeth / Arnett, Kristen
"If she's being honest, Sammie Lucas is scared of her son. Working from home in the close quarters of their Florida house, she lives with one wary eye peeled on Samson, a sullen, unknowable boy who resists her every attempt to bond with him. Uncertain in her own feelings about motherhood, she tries her best—driving, cleaning, cooking, prodding him to finish projects for school—while growing increasingly resentful of Monika, her confident but absent wife. When her son's hostility finally spills over into physical aggression, Sammie must confront her role in the mess—and the possibility that it will never be clean again." (Catalogue)