'It's your worst nightmare. That's why you're writing it.'

– Emily Perkins about the manuscript that became Unsheltered.
The thriving and diverse nature of New Zealand's Science Fiction, Fantasy, Horror, and speculative fiction scene is very much to the fore and in evidence in this month's selection of recently acquired titles with not one or two, but three New Zealand releases in the list.
First up we have Ghost bus: tales from Wellington's dark side by Anna Kirtlan, a collection of comic supernatural stories featuring sea monsters, ghosts and troublesome witches in a collection that is a love letter to paranormal Wellington.
The second newly released title is Unsheltered by Clare Moleta, in which a mother travels across a disintegrating country marked by a collapsing ecosystem and the attendant social disintegration in search of her lost daughter. A taut and compulsive, page-turning read.
And rounding off these three we have Melanie Harding-Shaw's, debut book Alt-ernate: A collection of 37 stories, gathered together from numerous publications since 2016, as well as a few previously unpublished works, and featuring a story for every year of her life. Melanie's versatility as a writer really comes to the fore in the collection with strange, dark, and melancholic tales mingling with sweet or light-hearted yarns. A fabulous debut which was  followed up recently by Melanie's lockdown witchy fiction  novella 'Against the grain'; we very much look forward to more from Melanie. Below are these and a few other selected titles.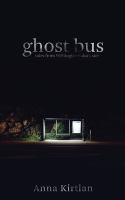 Ghost bus : tales from Wellington's dark side / Kirtlan, Anna
"Ghosts, sea monsters and a rest home for troublesome witches all feature in this collection of paranormal short stories set in Wellington, New Zealand. By turns spooky and laugh out loud funny, these tales stew with malevolence and mischief. Climb aboard the ghost bus for a wild ride of sci-fi, fantasy, horror and humour and hop off a little more in love with Aotearoa's capital city." (Catalogue)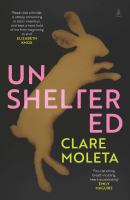 Unsheltered / Moleta, Clare
"Against a background of social breakdown and destructive weather, Unsheltered tells the story of a woman's search for her daughter. Li never wanted to bring a child into a world like this but now that eight-year-old Matti is missing, she will stop at nothing to find her. As she crosses the great barren country alone and on foot, living on what she can find and fuelled by visions of her daughter just out of sight ahead, Li will have every instinct tested. She knows the odds against her: an uncompromising landscape, an uncaring system, time running out, and the risks of any encounters on the road. But her own failings and uncertainty might be the greatest obstacle of all. Because even if she finds her, how can she hope to shield Matti from the future?" (Adapted from Catalogue) Also available as an eBook.
Alt-ernate : a collection of 37 stories / Harding-Shaw, Melanie
"Alt-ernate is the debut short story collection from author Melanie Harding-Shaw, showcasing her versatility as a writer. This ability to write in many different voices and tones  really comes to the fore in this collection with strange, dark, and melancholic tales mingling with sweet or light-hearted yarns." (Adapted from Catalogue)
The thief on the winged horse / Mascarenhas, Kate
"The Kendrick family have been making world-famous dolls for over 200 years. But their dolls aren't coveted for the craftsmanship alone. Each one has a specific emotion laid on it by its creator. A magic that can make you feel bucolic bliss or consuming paranoia at a single touch. Though founded by sisters, now only men may know the secrets of the workshop. Persephone Kendrick longs to break tradition and learn her ancestors' craft, and when a handsome stranger arrives claiming doll-making talent and blood ties to the family, she sees a chance to grasp all she desires. But then, one night, the firm's most valuable doll is stolen. Only someone with knowledge of magic could have taken her. " (Adapted from Catalogue)
Ariadne / Saint, Jennifer
"Ariadne, Princess of Crete, grows up greeting the dawn from her beautiful dancing floor and listening to her nursemaid's stories of gods and heroes. But beneath her golden palace echo the ever-present hoofbeats of her brother, the Minotaur, a monster who demands blood sacrifice. When Theseus, Prince of Athens, arrives to vanquish the beast, Ariadne sees in his green eyes not a threat but an escape. Defying the gods, betraying her family and country, and risking everything for love, Ariadne helps Theseus kill the Minotaur. But will Ariadne's decision ensure her happy ending? And what of Phaedra, the beloved younger sister she leaves behind?"(Adapted from Catalogue)
The helm of midnight / Lostetter, Marina J
"In a daring and deadly heist, thieves have made away with an artifact of terrible power-the death mask of Louis Charbon. Made by a master craftsman, it is imbued with the spirit of a monster from history, a serial murderer who terrorized the city. Now Charbon is loose once more, killing from beyond the grave. But these murders are different from before, not simply random but the work of a deliberate mind probing for answers to a sinister question. It is up to Krona Hirvath and her fellow Regulators to enter the mind of madness to stop this insatiable killer while facing the terrible truths left in his wake." (Adapted from Catalogue)
A girl made of air / Hetherington, Nydia
"This is the story of The Greatest Funambulist Who Ever Lived… Born into a post-war circus family, our nameless star was unwanted and forgotten, abandoned in the shadows of the big top. until the bright light of Serendipity Wilson threw her into focus. Now an adult, haunted by an incident in which a child was lost from the circus, our narrator, a tightrope artiste, weaves together her spellbinding tales of circus legends, earthy magic and folklore, all in the hope of finding the child… But will her story be enough to bring the pair together again? Beautiful and intoxicating, A Girl Made of Air brings the circus to life in all of its grime and glory." (Adapted from Catalogue)
The shadow in the glass / Harwood, JJA
"When a fairy godmother makes her an offer that will change her life–seven wishes, hers to make as she pleases–lowly maid Ella soon discovers that each wish comes with a high price and must decide whether it's one she is willing to pay." (Catalogue)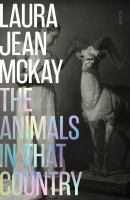 The animals in that country / McKay, Laura Jean
"Hard-drinking, foul-mouthed, and allergic to bullshit, Jean is not your usual grandma. She's never been good at getting on with other humans, apart from her beloved granddaughter, Kimberly. Instead, she surrounds herself with animals, working as a guide in an outback wildlife park. And although Jean talks to all her charges, she has a particular soft spot for a young dingo called Sue. As disturbing news arrives of a pandemic sweeping the country, Jean realises this is no ordinary flu: its chief symptom is that its victims begin to understand the language of animals – first mammals, then birds and insects, too. As the flu progresses, the unstoppable voices become overwhelming, and many people begin to lose their minds, including Jean's infected son." (Adapted from Catalogue) Also available as an Ebook.