New Zealand biographer Carol Markwell has just published her latest book – a brilliant and fascinating account of the life of Edwardian and Victorian Renaissance woman Blanche Edith Baughan (1870-1958), called Enough Horizon: the life and work of Blanche Baughan.
Blanche Edith Baughan was remarkable in many ways: she one of New Zealand's first poets, a Victorian feminist, an active social reformer, one of the very first travel writers in New Zealand and an early environmentalist. She was, in all senses of the word, a true pioneer and a social visionary.
We recently had the pleasure of interviewing Carol about Blanche in conjunction with the Caffeine and Aspirin arts and entertainment review show on Radioactive FM. And below is the podcast of that interview for your enjoyment:
In the podcast Carol also mentions her first biography Alice, what have you done! about NZ waitress Alice May Parkinson, who shot her lover in 1915.  Carol's work also includes poetry and fiction.
Enough Horizon : The Life And Work Of Blanche Baughan / Markwell, Carol
"Blanche Edith Baughan (1870–1958) was one of New Zealand's first poets and travel writers –  her travel writing introduced people here and overseas to our walks and wilderness areas. Born in England, Blanche emigrated to New Zealand in 1900, settling in Sumner and Banks Peninsula, where she embraced the freedom to write and think, and formed friendships with poets Jessie Mackay and Ursula Bethell. It was here that Blanche's interest in the environment and her advocacy for the vulnerable in society flourished. She became a botanist, conservationist and prison reformer, known for her fierce correspondence in defence of her causes. " (from publisher)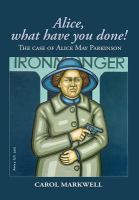 Alice, what have you done! : the case of Alice May Parkinson / Markwell, Carol
"Napier, 1915: Alice May Parkinson shoots and kills her lover. Her trial and its aftermath cause controversy throughout New Zealand. Is she a feminist heroine or a callous killer ? Or simply a desperate woman who ran out of choices? This is her story." (Adapted from Catalogue)