New Zealand writer and essayist John Summers has just published his latest work The Commercial Hotel.  John's clever and often humorous book is part reportage, part memoir and is a meditation on his life and personal interests. Whilst the areas the book covers include John's past, wider interests and obsessions, in doing so it also speaks to the reader about a wider story, about a side of New Zealand that is fast vanishing.
The book has a strangely modern, haunting quality to it. The Commercial Hotel in part achieves this by looking at some of the less celebrated and explored aspects of New Zealand's recent past, especially in the more provincial areas of the country. By looking at things such as New Zealand Elvis impersonators, freezing works, night trains, hotel pubs and landfills he gets behind the surface of these things to reveal something deeper about life and death in New Zealand.
We recently had the pleasure of interviewing John about The Commercial Hotel in conjunction with the Caffeine and Aspirin arts and entertainment review show on Radioactive FM.
Click below to hear the interview:

The Commercial Hotel / Summers, John
"Combining reportage and memoir, The Commercial Hotel is a sharp-eyed, poignant yet often hilarious tour of Aotearoa: a place in which Arcoroc mugs and dog-eared political biographies are as much a part of the scenery as the hills we tramp through ill-equipped. We encounter Elvis impersonators, the eccentric French horn player and adventurer Bernard Shapiro, Norman Kirk balancing timber on his handlebars while cycling to his building site, and Summers's grandmother: the only woman imprisoned in New Zealand for protesting World War Two. And we meet the ghosts who haunt our loneliest spaces." (Publisher information)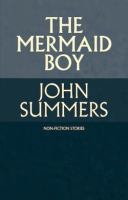 The mermaid boy / Summers, John
"From Christchurch to China, from mattress manufacture to Burmese medicine, these true stories explore one man's experience with the exotic and the mundane. Witty, perceptive, and often surprising, The Mermaid Boy introduces striking new ways to write about love, travel, and home." (Publisher information)