In our latest Biography picks we meet New Zealand peanut butter baron Pic Picot, curator of fashion Claire Wilcox who tells her story in a series of vignettes,  former model and muse Jenny Boyd who was twice married to Mick Fleetwood, and Emmy award winner Julianna Margulies who starred as Carol Hathaway in the long running series ER. We also feature comedian Tom Allen, Australian film producer Al Clark (of  The Adventures of Priscilla, Queen of the Desert fame) and Kaiya Stone who writes with humour and honesty about the difficulties of living with dyslexia and dyspraxia.
Everything is going to be K.O. / Stone, Kaiya
"A hilarious and heartfelt illustrated memoir of living with specific learning difficulties. In Everything is Going to be K.O. , Kaiya Stone writes about her experiences of living with specific learning difficulties: from struggling at school, to being diagnosed with dyslexia and dyspraxia at university, and performing her own one-woman stand up show inspired by her journey. Always funny and unfailingly honest, Kaiya not only outlines the frustrations of having SpLDs, but also the ways in which they have fuelled her creativity." (adapted from catalogue)
Patch work : a life amongst clothes / Wilcox, Claire
"Claire Wilcox has been a curator of fashion at the Victoria and Albert Museum for most of her working life. In Patch Work, she steps into the archive of memory. From her mother's black wedding suit to the swirling patterns of her own silk kimono, her memoir unfolds in spare, luminous prose the spellbinding power of the things we wear. Through the eye of a curator, we see how the stories and the secrets of clothes measure out the passage of time, our gains and losses, and the way we use them to unravel and write our histories." (adapted from catalogue)
Jennifer Juniper : a journey beyond the muse / Boyd, Jenny
"Jenny Boyd's extraordinary life is the stuff of movies. With boyfriend Mick Fleetwood, sister Pattie, George Harrison and the rest of the Beatles, she lived the London scene in the flower power era.  Later her two marriages to Mick Fleetwood, founder member of Fleetwood Mac, brought her to the forefront of the world of rock and roll – and its fame, money, drugs and heartache.  Jenny has spent her life in the company of some of the greatest musical and cultural influencers of the last 50 years – and the journey she takes to finding her own sense of self and creative ability makes Jennifer Juniper a truly captivating and inspiring story." (Adapted from Catalogue)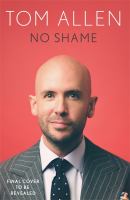 No shame / Allen, Tom
"When I was 16 I dressed in Victorian clothing in a bid to distract people from the fact that I was gay. It was a flawed plan. This book is a very funny, candid and emotional ride of a memoir by one of our most beloved comedians. The working-class son of a coach driver, and the youngest member of the Noel Coward Society, Tom Allen grew up in 90s suburbia as the eternal outsider. In these hilarious, honest and heart breaking stories Tom recalls observations on childhood, his adolescence, the family he still lives with, and his attempts to come out and negotiate the gay dating scene. They are written with his trademark caustic wit and warmth, and will entertain, surprise and move you in equal measure." (Catalogue)
Time flies / Clark, Al
"Al Clark is best known for his role as producer of Australian film The Adventures of Priscilla, Queen of the Desert . This idiosyncratic memoir with a distinctive voice and a sense of the absurd delivers a wistful, reflective, sometimes comic view of his childhood and working life. Clark first worked as a journalist at Time Out in London before becoming Publicity Director at Virgin Records. It was here that he represented the Sex Pistols, Phil Collins and Mike Oldfield. What emerges from Time Flies is Clark's deep connection with music and film. Where so many showbiz memoirs are about deals, dirt and revenge, Times Flies is about a fan who never lost his sense of wonder." (Adapted from Filmink review)
Sunshine girl : an unexpected life / Margulies, Julianna
"Known for her outstanding performances on The Good Wife and ER, Julianna Margulies now unleashes her sharp talent with a powerful debut memoir chronicling her life and her work, examining from within, her journey from chaos to calm. Along the way, there were failed romances, difficult choices, and overwhelming rejections. But there was also the moment that fate, faith, and talent assembled in a perfect storm that lead to the roles of a lifetime. Sunshine Girl is an accomplished coming of age story that offers readers a rich sense of relatability as well as the intimate details of a life unimagined" (adapted from catalogue)
Pic : adventures in sailing, business, and love / Picot, Pic
Now known for his famous peanut butter, Pic Picot has gone from selling the odd jar at the Nelson farmers market to running a multi-million dollar company. But his journey didn't start there, he has been a leather sandal maker,  travelling rock musician, boat builder, restaurateur and has sailed the Pacific. In his book Pic discusses his successes and failures with honesty, perception and a great deal of humour. Pic's unusual path to business success offers hope for anyone wanting to follow their dreams.